Charter in the Time of Covid—It's Complicated, Yet Possible
If you're looking to charter in the Caribbean this holiday season and into January, you'll need to know the Covid-19 restrictions for your destination. The details differ by island country, and things get more complicated by where you're coming from and how long you're staying. Most of what has been posted applies to general tourism, not necessarily charter, so that makes things even more complicated. The best thing to do is to contact your charter company for the latest information. As of November 18, here are some of the details we've be able to find, but they're not complete and they're subject to change.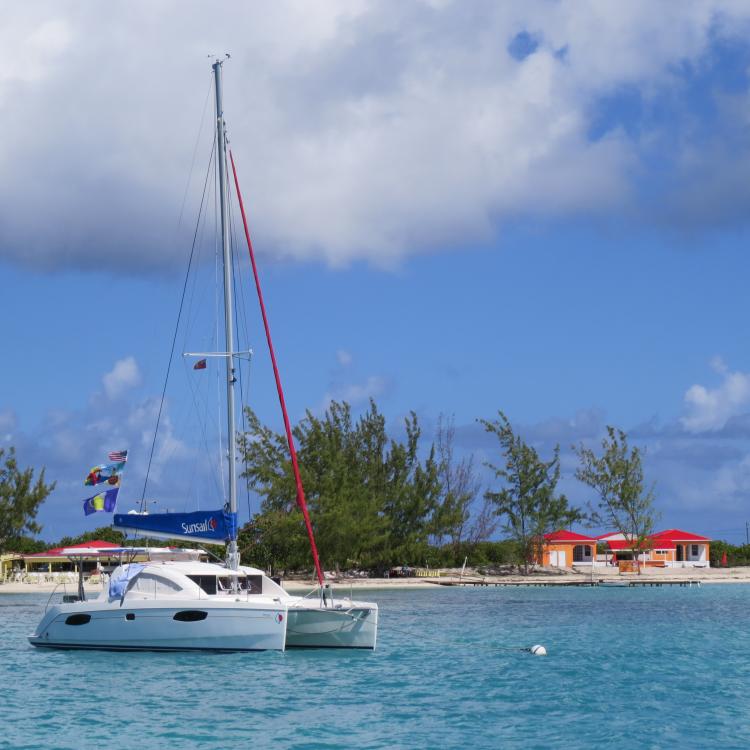 St. Lucia
The Sunsail base on St. Lucia is opening on December 19, 2020. The country was exempting travelers from the Caribbean "Travel Bubble" (other Caribbean countries only) from the 14-day quarantine requirement but the some contend the bubble concept fell apart a while ago. If you're a non-bubbler (US resident), your movements will be restricted between "approved" facilities. A negative Covid-19 test taken within seven days of travel, wearing facial coverings, and submitting a Pre-Arrival Registration Form are necessary.
Bahamas
My travel to the Exumas, Bahamas, was cancelled 24 hours before my flight in May, but as of November 1, the restrictions have eased. There are still no clear details on where you can navigate on a charter boat and how restrictive the Exumas or the Abacos are. The basics include a negative Covid-19 test five days prior to arrival, the completion of the Bahamas Health Travel Visa, insurance covering Covid-19, a retest on day five, masks, and possible curfews on various islands.
Sin Maarten
Sin Maarten (the Dutch side of St. Martin) has established a mandatory health authorization application through an Electronic Health Authorization System (EHAS). Processing times are 8-12 hours so plan ahead and remember that the border between the French and Dutch sides of the island just opened last month when driving. Here's what's needed: negative Covid-19 test within five days (home and non-PCR tests aren't accepted), insurance covering Covid-19, and when coming from a high-risk country such as the U.S., a 14-day mandatory quarantine.
Grenada
This one is tricky because many charter companies had large fleets in Grenada, but now the boats are fewer and harder to come by as demand is filling up available inventory. Rumor has it that at least one organization took their boats to Antigua where there is no quarantine requirement—except that officially there actually is one for non-bubblers like U.S. residents. It's all very confusing. Otherwise, you'll need a negative Covid-19 test within seven days, a Pure Health Travel Certificate that you complete online but keep a hardcopy with you, and a booking at approved accommodations for six days to quarantine at your own expense.
Another Covid-19 test is given on day four, and if negative, you can roam around Grenada and the Grenadines; but the only place to check into the Grenadines is in St. Vincent's Blue Lagoon, and you have to go through the whole testing and quarantining procedure again.
US Virgin Islands
The USVI was open earlier in the summer. Then, cases spiked, and they closed. In December, the islands are easing again. Travelers submit proof of a negative Covid-19 test taken within five days prior to arrival. The government is also accepting positive antibody tests taken within four months prior to travel. All test results must be uploaded to the USVI Travel Screening Portal before departure. Travelers who can't produce negative test results will be required to self-quarantine for 14 days at their own expense. In November, American Airlines increased its service to St. Thomas from Miami, Charlotte, Philadelphia, Chicago, and Dallas-Fort Worth.
British Virgin Islands
By far the most egregious requirements have come out of the British Virgin Islands. This is the revised version (the former having been worse). Visitors can now come by air (EIS airport on Tortola starting Dec 1) or by sea (Roadtown ferry from St. Thomas starting Dec 8). The rest of the list is long:
Test: Proof of negative Covid-19 PCR test.
Insurance: Proof of medical insurance that includes coverage for Covid.
Documents: Complete a travel declaration and upload test results and get approval, in the form of a BVI Gateway Traveller Authorisation Certificate, before boarding the flight.
Arrival, Test & Contact Tracing App: Upon arrival officials will perform health screening including temperature check plus another Covid-19 PCR test (children under five are exempt from testing). Visitors will also be required to download to their phone a contact tracing application and use a wearable device (tracking bracelet). You pay for the test.
Transportation: Visitors must take "approved" transportation to their accommodations.
Four-Day Quarantine – On Land: Visitors MUST quarantine for four full days (your arrival day is considered day zero, so really five days) on the property of their approved accommodations—AirBnB and private accommodations must be pre-approved by the government.
Four-Day Quarantine – On Boat: Visitors CAN quarantine for four days on their yacht. Vessels will be able to move within territorial waters during the quarantine period, but they may only moor at approved sites. Yachts must be provisioned before guests arrive. A 30-foot radius around your boat becomes your "mobile bubble" with swimming and snorkeling allowed in this 30-foot radius—no shore activity during quarantine.
Day Four Test: On the morning of the fourth day of the quarantine period visitors must take another Covid-19 test (turnaround time is expected to be 24 hours). If negative, visitors will be able to move freely within the territory.
Costs: All PCR tests, contact tracing app and wearable device will be at the visitor's expense. Costs will now be $175 total per person for two Covid-19 tests, a contact tracing bracelet rental, and a Covid-19 monitoring app. (That's down from $500 previously.)
Test to Leave the BVI: Visitors will need a test before you leave the BVI to enter the USVI, Puerto Rico, or other Caribbean country by air or vessel. Cost is (an additional) $70. The government will not allow a visitor to leave the country if they test positive. They will need to quarantine in an approved location for 14 days at their expense.
The onus has been on BVI chartering companies to entice visitors who are willing to jump through all those hoops. Dream Yacht Charter is offering four free extra days. In other words, you book a week and you get those four quarantine days at no additional cost. This is valid until March.
~By Zuzana Prochazka
Find more charter articles here.