Stranded in St. Martin (Briefly)
"What if I told you that I don't want you to go?" she asked as she sat propped up in her queen-sized bed in our room at the Hampton Inn at IAH. My wife's comment at 10 p.m. momentarily eroding whatever confidence I harbored in my plan to fly to St. Martin in five hours for a sailing charter vacation.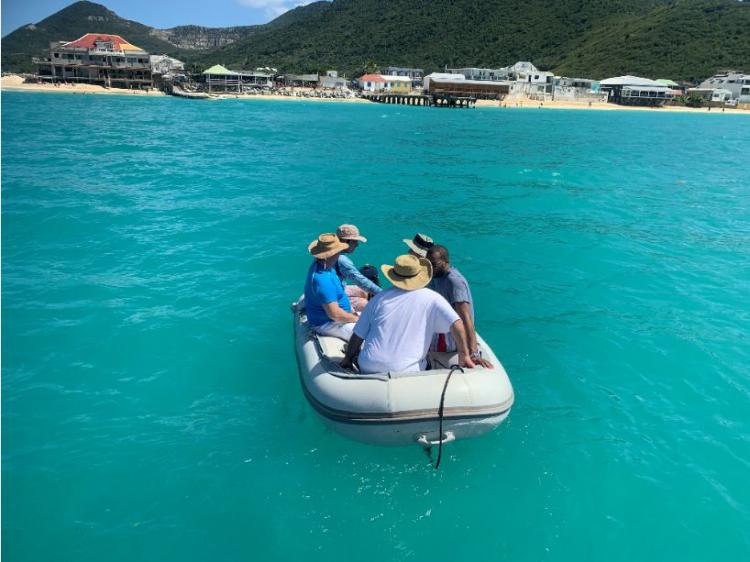 "You may get stranded down there, and then what?" she said.
"Oh, I won't get stranded. This thing is being blown way out of proportion," I responded.
I had a 5 a.m. flight to Miami and on to St. Martin. I needed to get some sleep, but Carole had planted that seed of doubt in my mind. I removed my hearing aid, climbed into the other queen bed, and proceeded to toss and turn until I finally drifted off to sleep.
Carole cautiously touched my shoulder at 3 a.m., and I sprang to attention. "I'm up," I stammered as I jumped out of bed.
"Yes, I can see that" she said resignedly, "I still think you're crazy"
I quickly dressed, she wished me luck. I expressed my love, and off I went to catch a cab to the airport and my uncertain fate. It was March 12, 2020, and the Wuhan Coronavirus was beginning to affect the U.S. with 1300 reported cases.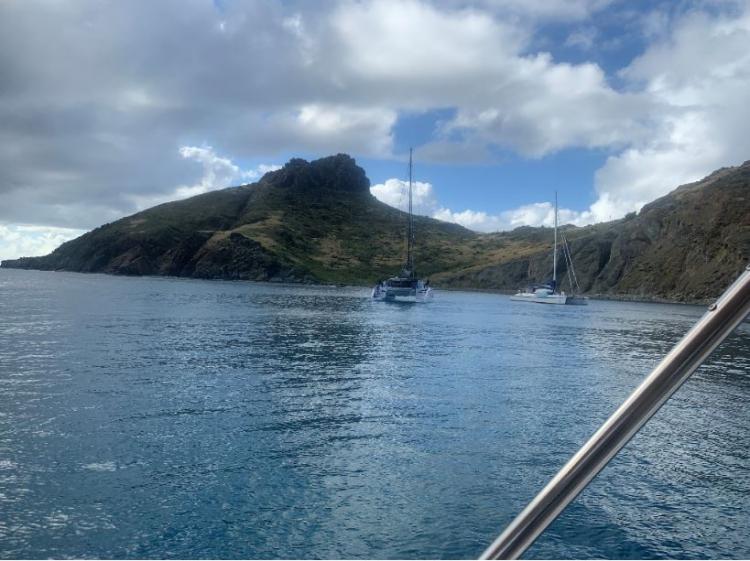 I was bothered by this, but the guys had been planning this trip for a year. It was all paid for. I couldn't wimp out at this stage. So, with much trepidation, I boarded the American Airlines flight that left at 7:30 a.m. instead of 5:30 as originally advertised: an inauspicious commencement.
Arriving at Queen Julianna Airport at 5:30 p.m., I was met by John, another member of the advance party, who chaperoned me to Eddie waiting curbside in a rental car. The three of us are in our 70s and have done several of these "bachelor" cruises over the years. John is well acquainted with St. Martin having competed in four Heineken Regattas; he won his class in two of these.
Eddie had crewed in one of those regattas, he knew the place, so he planned the trip and chartered the boat. Since we were a couple of days early, Eddie arranged for us to stay at Shrimpy's Laundry and Yacht Services on the channel in Marigot.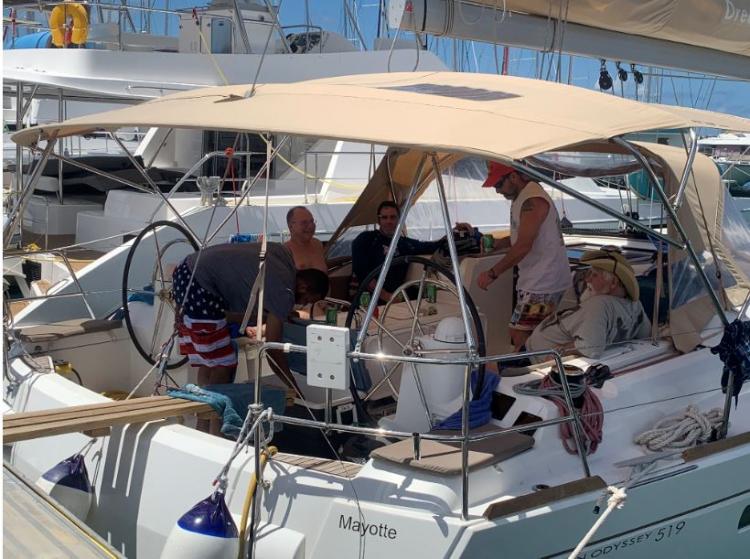 This section of town had been quite torn up by Irma and was not yet fully recovered, so when we arrived in front of the building, John and I were a bit skeptical. Our concerns were all for naught as Mike ran a clean, secure, quiet operation where we got our own small room for 35 bucks a night!
Two days later we stowed our gear about Mayotte a 51-foot Jeanneau sloop chartered from Dream Yacht Charter. John and I were given the boat orientation while poor Eddie ran back and forth to the airport collecting the other five other guys.
Warm welcomes were extended to each group as they arrived, and they were handed a cold "Heiney." The boat was provisioned, and that evening the first bad omen arose: my Friday flight on American Airlines was canceled. I scrambled with my phone and managed to book a flight on Delta, and then relaxed a bit.
We got started late morning the next day and sailed up the coast to Grande Case in a light nor'westerly. This was strange, because easterly trades are the rule in the spring in these parts. Tommy made a great dinner of duck breast and Caribbean rice with strawberry short cake for dessert. We enjoyed the evening albeit with a fair amount of bouncing in the five-foot chop.
The next day, after devouring Tommy's lobster quiche for breakfast, the wind was light northerly, so we elected to steam to Il Forchue. Upon arrival we anchored in the pristine waters of that ancient caldera. On the way, the second gut punch occurred: my Delta flight was canceled.
One by one, the guys were getting the same bad news, but they weren't going to let it get them down; something would work out… they were on vacation! We ate lunch, and the guys swam a bit. Tommy snorkeling all over the caldera, but Eddie had no luck raising the charter company on his phone to check on the situation.
The Capt'n decided that it was time to head back to the marina. Tommy needed to be towed back to the boat behind the dingy, because he was so far away. We hauled the hook and steamed for three hours arriving just under the wire at dusk.
Once back, the cell phones were quite busy as everyone tried to make new connections. The next day, the authorities shut down the French side of the island and then shut down the island to all arrivals, which accounted for all the canceled incoming flights. On the morrow, several of the crew took a taxi to the airport to sort it all out and managed to book flights home, but they reported that it was a madhouse.
The first two crew left on Wednesday with others to follow each day thereafter. Our generator quit, so we hooked up shore power to run the AC and acquiesced to sitting at the dock until it was time to leave. But, we had plenty of food and booze and excellent neighbors, so it was party time. We all agreed that there were far worse places to be stranded. We got in a little beach time and got to know many new folks.
Eddie, his adopted son and I were the last to leave on Saturday clutching our road travel permission slip. The flight to Atlanta was uneventful, but when we landed, I was sure glad to be home.
Yeah, I know: "My Dear, once again you were as right as rain."
~ By Scott Morris