Bathed in luscious shades of Caribbean turquoise and yellow...
After a beautiful overnight sailing passage, St. Croix loomed into sight early in the morning. Following a stint in the French West Indies, here we were, back in the USA and not really sure what to expect. The island, bathed in luscious shades of Caribbean turquoise and yellow, surprised us with its relaxed grace, water-oriented lifestyle, and well-stocked cruising amenities.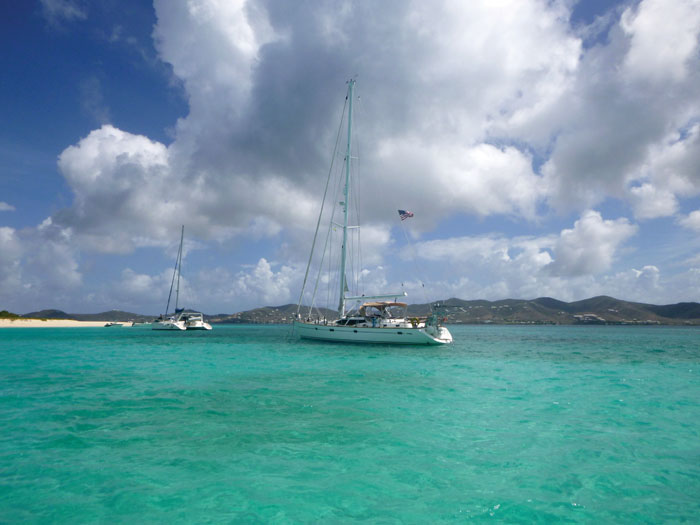 In sailing from Guadeloupe, it appeared we had followed in Columbus's footsteps. Columbus "discovered" St. Croix in 1493, following advice from natives in Guadeloupe that there was a good stop for fresh water here. That stop was at Salt River Bay, where traces of native Taino settlements have been found dating back a few thousand years. When Columbus arrived, the Amerindians living on St. Croix did not look kindly on intruders, and the first recorded skirmish between Europeans and natives occurred on this stretch of island.
The Spanish did not stick around, preferring the larger islands of the Greater Antilles. For the next several decades, the English, Dutch, and French contended with each other for control of St. Croix. Ultimately, though, St. Croix's colonial history was determined by the Danish. Beginning in the late 1600s, the Danes ran successful sugar plantations in St. John, St. Thomas, and St. Croix made possible by slave labor from West Africa. For a while in the mid-1700s, St. Croix enjoyed great wealth, resulting in a beautiful architectural legacy of arched breezeways and cannon-studded walkways in the main towns of Christiansted and Frederiksted.
Christiansted
The Christiansted waterfront boasts a boardwalk with ample dinghy tie-ups, a converted windmill, and a couple of burger bars that extend a warm American welcome. Not far from here, numerous T-shirt and jewelry shops pepper the streets, symbols of St. Croix's status as a cruise ship destination. A little further inland stand charming buildings left over from Danish colonial days.
Christiansted seems cloaked in shades of blue and yellow. Under the arched breezeways fronting most buildings in town, colorful tile mosaics often line the sidewalks. Standing apart from the breezeways on high ground above the harbor is Christiansvaern, the Danish fort that is now a national historic landmark. It, too, glistens yellow in the sun. A self-guided tour through the fort yields many interesting facts about the inhabitants of St. Croix. For instance, the Danish soldiers serving here had to wear their regulation wool uniforms year-round. Amazingly, many never quite adjusted to the climate.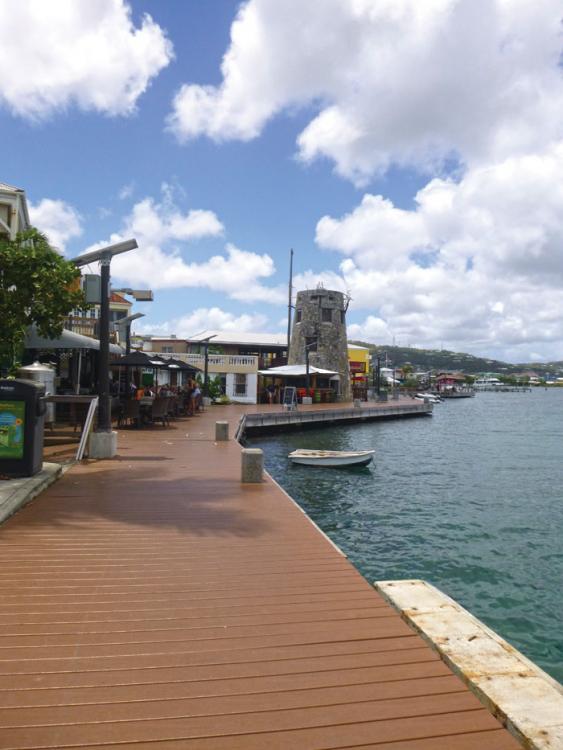 With a more direct bearing on America's early history, Alexander Hamilton's mother was imprisoned by her husband in the fort for shirking her duties as a wife. He figured some time in jail would make her appreciate him more. It certainly did as she ditched him and St. Croix soon after her release, fled to Nevis, met James Hamilton, and started a new life and a new family. Alexander Hamilton's parents never married, and sometime later he and his mother returned to Christiansted without his father. A walking tour through town leads one to the sites where he grew up including to the firm where he received his financial training as a young teenager.
Buck Island
A mile north of Christiansted, Buck Island fulfills tropical dreams of paradise: crystal clear turquoise waters, shifting shades of blue, and a creamy, sandy island rising up from this dreamworld. While day excursions come here often, recreational sailors will find plenty of space to anchor as well. Soft sand beaches line the west side of the island while a reef rich with elk coral and tropical fish stands on the east side of the island. A permit issued by the National Park Service is usually required for anchoring, but was waived for the 2018-19 season. Check in with the National Park Service office in Christiansted to confirm whether a permit to visit Buck Island is needed.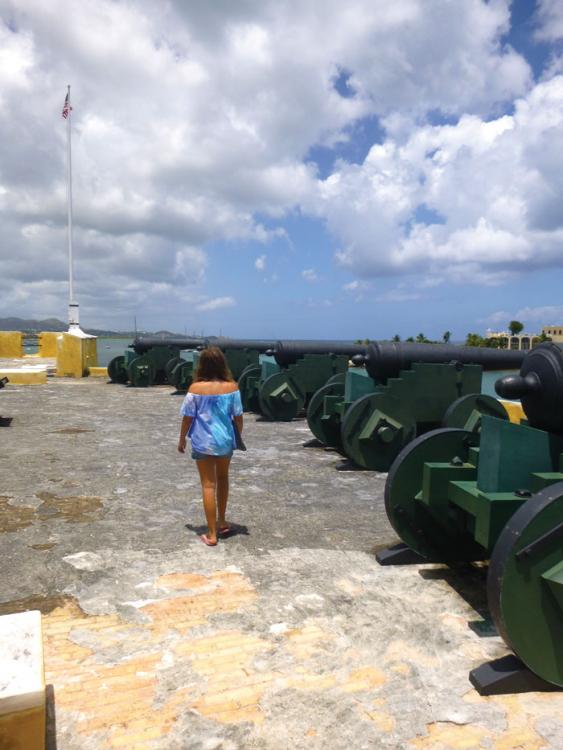 Frederiksted
Located at the western end of St. Croix, Frederiksted is chill. The long pier dominates the waterscape and occasionally hosts a cruise ship. On shore, the remains of an old fort, now a museum and national historic landmark, make up the northern waterfront. The quiet, arched streets south of the pier house businesses, such as dive shops, a barbecue restaurant, and an art gallery featuring the works of local artists.
Diving at Frederiksted was our goal, so we headed for the dive shop N2 the Blue. Two of our crew tried a "discover dive" along the famed Frederiksted Pier. St. Croix's rapid rise from a steep shelf coupled with its clear waters make for a diverse habitat popular for scuba diving, and the Frederiksted Pier held additional allure as home to sea horses. Abandoned pilings near the pier grew colorful corals, and sea turtles swam by. We saw brittle stars, garden eels, and schooling bait fish, but no sea horses on this day.
St. Croix really seems to have it all: chill vibe, beautiful nature, interesting culture, good restaurants and provisioning, and welcoming locals. One could spend weeks, months, or even a lifetime in St. Croix. Our visit, although just a short sampling, left us wanting to come back to explore more.
by Tracy Leonard