Ashley Love, SpinSheet Centurion Five Years in a Row
As of November 7, SpinSheet Century Club member Ashley Love was at 112 days on the water, but we know this sailor—there are more days in the year left, and she's likely to seize the day! Here's a bit about her on-the-water journey this season and how she grew as a person by accepting new challenges.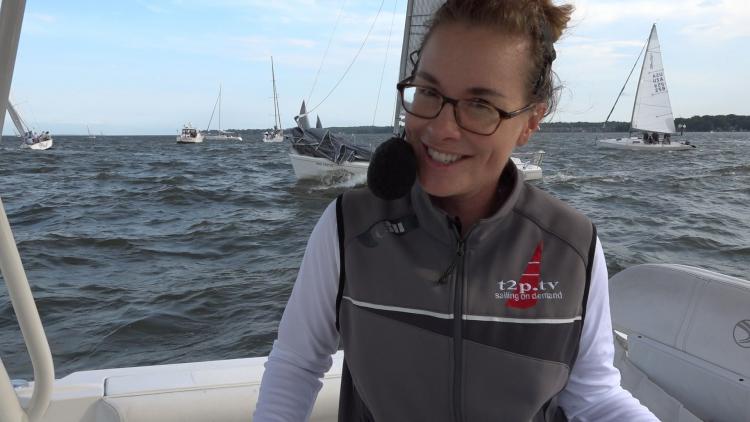 How many times have you been a SpinSheet Centurion?
I'm very proud of my fifth time in a row making it into the SpinSheet Centurion Club. In years past, I'm usually taking my 100th-day photo in a winter coat, hat and gloves, but this year, I reached my goal much earlier. I won't stop though!
What motivated you this year to get out there?
I was worried that I wouldn't get the January/winter sailing in that I usually do because several regattas I used to be involved with (like Key West) weren't happening anymore. So when the J/70 regattas like Davis Island and St. Pete NOOD, along with the 5O5 Midwinters came up in Florida, I jumped at the opportunity.
Traveling to compete in away regattas is always such a great way to see a new place, both on and off the water. Doing it with friends is even better. It always bonds you together that much more, because you don't have the distractions of home.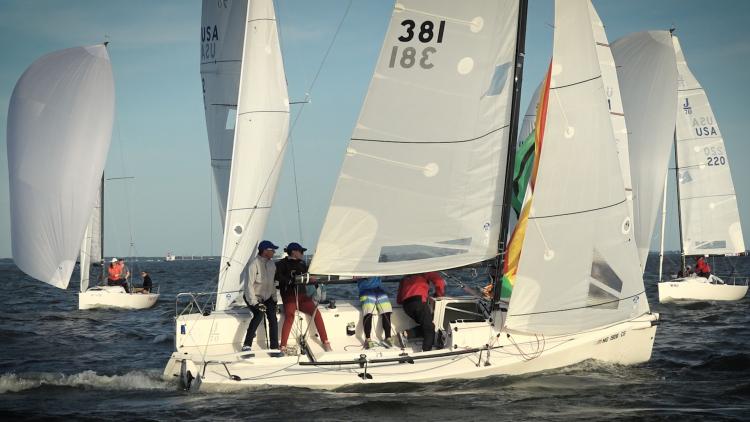 You depend on each other for logistics, stay in the same place, and eat every meal together. Early-in-the-year regattas like the BVI Spring Regatta and Congressional Cup being week-long events also helped quite a bit.
It definitely helps to have an occupation that helps me get days in on the water, but I felt like I had a good balance between work and play this year. Once the Annapolis season started up, I was racing most Tuesdays and Thursdays and filming Wednesdays, which racks up the days pretty quickly.
Can you share three highlights from the season?
Narrowing it down to only three is going to be nearly impossible, but I'll try! A fun regatta this year was the AYC 3-2-1 event that I sailed with team SSA. The new format was exhilarating, challenging, and the weather was epic.
Mike McNamara and Christine Compton's Tartan Ten, Artemis, certainly played a big role this year. Doing the Baltimore City Yacht Association Tuesday Night Series, the Miles River Race, winning the Boomerang Race, and starting a women's team driving the mighty, ArteMISSes, for the Herrington Harbour Women's Regatta and then raising money for the Downtown Sailing Center's Ya' Gotta Regatta was a blast.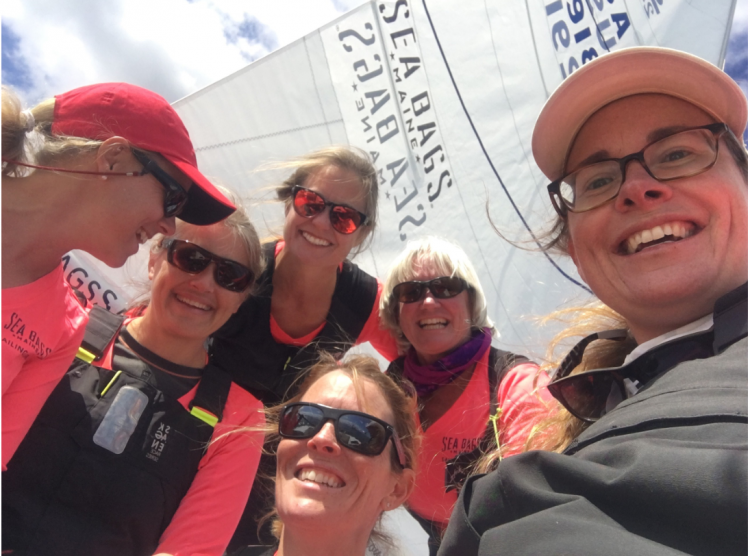 Also this year, I had the pleasure of spending days on the water in my old stomping grounds: Barnegat Bay in New Jersey. Filming the E-Scow Easterns and the Star North Americans was exciting along with being a speaker at the Callahan Memorial Regatta in Bay Head. I showed a video and spoke to a ballroom full of adults and kids about the similarities between sailing and my career in the "real world," if you call the sailing industry "real"!
Sailing teaches us responsibility, how to process success and how to quickly move on from missteps. The biggest lesson, for me, is how to be a part of team. On the racecourse, in the office and in the "field," you can accomplish so much more with a well-functioning group of people, which takes anticipation, adaptability, empathy and selflessness.
Working with the US Naval Academy, Jeanneau, Watermark, yacht clubs across the country, like the St. Francis Yacht Club filming the Kilroy Pro Am and so many others has been so enriching, and I have my sailing background to thank for it. I know that my time as a kid being responsible for myself, my equipment, entry fees and travel, and working with my training partners has all lead me to where I am now.

Did you experience any scary days?
I didn't have any scary days, but I did have a few days where I was trying something new and found out which dynamics weren't for me. I wanted to jump off this one boat and swim to shore a few times because of mismatches in personalities onboard.
Part of growing is to accept new challenges, but also to know your boundaries. Getting screamed at and belittled while finishing DFL isn't my thing and that's okay. There are plenty of teammates, friendships, and crew mates out there from my past, present, and future that can be a healthier experience, so I don't have to do anything that miserable.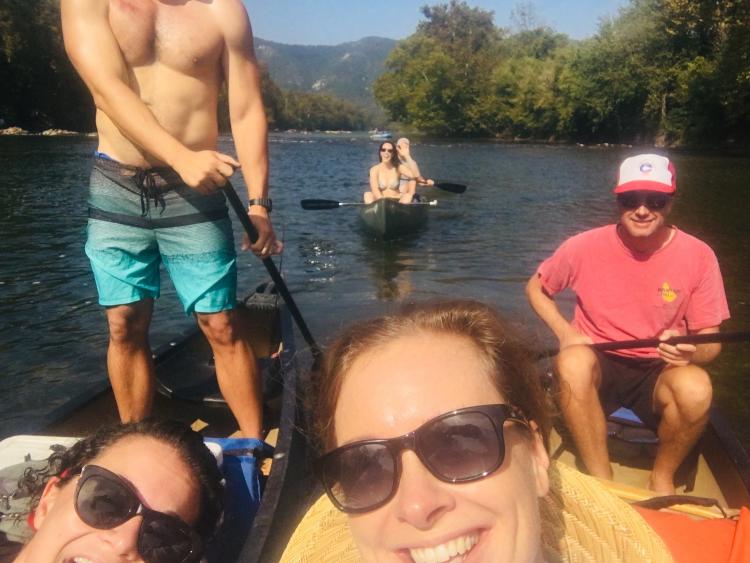 Favorite wildlife sightings?
Two of my days on the water were canoe/camping down the Shenandoah River in Virginia. The catfish seemed like they were four feet long, but the most special sightings were the bald eagles perusing the riverbank for their next meal. So majestic, so powerful. It was easy to imagine the cultures who navigated these waterways all across the U.S. surviving off of the land and waters alongside these hunters.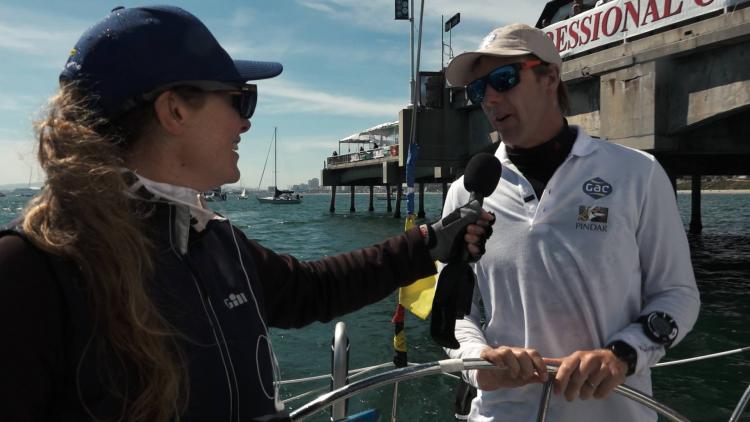 Did you take any newcomers out sailing or doing some other kind of boating?
I was onboard a few times with people who'd never been on a sailboat before, but the more interesting days were the ones where I and the other crew members really grew up because of taking on new roles onboard.
Organizing the all-lady teams aboard Mike and Christine's Artemis (redubbed ArteMISSes) helped me grow as a skipper since most of my driving has been on dinghies. A Tartan Ten is a much bigger program and making a regatta happen, especially a travel regatta, takes a lot of help.
The women who sailed in those events all stepped out of their comfort zones and took on a different and/or bigger role on the boat. For example, moving from offside trim to primary trim or strategist to tactician. We could all feel our confidence rising every step of the way, from logistics to delivery, to boat set up, to racing, to returning home.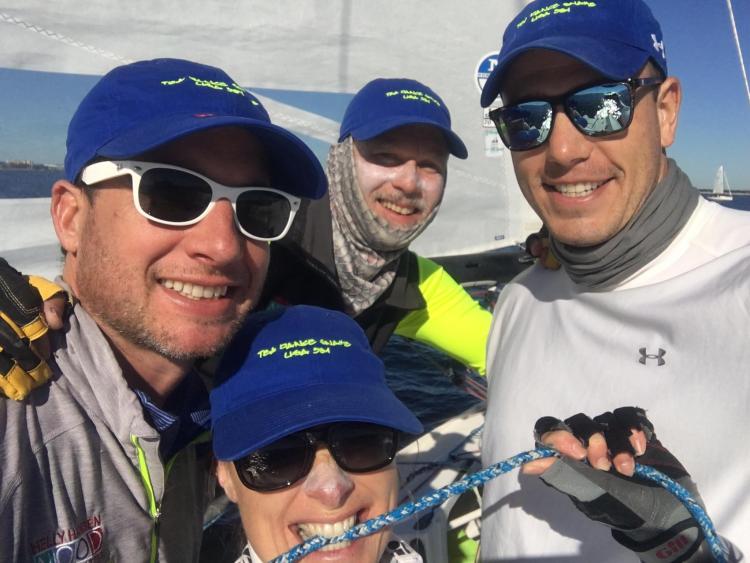 What did you get out of being on the water so much?
I grew, not only as a sailor, but as a person. I know it sounds cheesy, but I used to think I could fit into the mold of any character/roll/voice on a boat. I found out that there will be exceptions to that versatility and that's okay!
Saying yes to everything to make it into the Century Club got me that many more times to say both "yes, this is my happy place" and "no, this is not for me." I put myself out there in new positions, stepped up and always tried to bring others up the ladder with me.
I'm closer to the friends I already had and made some great new ones from other states, like Team Sea Bags, who I raced with for the J/24 East Coast Championship/ who were mostly from Maine and Newport.
You make friends fast on boats, because you're all instantly getting thrown into a challenge that bonds you so quickly. We're doing the one thing we have to have a passion for to do. 25+ knots, breaking a main halyard, being in every position from 1st to 23rd around marks takes mental and physical toughness and agility. You learn a lot about people when you succeed and have growing pains as a team.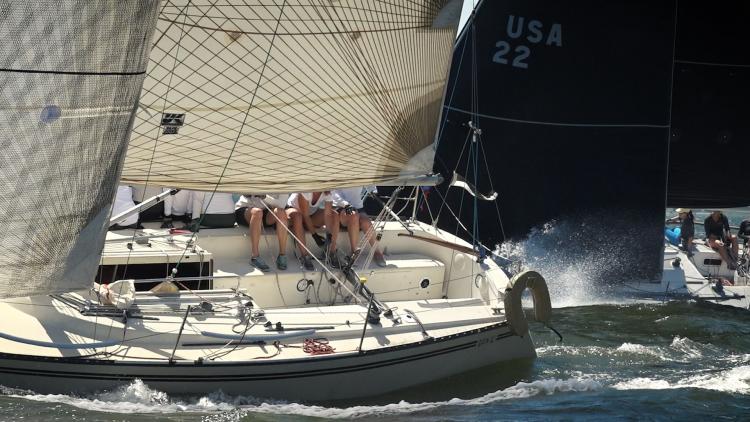 What would you recommend to someone considering the 2020 Century Club?
Use the challenge as a reason to branch out. If you own a boat, sometimes you can feel chained to one class. Don't be "one-boat stupid." Make friends with someone in another class and trade for a regatta or for a night! If you're a crew looking to step up, step up to that faster boat!
There's a fine line between being loyal to a program and feeling trapped by a program. Learn when it's natural to go out with new people while honoring the commitments you made already.
If you're looking for upward momentum, always sail with people who are better than you on boats that challenge you. If you're looking for new friends, remember that floating crafts can be used for more than racing. Plan a raft up or go to a restaurant or a concert by boat (Pier 6 always has a great line up in Baltimore).
If you're looking to become a coach or a pro, start winning everything and learn about more than just how to rig a boat. Branch out by learning how to care for boats, move/set up boats, do rig tune and feel out sail plans.
Find something besides the sport itself that tickles your fancy. Something extra you can bring to the table when looking for experiences. It will make you more attractive as crew. For me, it's video!
LEARN MORE ABOUT THE SPINSHEET CENTURY CLUB AND MEET MORE MEMBERS HERE.