Bluewater Racer and Sailing Dad Brian Barone Hits 100 On-Water Days
Exciting year on the ocean blue for SpinSheet Century Club first-time member Brian Barone. After checking the Fastnet and the Transpac off his bucket list, his favorite moment was right here on the Bay with his kids. Here's the scoop in his words: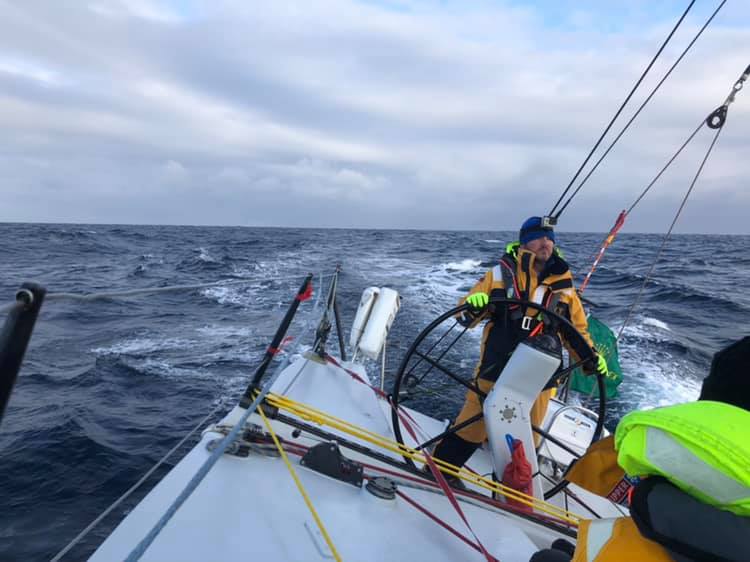 What motivated you this year to get out there?
I have this old book "Ocean Races of the World" that I have had for years. I have slowly been ticking off the big offshore races in the book, and in 2019 the stars aligned. I got an opportunity to do some of the biggest races in the book: Fastnet and Transpac. So a combination of a full schedule of offshore races, Opti sailing with my two boys (aged 9 and 10), and cruising and racing on the "Family Truckster" made 100 days possible this year.
Can you share three highlights from the season?
It's been an amazing year with so many highlights that it is hard to pick. The first highlight that springs to mind is meeting my wife and kids at the dock after arriving in Hawaii at the end of Transpac. We had sailed around 2300 miles of open ocean, crossed monstrous waves in the dreaded Molokai Channel, and had been drinking salty water from a flukey water-maker for about a week and were ready to finish! When we finally arrived, hearing the crowd cheer and our names called out on the PA System by the race announcer, then being handed a giant Maitai in a pineapple by Clare and the boys was simply amazing.
Right after Transpac I hopped on a plane direct to England to go race a Volvo 60 in the Fastnet Race, and it was just surreal. Fastnet had almost 400 boats this year and there was a bit of everything, from the giant French multihulls, the Volvo boats of every generation, 100 foot monsters, and even some family racer/cruisers. It was just an amazing spectacle.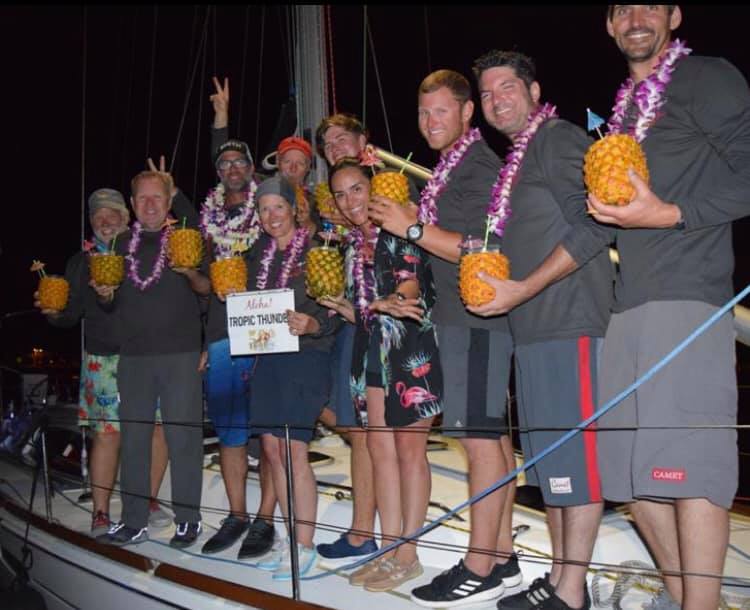 The race itself was pure excitement from start to finish, with frantic last minute preparations to get the boat together, to climbing behind the wheel to drive that beast in the Irish Sea around Fastnet Rock. It was nuts and so much fun. The Volvo Race boats are huge and intimidating at first, but they sail so beautifully that you forget you are driving a monster and start to have a ball. I would drive that boat all day every day if they let me.
But even with the big races this year, my favorite highlight is one that might be seen as a smaller moment, but is worth more than all the races combined. It was late season sailing with my boys Quinn and Zane, while crammed into an Opti doublehanded (taking turns with each of them of course).
No other boats were on the harbor, it was a bit chilly but we were dressed well, and the boy steered us to some imagined mark in the distance. While we sailed in the quiet each opened up and talked about life, school kids, their thoughts, until it was too dark to play anymore and we turned toward home for dinner.Simple, quiet, and perfect. They might never remember it, but I always will.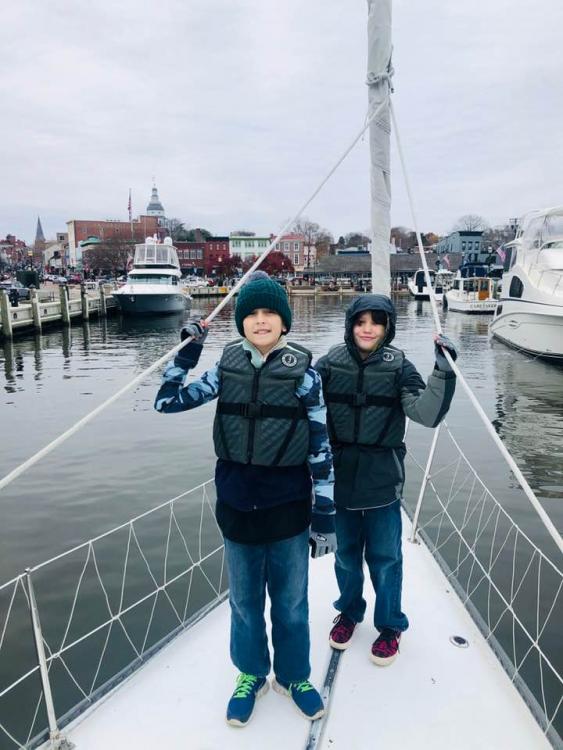 Did you experience any scary days (storms, emergencies, etc)?
On the Cruisers Cup this year we were blasting along on a reach on our 48-year-old Ranger 37. We were making trees on the leaders fast with the boat fully powered up when bang! The steering went out completely!
A pulley had been ripped from a poorly mounted turning block, and we were dead in the water. The breakage was not the scary part; the thing that scared me is what might have happened if we were in the prestart or at a mark rounding. Someone could have gotten hurt. We dropped sails, got towed to the dock, tied her off, and headed to a party at a friend's house because there's no sense on dwelling on trouble when there's fun to be had. We have since redone the entire steering system and she is again rock solid!
Favorite wildlife sightings?
Sadly I was making sandwich below when a whale surfaced off Catalina Island! The usual dolphin offshore are always fun. I threatened to eat the squid that we found glued to the deck on Transpac but couldn't bring myself to actually do it.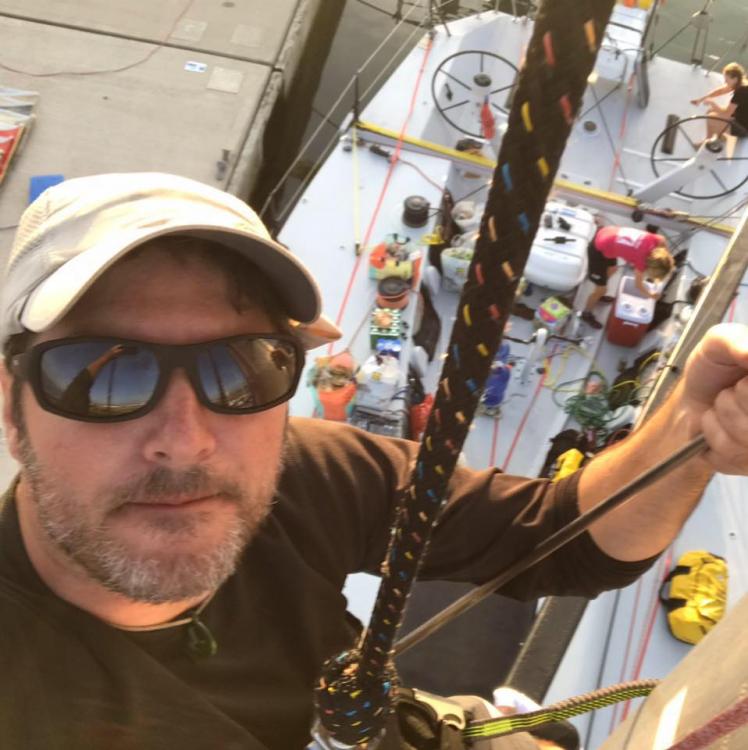 Did you take any newcomers out sailing or doing some other kind of boating?
This year we were lucky enough to have one of Zane's buddies James from Cub Scouts come out with us a few times with his dad (Hi James!). John H. has started racing beer cans with us, and it was great to see the boys all together having fun and getting a turn on the wheel. Even if they were mostly playing down below, having young kids aboard gives them time to get comfortable enough on the boat that they can get more involved when they are ready.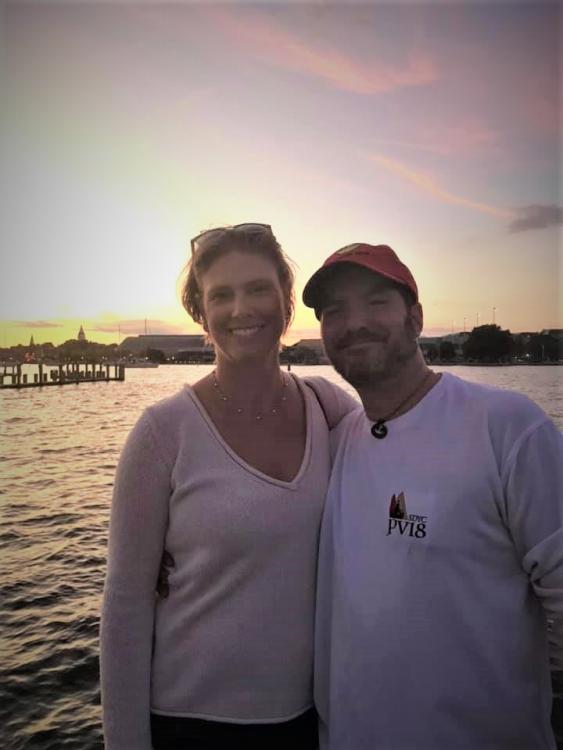 What did you get out of being on the water so much?
A real desire to get out even more often next year. A lot of my sailing in 2019 was about me and my far away races. In 2020 it's about all of us making even more memories together.
What would you recommend to someone considering the 2020 Century Club?
Don't wait until December 30to get in Day #100. It gets cold!!
Find more SpinSheet Century Club stories here.