Wisdom from a New SpinSheet Centurion
Congratulations to Dave Stalfort on exceeding his goal of 100 days, reaching 111 days on the water in 2018, and qualifying him as a SpinSheet Century Club member. He also qualified for the SpinSheet Racing Team. Here's a Q&A about his journey.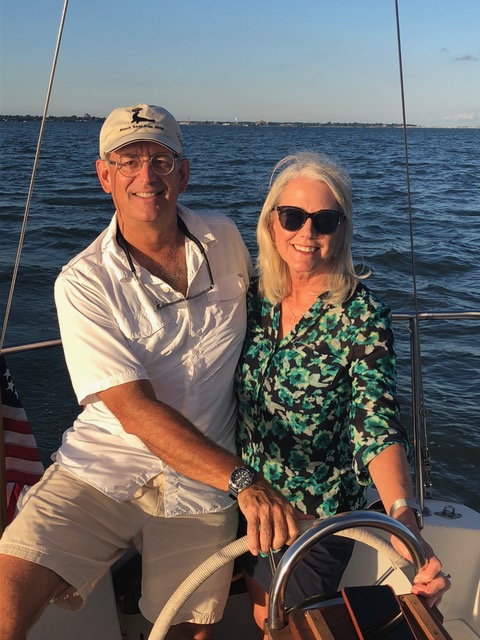 How many times have you been a SpinSheet Century Club member?
I've been sailing since I was 11 but this my first year as a SpinSheet Century Club member. I plan on being a member each year going forward.
What inspired you to join?
My good friend, Alan Bomar, and I enjoy getting out on the water as much as possible. When Alan suggested we join, I immediately said yes. The 100 day goal encouraged us to get out on the water throughout the year. As soon as we got under way Alan and I would say, "Another day on the water!" I'm amazed at how few people are out enjoying the water outside of the short summer season.
Was it tough to reach 100? What did you have to give up to make it happen?
It doesn't take much persuading to get me out on the water, especially living at Fort Monroe and having good friends that love sailing. Like anything in life, the goal itself provides motivation. The goal inspired me to get out on the water with my wife, Trena, our two sons, and our good friends as much as possible.
Any stand-out memories?
There were several stand-out memories. Winter sailing decisions are not about the cold weather but about choosing the right gear to wear to stay warm. After one particularly cold day on the water, my son Connor who snowboards all winter, said "Dad and his friends are crazy" for going out in that freezing weather!
Wednesday night racing was also memorable with beautiful sunsets and a great way to break up the workweek. One beautiful weekend our neighbors and their son and daughter-in-law from Iowa were day sailing with Trena and me on our Cal 29, S/V Windsong. They were enjoying the new experience as they took turns at the helm and exclaimed "this is not normal" in Iowa, but it is for those of us who love getting out on the water.
Racing in the various regattas, and joining Spin Sheet's Racing Team, was also memorable as it taught me to be a better sailor. Another good memory was being involved in Youth Sailing Virginia's summer Learn to Sail program when we were able to get a group of middle age children, who would never had the opportunity, out on the water on Mill Creek at Historic Fort Monroe and teach them how to sail.
Some of these children have gone on to participate in YSV's high school racing program. Wouldn't it be a great goal to get all middle school children in Hampton to join the SpinSheet Century Club? (YES! YES!!)
Most of all, the best memories were simply day sailing with Trena, my family, and good friends.
Favorite wildlife sightings?
We always enjoyed seeing the variety of marine life in Hampton Roads and the Lower Chesapeake Bay; porpoise, sea turtles, and whales were among our favorite.
What advice do you have for someone who'd like to become a Centurion in the future?
As the saying goes, a boat in the harbor is safe, but that's not what boats are for. Get out on the water as much as you can; forget about a destination - just sail.
Get unplugged, leave the email and work on shore. Invite someone, especially a child, who has never sailed to go out on the water with you. For youth especially, sailing teaches skills that they will use throughout life. Sailing teaches independence, concentration, decision making, teamwork and leadership.
So get out on the water and invite someone new to sailing to come along. You never know, that person may become a sailor for life!
Dave is the president of Youth Sailing Virginia.