Posted September 17, 2017
Northwest Passage, Done!... SpinSheet Century Club members and Annapolis-based sailors, Captain Charlie Simon and his wife, Cathy Simon say they have answered the question: What do you do after a world circumnavigation? "Our current adventure has been the completion of the fabled Northwest Passage. It has been the highlight of our year long, 14,000-mile sail around North America via the arctic and the Panama Canal."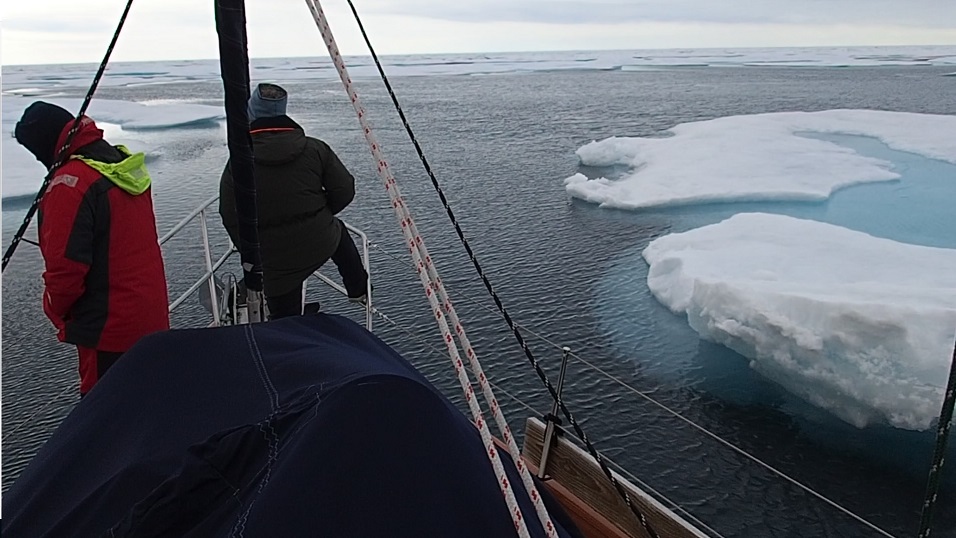 Their Northwest Passage route will be the 3300 miles crossing the Arctic Circle northbound in the Atlantic near Nuuk, Greenland, recrossing the Arctic Circle southbound in the Pacific near Nome Alaska. The Simons departed the Chesapeake on April 27, and completed the Northwest Passage on September 8 (Cathy's Birthday on their Taswell 58, Celebrate, which took them around the world in 2014-2015).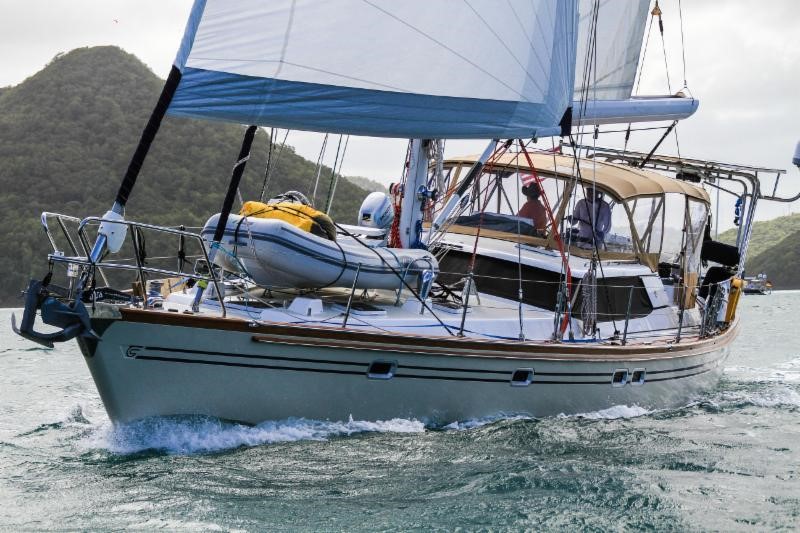 Capt. Charlie says, "We saw this voyage as a rare opportunity to transit the historical Northwest Passage Route." As of 2016, only 257 vessels had recorded a Northwest Passage transit which included Annapolis local, Matt Rutherford (2011) who the Simons have consulted for advice about their trip. No strangers to ice, the Simons have sailed to Alaska twice and were prepared for the cold, ice, and rough conditions. They have been sailing as a couple for nearly 40 years and have accumulated over 100,000 sea miles together. But the couple who usually doublehand will be joined by a four-member international team of dedicated world sailors: Edward Jaschek (Germany), Ralf Jager (Germany), Brian O'Grady (Ireland/Australia), and Vladimir Porvaznik (Slovakia).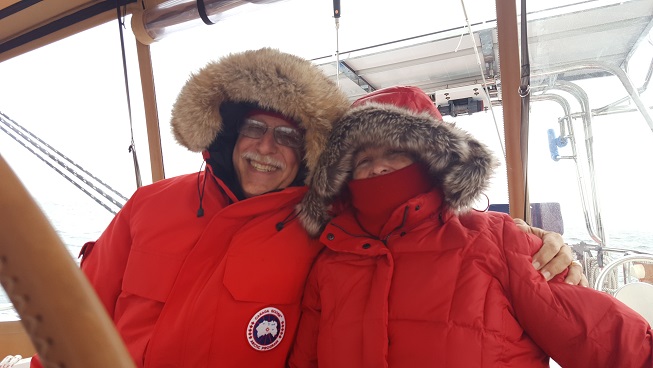 The itinerary was timed so the Simons and crew sailed the Northwest Passage during late August to early September when it was mostly free of pack-ice. The Simons are returning with a lifetime of stories, as well as photos and videos from their drone and masthead camera. Their current location is mapped (via satellite tracking) on their website along with itinerary details and links to their blogs and facebook pages. With blogs, weather observations, and live satphone contact from the arctic, the Simons hope to encourage sailing and call attention to the melting polar ice cap.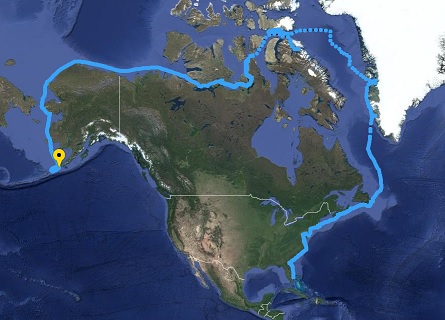 On the next leg of the voyage, the Simons will sail the U.S. West Coast arriving in the tropics at the end of the hurricane season in November. Then they'll transit the Panama Canal (Capt. Charlie's fourth transit), spend some time in the Caribbean, and return to Annapolis when it warms again in the spring, 2018.
Celebrate returned from her circumnavigation in excellent shape, but in order to prepare for the Northwest Passage, Capt. Charlie has installed an additional 150-gallon fuel bladder, added more batteries, a diesel heater to augment the existing reverse-cycle system, satellite communications, along with a backup navigation system, a masthead video camera and extra safety gear.
Sailing Vessel Celebrate
Meet the boat! Celebrate is a Taswell 58 AS designed by noted British naval architect Bill Dixon and built by the highly-regarded Ta'shing yard in Taiwan in 2003. 62 feet long overall, she weighs 33 tons and provides a stable, comfortable ride in rough seas. Designed to accommodate eight people, the boat is spacious for a sailing couple and has ample room for the spares and safety equipment needed for a circumnavigation. She is sloop-rigged and sails at 8-9 knots in a good wind. When the wind dies, her 160hp Yanmar diesel engine will keep her going at 7 knots with a fuel range of 2,200 miles.
Captain Charlie and Cathy Simon
Charlie has an Electrical Engineering degree from the University of California, a Masters in Computer Science from Washington State University and a USCG Master's License. Professionally, he has worked on numerous major software projects including Microsoft's MSNBC.COM. Also, a popular speaker and accomplished author, Capt. Charlie is the co-author of the 2016 book, along with Cathy, entitled QuickStart Circumnavigation Guide: Proven World Route and Sailing Itinerary Timed for Weather The book gives sailors at all levels an overview for planning a voyage. Cathy Simon is a retired bank executive with several major banks in San Francisco. She has a BA degree from Washington State University.
The Simons have been married for 38 years and have a 33-year-old son who will join them on one leg of the trip. Since retirement, as well as sailing they have been active philanthropists supporting various causes such as, international and youth sailing organizations and belong to SpinSheet's Century Club and the Annapolis Yacht Club.