The Perks of Chartering on the Chesapeake Bay
With many reputable charter companies located on the Bay, anyone, even non-sailors and sailors without cruising vessels (think racers and dinghy sailors), can easily experience a rejuvenating vacation or relaxing weekend getaway on the water. Whether you plot a course to a bustling urban harbor or a quiet secluded cove, in just a few hours' time, almost anyone can be relaxing on the Bay.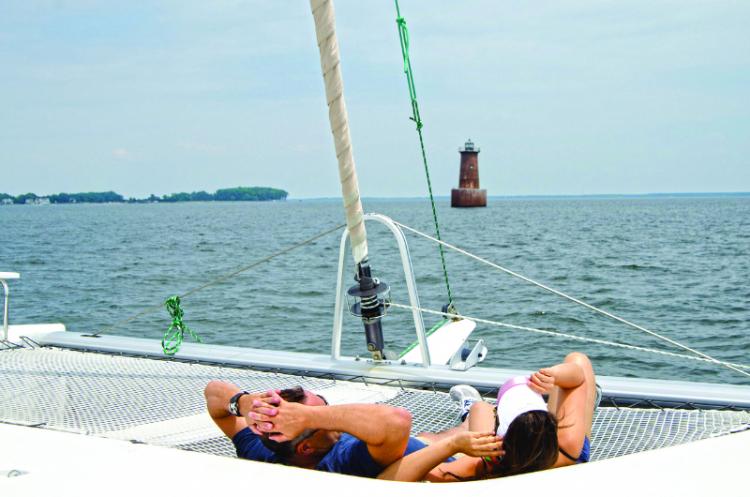 "Chartering is a fantastic way to hit the pause button and take a break from our busy lives," says John Burke, a chartering veteran of the Chesapeake, British Virgin Islands, and Bahamas. "When it comes to finding that 'escape' that many people are looking for, I'd say chartering on the Bay is probably an underused resource. My friends and I have chartered in the fall and felt as if we had the Bay to ourselves. We've discovered some amazingly vacant anchorages on creeks with beautiful foliage along the shoreline. A quiet cove makes a perfect spot for a floating party, and if you charter a catamaran, you'll have extra space and relative luxurious comfort."
Burke continues, "Sailors tend to be minimalists by nature, but when provisioning it's okay to treat yourself. Coffee connoisseurs, for example, will enjoy a French press and cream or sugar. Starting the day off correctly can be important when you're sharing limited space with a group of people! We usually bring along our own kayaks and paddles as an auxiliary flotilla to explore the shallows. As for the basics, most charter companies will provide a good list of what to bring and what will already be aboard the boat. (In some locations) food can be pre-ordered and kayaks rented, if you prefer."
"Don't forget to invite your landlocked friends," says Burke. "Chartering affords a terrific opportunity to introduce non-sailors to our world. And you don't have to travel far for a successful getaway. I've spent the night on a creek just a mile from where the boat was kept and had a wonderful time. If part of your crew needs to work a full day on Friday, I suggest grabbing a mooring ball in Annapolis harbor late in the afternoon and watching the world go by while you wait for the latecomers, who can easily reach you by water taxi."
Selecting A Charter Company
"When choosing a charter company, look for one that has been in the business for 10 years or more. An established company is a good indication that they are doing something right," recommends Karen Caterham of Horizon Yacht Charter. "I also recommend a full-service business, which means they will provide comprehensive chart briefing, free assistance preparing itineraries, an individualized operation and orientation session, and 24-hour customer support."
Caterham continues, "The size of the company is a personal choice. Larger companies often give you lots of options, but smaller ones will likely provide more personalized service and flexibility. Don't base your decision on price alone; cheaper is not always the better option. Find out the average age of the fleet and ask for the specs, layout, and age of the specific boat you'll charter. For older boats, inquire about maintenance schedules and the overall condition. You should also request pictures. Compare boats based on your must-have features, such as newer boat, A/C, generator, bimini, and television. Also remember to calculate the add-on fees, such as the security deposit, hull damage waiver insurance, sales and use taxes, and fuel. Ask friends for recommendations and check out the companies at the U.S. Sailboat Show in Annapolis."
Chris Neumann, who recently chartered in the Abacos for a week, says he and his friends had a fantastic weekend charter to the Wye River a few years ago on a 40-foot catamaran through Dream Yacht Charter (formerly Annapolis Bay Charters. Everyone loved taking kayak trips to the headwaters of the picturesque Eastern Shore creeks, and I really enjoyed sleeping on the hook in a quiet creek."
For cooking, Neumann recommends using the grill and stove top at the same time. "Putting together a feast and dining aboard can be fun," he says. "And if you provision well for short trips, you won't even need a dinghy to go ashore."
Provisioning
Be mindful that chartering is akin to camping. There will be some necessary advance work. You'll want to assemble and load into the car ahead of time all the stuff you'll use aboard. After you've checked in at the charter office and arrived at the boat, make use of the dock cart to easily transport your gear from car to boat. Many charter companies have an option to come aboard the evening before for a small fee, allowing you to toss the lines and be on your way early on your first full day.
Bareboat or Captained
This depends on your skill level and confidence. At booking you'll be required to provide a sailing resume, indicating previous sailing experience as captain or crew and prior chartering experience including types of boats and locations. You will also be asked if you own a boat, and you should also list any U.S. Sailing or ASA certificates you hold. Also, expect to be asked for a couple of sailing references.
Checkout
The checkout process should be thorough but streamlined. Well-run charter companies make the process as easy as possible. If you're bareboat chartering (which means you are the captain), you'll be shown and familiarized with the navigation systems, anchors, engine, safety equipment, stove and grill, radio, bilge pumps, toolbox, sail inventory with hoisting and reefing instructions, fuel tanks, and any other information you'll need.
When you're out on the water, you have the support of the charter company via VHF should issues arise. If you've hired a captain, he or she will be familiar with the boat or will receive a briefing from company reps.
This article first appeared in SpinSheet in 2015, and the information within it holds true in 2023!