Help Recovery from Dorian by Spending Time in Nassau and Unaffected Areas
It's been months since the monster Cat 5 Hurricane Dorian decimated Grand Bahama Island and the Abaco Islands. The devastation is heart-wrenching. But there are still hundreds of cays and out-of-the-way anchorages waiting to be explored. The Bahamas Tourism Agency is quick to point out that major cruising grounds, including the pristine 365-island chain known as the Exumas, have been unaffected by the recent storms.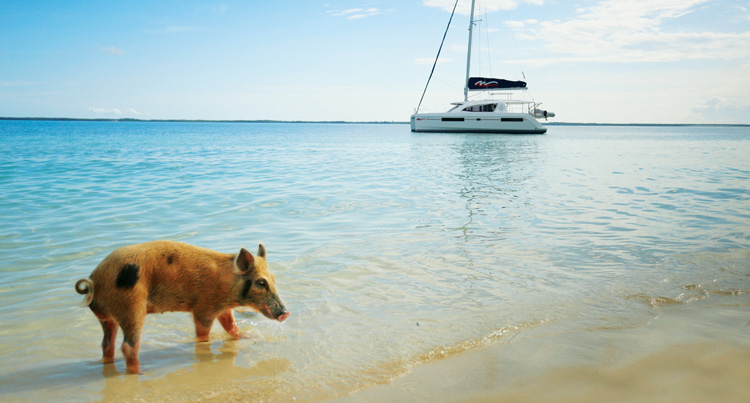 "The best thing you can do to help us recover from Dorian is to come down and spend some time in Nassau and the unaffected areas such as the Berry Islands, Eleuthera, and the Exumas," says the Ministry of Tourism's Ellison Thompson.
While we are saddened that the reopenings of such Abacos mainstays such as Pete's Pub on Little Harbor and Nipper's on Great Guana Cay are still very much up in the air, it is this reporter's intention to entice some of you to make some new Bahamian memories in a spot you may not have visited before: the Exumas.
Today's standard Exumas cruising destinations haven't changed much in the intervening years: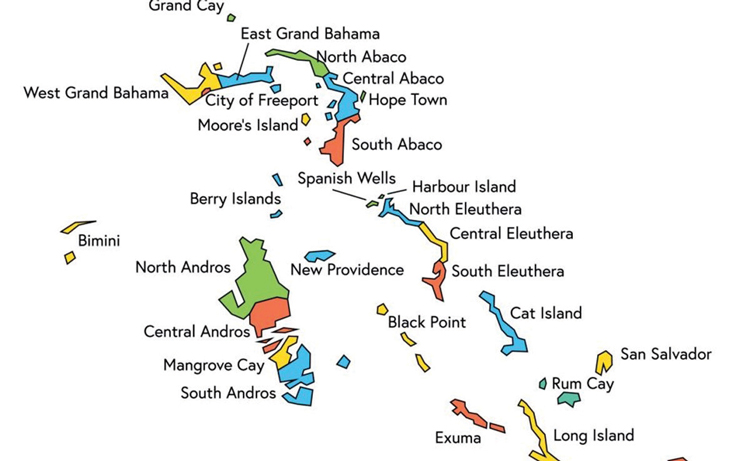 Highborne Cay
Start with a 40-nauical mile run from Nassau to Highborne Cay. Spend the day kayaking or snorkeling at Horseshoe Bay. Take the dinghy about one mile northwest to nearby Allan's Cay where you'll be welcomed ashore by the friendly three-foot iguanas at Leaf Cay beach.
Norman's Cay
Norman's Cay is a short sail due south. The pristine coral reef that surrounds Norman's Cay and its neighboring islets make it a great place to explore. There's even a sunken drug-plane to dive in a forgiving 10 feet of water. Be sure to check out the quirky resort and beach bar, MacDuff's.
Great Guana Cay
There aren't any moorings at Great Guana Cay, but the harbor has good holding and the protection is good. The locals at Black Point Settlement will make you feel right at home. You can even order homemade bread from Lorraine's Café and pick it up the next morning.
Staniel Cay
Staniel Cay earned its claim to fame after providing the splendid backdrop for two James Bond movies. In fact, the underwater cave system located just west of Staniel Cay was named "Thunderball Grotto" based on its feature-film debut. In the evening, make reservations at the Staniel Cay Yacht Club to enjoy an elegant (albeit expensive) dinner onshore. A side trip to nearby Major Cay (aka Pig Island) is also a fun diversion.
Warderick Wells Cay
As the headquarters of the 176-square-mile Exuma Cays Land and Sea Park, and the largest underwater sea park in the Caribbean, Warderick Wells Cay is a premier anchorage submerged in protected waters. A word to the wise: get there early before all the choice anchorages are taken.
Rose Island
Many cruisers spend the night close to Nassau on their return voyages by anchoring off Rose Island. This 11-mile-long spit of land boasts snorkeling conditions, secluded coves, and four beaches: First Beach, MacTaggart's Beach, Footprints Beach, and Sandy Toes, which serves up a vibrant party scene on Sundays at the seaside bar and grill.
Charters
Both the Moorings and Dream Yacht Charter offer crewed or bareboat charters from their bases in Nassau. Prices for a sailboat that could accommodate four-passengers range from about $1000/day to $2500 for a crewed charter and from $750 to $1800/day for a bareboat, depending on size of vessel and time of year. The Moorings only charters cats; Dream Yacht Charter charters both monohulls and catamarans. In total, there are about 150 sailboats available for charter in the Bahamas as of this writing.
"There are plenty of places to get away from everybody in the Exumas," says Tina Huewe of the Moorings. "Two of my favorites are the secluded anchorage of Soldier Cay and the experience of swimming with the sharks at Compass Cay followed by cooking up fresh local lobster on your own boat at sunset."
Patty Angell of DreamYacht Charter advises cruisers to book early: "There will be more pressure for boats for the winter season (January-April). I advise to start a dialogue now so as to not be disappointed later."
Be advised that even though the route detailed previously is confined to the protected Grand Bahama Bank, winds can be strong in the winter; so sailing conditions can be challenging.
For more information about cruising in the Exumas, visit: bahamas.com.
Article by Craig Ligibel