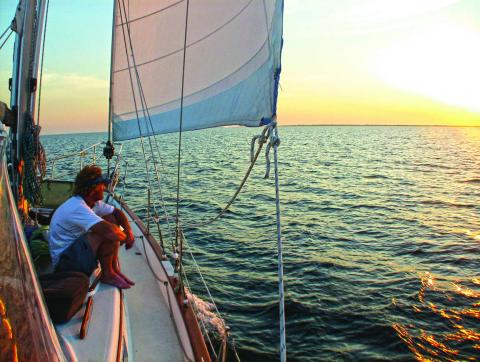 To accompany Craig Ligibel's "Postcard from SW Florida's Charlotte Harbor--Rx for the Winter Blahs" in the March 2017 issue of SpinSheet, here's our Charlotte Harbor Guide.
Charter companies:
SW Florida Yachts. Good selection of trawlers and monohulls. Barb Hansen. 239-656-1339. www.swfyachts.com
FantaSea Sailing. 43-Endeavor ketch. Day sails and some overnights. Captain Paul. 888-582-9046. www.fantaseasailing.com
Alondra. 47-foot Herreshoff-designed wooden ketch. Captain Chuck. 239-410-2852. http://pineislandsailing.com
Four Winds Marina, Bokeelia, FL . Janette. Small power boats. 239-283-0250. http://fourwindsmarina.com
Accomodations:
Tarpon Lodge and Inn, Pine Island. Great base from which to explore. Rob Wells. 239-283-3999. www.tarponlodge.com
Cabbage Key, Marker 60, Intercoastal Waterway. Can't beat the location. 239-283-278. www.cabbagekey.com
Useppa Island Club. Pine Island Sound. Collier Inn or condos. 239-283-1061. www.useppa.com
South Seas Plantation. Captiva Island. Plenty of options.239-472-5111. www.SouthSeas.com
Captain Jack Tours. Captain Jack. Dolphin watching. Beach tours. 239-227-9886. www.captainjackboattours.com
Fishing:
Yellow Tales Fishing, Captain Travis Murphy, 239-340-3468; [email protected]
Kayak rental
Carmen's Kayaks. Carmen Driscoll. 239-333-7332. http://kayaktreks.com
Attractions:
Useppa Island Historical Society. Only accessible if you are staying on-island.. 239-283-9600. http://useppahs.org
Randell Research Center. Pineland, Learn about the Calusa Indians. 239-283-2062. http://flmnh.ufl.edu/rrc
Cayo Costa State Park. Pristine beaches. https://www.floridastateparks.org/park/Cayo-Costa
Dining:
www.cabbagekey.com
Tarpon Lodge. Pineland, FL. Try the corn chowder. 239-283-3999. www.tarponlodge.com
Pink Flamingo. Bokeelia, FL. Great smoked mullet dip. 239-283-5959. www.lazyflamingo.com
The Pink Elephant. Boca Grande, FL. See and be seen. 941-964-0100. http://the-gasparilla-inn.com
The Temptation. Boca Grande. A true Old Florida eatery. 941-964-2616.
Nav-A-Gator. Arcadia, FL. 941-627FISH. Fried Twinkies and Reuban sandwich are big sellers. http://nav-a-gator.com
Own your own piece of paradise:
The Useppa People. Brian McColgan. 239-283-0230. http://[email protected]