Seven ways to introduce your friends and family to chartering and have them like it
Chartering with people who have never done it before? No problem, so long as you consider their needs, interests, fears, budgets, and passions. Even if you're an old pro with multiple charters under your belt, new people have no idea what to expect, and you'll need to make accommodations to keep a happy boat.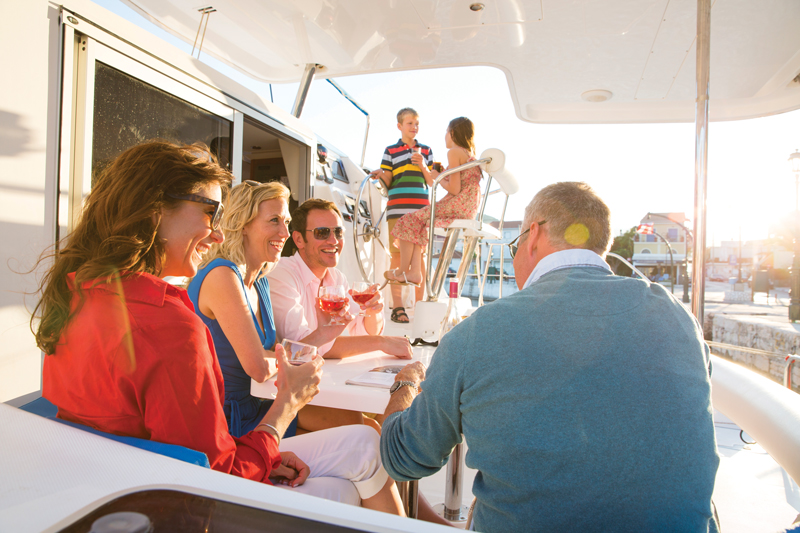 1. Consider the Location. Discuss your crew's expectations and choose a location together. If they hate to be cold, hot, seasick, or stuck solely aboard a boat, you'll have to choose cruising grounds that make sense for the majority of those aboard. If the priority is sightseeing and shopping, remote anchorages with little opportunity to go ashore will not be acceptable. If they get seasick, long upwind passages will be no fun. And if your crew just wants to relax aboard with cocktails, cultural activities will be less in-demand than a swim-up bar in a tropical locale. When you're dealing with couples, don't let just one speak for both, or there's bound to be some resentment over unmet expectations.
2. Consider the Boat. Some people don't mind roughing it, while others can't survive without air conditioning and twice-daily showers. Review the amenities (and the tankage) on your charter vessel. Also, remember that catamarans provide more room so people won't feel cramped. The motion of a multihull is often easier to take with less heeling, stomach upset, and general nervousness. Ask the charter company the age of the vessel, which will give you some idea of its condition; although older, well-kept boats can often be as good as newer vessels.
3. Consider a Captain. If you're a bit new to the whole process, consider hiring a professional captain so that you don't have to be stressed by the experience and can learn along the way. A charter captain will have local knowledge to find the most interesting anchorages and snorkeling spots, steer you away from tourist traps, and have a good knowledge of navigational hazards. Even if you have lots of experience, you may prefer to relax with your family and friends and not worry about managing the vessel along with the various personalities aboard.
4. Don't Rush. An overly ambitious itinerary is almost always a recipe for disaster as people feel rushed to visit multiple destinations without really experiencing any of them fully. On a weeklong charter in compact cruising grounds, plan on no more than one new anchorage or marina per day as fewer is better. The number of places you'll visit will depend on how far apart they are, how much there is to do in each, and how much time your crew wants (or is willing to tolerate) spending time aboard and underway. Many new sailors feel that chartering is all about the sailing, but non-sailors look forward to a comprehensive vacation rather than sail camp.
5. Don't Forget the Kids. Kids can either complicate or enhance a charter, but surely, they make it different. For the most part, kids aren't self-entertaining. Consider their ages and their preferred activities. Ask the charter base for additional equipment such as masks, snorkels, fins, kayaks, SUPs, and water toys. For evenings when the adults want to have sundowners in the cockpit, a TV/DVD and a few movies in the saloon can make for a peaceful boat. Mostly, to get kids involved and show them how to sail, anchor, snorkel, or run the dinghy. They'll adapt soon and enjoy themselves more.
6. Don't Make it Like Camping. Even if it's glamping (glamour camping), roughing it isn't for everyone. Mix in some upscale options. Unless you have someone aboard who loves to cook and clean, make provisions to eat out a couple of times during the charter. It's a great way to sample local cuisine and gives the galley slave a break. Also, provide plenty of water for the crew to take showers. Nobody likes to feel dirty, sticky and itchy on their vacation when they're planning to wear their beachwear finest, so be sure to replenish your tanks often. Provide some sort of shade on deck.
7. Plan Ahead. Above all, discuss the budget and how to share expenses before ever setting foot aboard. People have different priorities for their money so be respectful of their wishes and needs.
You can't please everyone but managing expectations beforehand and planning ahead can make a real difference when chartering with people new to this kind of vacationing. If you do it right, it may result in having plentiful crew for future trips.
About the Author: Author and photographer Zuzana Prochazka holds a USCG 100 Ton Mater license and is the founder of Zescapes.com, a charter and floatilla organizer.