How much boat is enough for an enjoyable charter vacation?
There are a number of factors that will impact your choice, and achieving the best balance between various tradeoffs will make the difference between a great charter vacation and an untenable situation.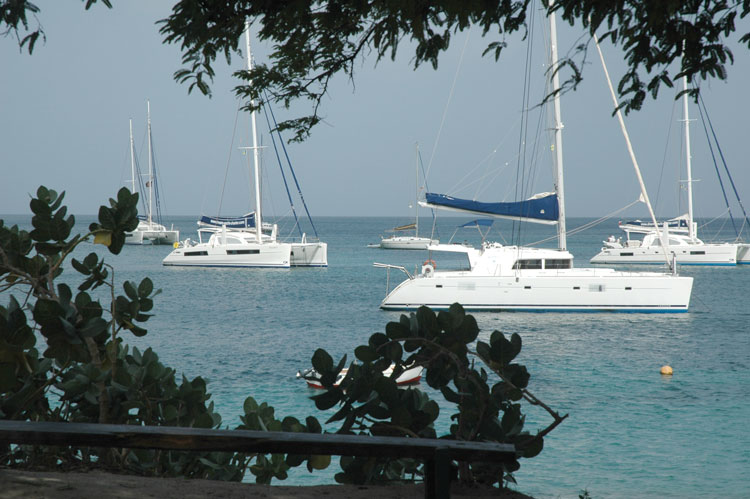 1. Budget
The first and unavoidable consideration is your budget. The rule of thumb is get the biggest boat your money will allow while leaving ample funds for provisioning, excursions, travel to the destination, and other entertainment. Larger boats will cost more, but will also accommodate more people with whom to split the costs. Catamarans and powerboats tend to offer more space than comparably sized monohull sailboats, but they're also more expensive. Also, remember that bigger boats have bigger engines which eat more fuel, and that adds to the overall cost.
2. Crew
The number, age, and sophistication of your crew will impact the size of the boat you choose. Most charter companies have recommended occupancies, but understand that those numbers include crew sleeping in shared areas like the saloon or in coffin berths in the bow.
Twenty-somethings have a high tolerance for packing in lots of people to split the costs. They don't mind sleeping in the cockpit, stowing stuff in every available cranny, and sharing heads. So long as there are nice sunsets and plenty of sundowner cocktails, comfort level is usually pretty low on their list of priorities. On the other hand, for 50-somethings, privacy and comfort will rank high. Sharing heads may be foreign to them, and a boat in chaos due to too many suitcases strewn about will be annoying to some.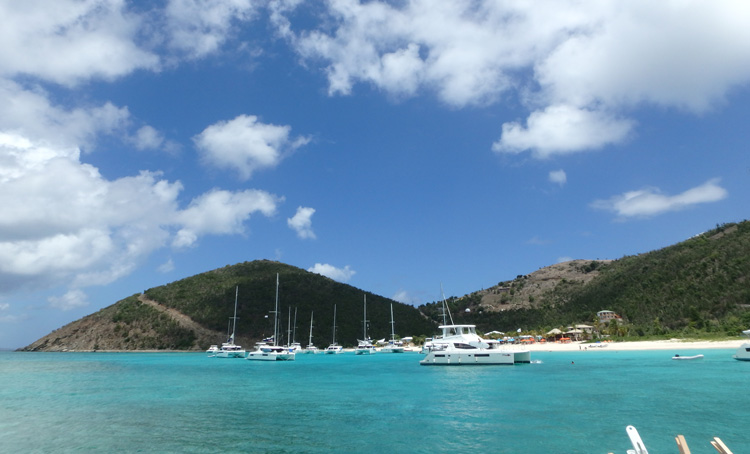 Try to make sure each person has a berth in a cabin. Even if they don't sleep in that cabin, they'll have a place to stow their belongings and keep the common areas clean of clutter. Couples can share a head, but if there are more than three bodies per head, let everyone know that prior to departure. If your crew is made up of experienced boaters (or campers for that matter), they will fare well in close quarters—better than people used to traveling via hotels. One unhappy crewmember equals an unhappy boat, so be sure to set expectations on accommodations and comfort well ahead of time.
3. Length of charter
Just about anyone can put up with cramped quarters for a few days. The question is, are you willing to be only marginally comfortable for a couple of weeks? There must be adequate shelter provided for everyone aboard to be comfortable. If you're chartering in the tropics, some people will sleep in the cockpit and have no trouble spending a lot of time on deck. But they will seek shade and protection from rain. On the other hand, if you're chartering in the Pacific Northwest, especially on a cooler shoulder season, you may have to get people out of the rain or cold, and that means bunks below decks. Choose a boat that can accommodate where you'll be, when, and for how long.
4. Destination
Where you charter will also affect how big of a boat you want. For example, if you visit the Grenadines, a large catamaran will bring lots of comfort, shade, and ease of use since you'll mostly be sailing in brisk winds during the day and anchoring with lots of room around you at night. In Croatia or Greece, a beamy cat will be a hindrance as you try to Med-moor at crowded town quays or find yourself motoring in light winds. Check out the destination and berthing opportunities and make an informed choice.
5. Management and handling
Finally, consider your experience and that of your crew. Bigger is not always better because you still have to drive, sail, anchor, and dock the boat. If you're not comfortable with maneuvering a large boat in tight quarters, working with big equipment such as a heavy anchor, or handling sails that have high loads in big winds, managing a big boat will be very stressful.
There's no one answer to the size question. The best approach is prior preparation and communication with your crew. Think through who will be there, what their abilities are, what their expectations are, where and when you'll be chartering, and what your personal priorities are. As a skipper, don't take on more than you can or want to handle, and you should be fine.
Article by Zuzana Prochazka