Sailing in the Abacos
I first stumbled upon Little Harbor's Pete's Pub after coughing my way through a smoldering forest fire while riding my fat-tired boat bike from Marsh Harbor "down the road to see how far it would go." The ice cold Kalik and juicy cheeseburger served up at Pete's was well worth the trek to get there. That first sailing vacation encounter was almost 20 years ago.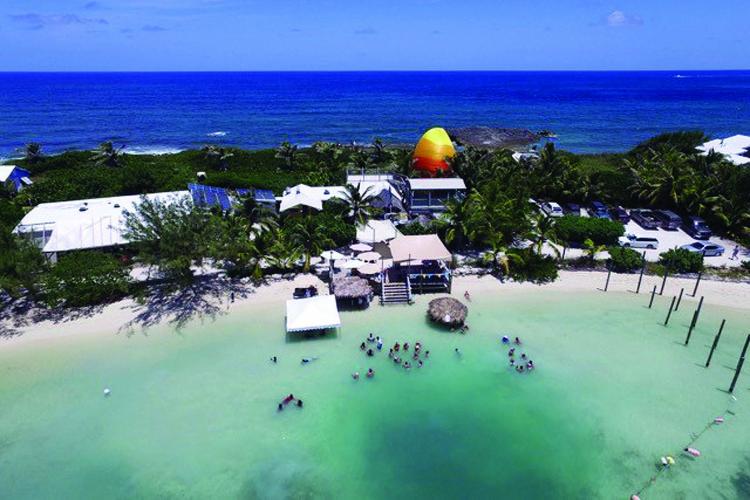 A couple of years later, a couple of buddies and I spent an uneventful three days at anchor at Little Harbor watching the Atlantic Ocean pile up monstrous waves on the other side of the North Bar Channel. Locals cautioned us not to venture out until we could no longer see the waves crashing over the tops of the palm trees. We waited out the weather, each night journeying to Pete's for the catch of the day and more stories of the sea served up by the loquacious Pete and other bar hangers on. Not a bad place to spend a couple of days.
Last year, I ran across mention of Pete's when searching for news of the destruction Hurricane Dorian had caused on my beloved Abaco Islands. Seems Pete and his family had started a Go-fund-me account to help staffers who had lost their homes survive until rebuilding could commence. I kicked in a couple of bucks, and I later learned the fund raised more than $80,000 for hurricane relief.
Just last week, I got an email from the folks down there announcing that "Pete's Pub was back," albeit in limited fashion, and that cruisers and locals were welcome to enjoy the sunsets and famous food and tall tales once again. Intrigued, I called down to Pete's and got the lowdown on what had transpired over the past couple of years.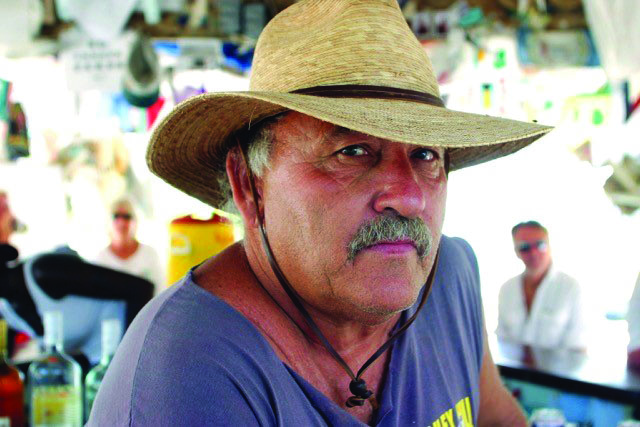 Pirate Pete's legacy
Pete's Pub was founded more than half a century ago as a "place where Pete and his father could entertain guests who had come to Little Harbor to visit the sculpture gallery," says daughter-in-law Heather Johnston. "Pete himself is sort of a local rock star. His nickname, Pirate Pete, is well deserved.
"We were hardly scratched by Dorian," Heather told me. "But the rest of Marsh Harbor and a lot of the out islands were really decimated. Most of our staff lived off-site. Almost all of them lost their homes to the storm."
Heather met her husband, Greg, while at school in Florida. Since they've been married and moved to Little Harbor, she and Greg co-manage Pete's, while Pete Johnston concentrates on his thriving wax-cast bronze sculpture business in between fishing trips with his grandchildren. In recent years, Pete can be found most afternoons holding court in a structure he's built at the end of the dock. "That's the perfect venue for Pete, and if you show an interest, he'll most likely arrange a tour of the foundry for you and your crew."
Heather says, "We're just this little flotsam and jetsam beach bar that serves up good food and good vibes." The catch of the day is as fresh as it can be. The burgers are epic, and the number one beer poured is a local brew called Sands Bahamian Beer that goes for $6 per bottle.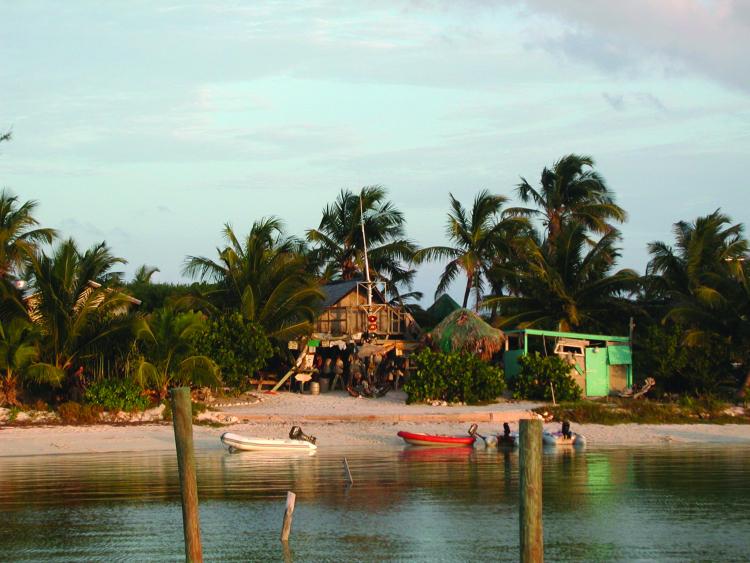 Heather sent me some current photos of the place. Not much has changed over the years. The front of the bar that faces the water is a lean-to affair straight out of Robinson Crusoe. Yachtie T-shirts still decorate the al fresco bar. Cruisers and locals compete at the well-worn ring toss game. Patron favorite Flora Albury continues her tradition of lively chatter behind the bar. Seventy-six-year-old Pete Johnston still regales visitors with tales of his Bahamian adventures.
It took most of a year for Marsh Harbor to attain some semblance of order. Even today, lots of people are without necessities. According to Heather, about half of the 20,000 residents have yet to return. "Just as we were getting back on our feet, along came Covid-19. That pretty much shut things down in the Bahamas last season. Now, people can enter the Bahamas if they follow the protocols. That ought to help make things a bit easier for cruisers and charters to make it down here."
Reopening plan
As of late winter 2021, Pete's reopening plan calls for socially distanced service at their outside eatery on three days a week. Heather says, "The people of Abaco are resilient. We've had a couple of tough years; hopefully, we're turning the corner on some good times to come."
Down the road at Great Abaco Beach Resort, Cruise Abaco's Patti Gonsalves has much the same view. "Hurricane Dorian was tough on all of us. But recovering from the virus has been tougher," she says.
"We were just getting our fleet back and had some charters, and then the virus reared its ugly head and shut us down again. Our base has been rebuilt. We lost all our docks and all the boats that were here were sunk, but we are slowly getting boats back into our fleet. We now have 14 boats here with a couple more due in the spring. That's down from what we had before the hurricane, but charters look pretty good for the winter."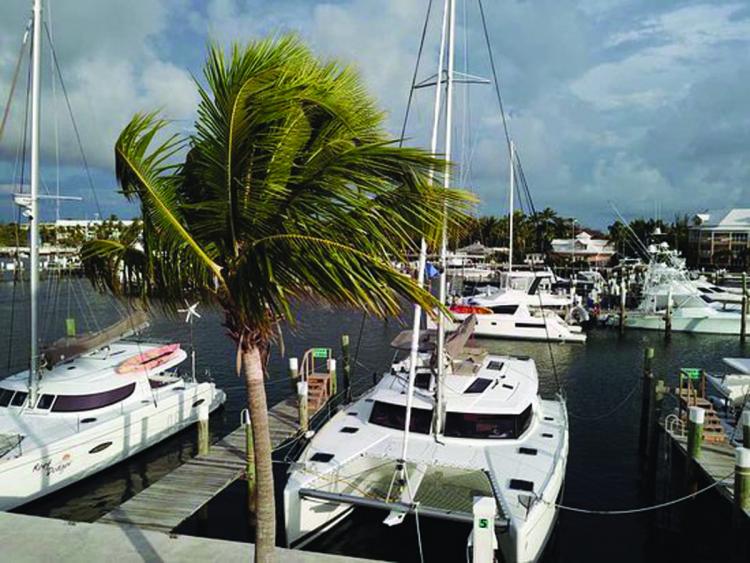 Covid protocol
Find current Covid travel updates here.
"At Cruise Abaco, we bring the guests back after four days and give them an antigen test," says Patti (as of February 2021). "All of our boats are disinfected prior to charter, and the captains and guests wear masks when they are together below deck."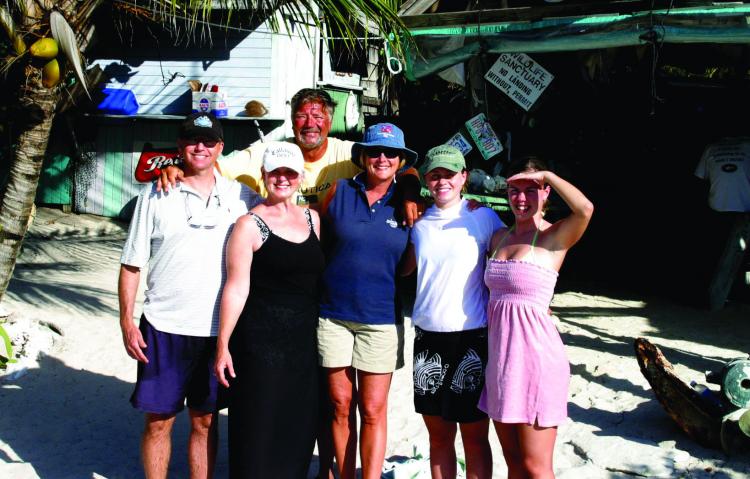 Beyond Little Harbor
Patti says that cruisers who had spent time in Marsh Harbor "wouldn't have recognized the place after Dorian. It looked like a bomb went off—hurricane, tsunami, tornado—all in one day. What a mess."
Now, Patti says, things are coming back. "Maxwell's grocery is open and most of the beach bars and marinas have service. Hope Town was decimated, but they are coming back as well."
Another iconic beach bar, Guana Cay's Nipper's, famous for its Sunday pig roasts, has been closed since Dorian. Patti says they are projected to open early this year.
Sail Abaco and Navigare are the only two charter operations still doing business in the Abacos. "The Moorings and Dream Yacht Charter just aren't coming back. With so few boats here that means cruisers will have the Sea of Abaco to themselves if they make it down this season," says Patti.
Cruise Abaco's fleet consists of catamarans, monohulls, and power cats. Seven-day rates range from $6300 (bareboat) for a 37-foot cat to $9200 for a super-deluxe 47-footer. You may add a captain for around $1500 per week.
The Sea of Abaco offers unique cruising grounds due to the protected waters and the close proximity of the many outlying cays. This allows you to island hop and visit many remote islands in a short period of time.
A sample five-day itinerary includes short sails to Great Guana Cay, Man-o-War Cay, Elbow Cay's Hope Town, Foul Cay Underwater Park, Tahiti Beach, and of, course, a stop at Pete's Pub at Little Harbor.
Patti's husband, Mark, heads up the charter company's ASA school.
As I write this looking at a cold, grey Annapolis winter with the prospect of even more Covid restrictions coming down the pike, a getaway to the Abacos and a couple of great meals at Pete's Pub seems like a real possibility. Too bad I sold my 43-foot ketch Wind's End years ago. I somehow don't think I could make the trip across the Stream in my 20-foot catboat!
Oh well, there's always Bahamas Air!
~By Craig Ligibel