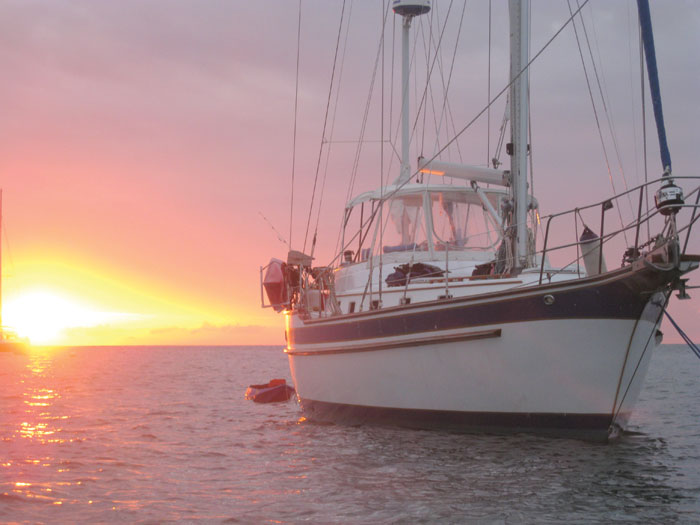 Life as a charter boat magnate
"Mr. Craig. Mr. Craig. Ya gotta come don t'Belize t'morrow and take de trip. I'm in jail, and tings don look good."
The voice at the end of the static-filled phone call belonged to Cubby, the local Belizean I had entrusted with running my one-boat charter company. We had struggled to make ends meet for two years. The third year was to be our breakout year. Until Cubby got himself thrown in jail. Something about coming home one night and finding his brother hiding under his girlfriend's bed and living right next door to the police station was more information than I could process.
Luckily, flights to Belize from Miami back in the 90s were cheap and frequent. So I packed my sea bag, threw in some spare parts just in case, and took the next flight to Belize City, from where I would catch a puddle jumper to Placencia, just in time to make a shopping run prior to my guest's arrival the next day.
That night, onboard my 43-foot 1980s vintage Endeavour ketch Wind's End I popped a couple of Belikin Beers and contemplated how a nice retired ad guy like me found myself in a third world country schlepping tourists around Belize's pristine waters in my prized sailboat—and losing a fortune each time I went out.
The blame for my ill-fated foray into the charter boat business rests squarely on the petite shoulders of my wife, Colleen. We had just bought a home on a private island off the coast of Southwest Florida, and much as she loved seeing Wind's End at anchor, she was less than thrilled to see the bills which continued to come in despite the fact that the boat's extended cruising days were over.
"I'll show her," I said to myself, "I'll take the boat to Belize and put her into charter service. I'll be cashing those checks in no time, and Colleen will be none the wiser." True to the adage, the best laid plans are quickly scuttled!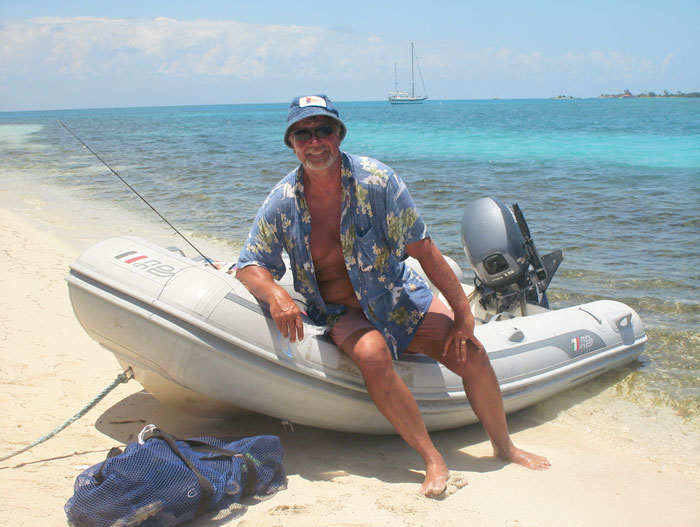 That first week
On the trip down, it turns out the biocide I had added to the fuel tank had congealed a decade's worth of gunk, which clogged the Racor filters with annoying frequency and necessitated a stop in Cozumel to stock up. This resulted in us fleeing the captain of the port at full speed, after we had not checked in and had anchored too close to the commercial pier. Once we cleared Mexican waters, we breathed a sigh of relief. Doubly so for my crewman, Captain Jack, who had "borrowed" the captain of the port's launch and left it tied up at the dock in Key West after a madcap dash to Florida several years previous.
We finally made it to Placencia, in the southern stretches of Belize, and I settled into life as a charter boat magnate. I learned two things that first week in Placencia: first, always sleep with your wallet under your pillow (a painful and expensive lesson learned the hard way after all my cash was stolen from my backpack while I was snoozing in my room on the shore); and second, never believe anything the locals tell you about how easy it is to set up a business in Belize.
The former was an inconvenience. The latter took four months to sort out with licenses, taxes, boat inspections, insurance, and more, before the first guests could be accommodated. By that time, the first year of Wind's End Sail Away to Paradise Yachting Vacations, LLC was history. Total expenditures: $20,000. Total income: $0. Years two and three didn't go much better. But if payment can be measured by the number of stories an adventure generates, then my foray into the charter business was worth its weight in gold. There was the Romanian count who was more than mildly upset that my crew slept in the cockpit, thereby interfering with his daily ritual of smoking his morning cigar on deck… in the buff.
Or there was the time we were the victim of piracy on the high seas when two locals swam out to Wind's End while anchored in the sheltered waters of Guatemala's Rio Dulce and proceeded to appropriate my new AB dink and four-stroke Yamaha, despite the fact they were both secured to the stern with a thick metal chain.
How about the time a Texas couple paid for a two-week cruise only to arrive at the appointed time to find that my part-time booking agent had disappeared with all the records and all their cash.
Then there was the call no one ever wants to get: "Mister Craig. She wo' go." Turns out, the transmission had shot craps, and the only qualified mechanic in the country was on an extended cruise to Guatemala. The repairs went on and on: windlass, generator, steering cables, autopilot, stereo, TV, radar, headsail, chartplotter, forward head. The list was endless. And expensive.

I almost lost my best friend, as well, as he suffered a severe case of heat stroke in Guatemala while helping me celebrate my 60th birthday. He awoke the next morning with a saline drip in his arm, which he watched in trepidation as Wind's End bucked and sloshed up the Belizean Coast in 40-knot winds, sometimes making less than half a knot as her 60-hp Perkins struggled to keep up.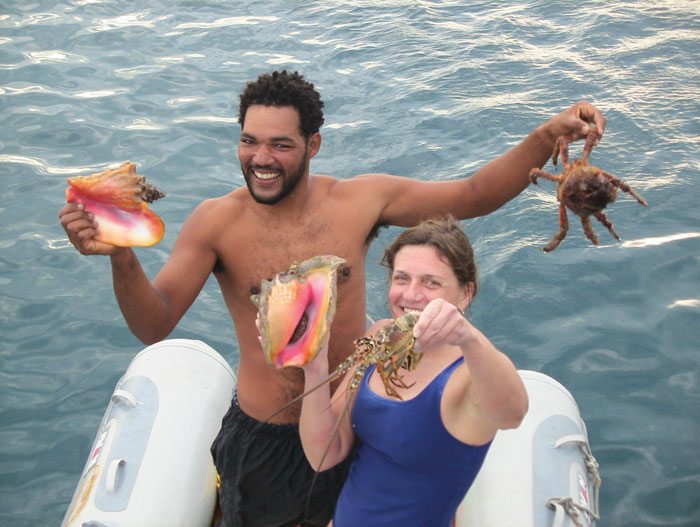 I'd finally had enough fun
Despite the fact that we had an arrangement with the best resort complex in Placencia, Robert's Grove, the red ink continued to accumulate. It got so bad that an IRS auditor threw up his hands at my stacks of receipts calculated in Belizean dollars and Guatemalan pesos, saying, "Either you are the worst businessman in the history of the charter boat business, or your accounting system is the most deceptive I've ever run across. I think you owe the government some money, but it would take me too much time to figure it out." Thank heaven (and the Feds) for small favors.
I finally had enough fun and decided to bring Wind's End back to the states and sell her. The sale process went relatively painlessly, and we eventually sold her for a fair price to a Floridian who planned to put her into charter service in the Gulf Coast. Good luck with that!
It was bittersweet seeing her sail past Useppa that last time. But Colleen was happy… until I took some of the proceeds and bought a classic 20-foot-long catboat which I dubbed Mystic Wind.
I haven't been back to Belize since. It remains a pristine sailing ground with plenty of secluded anchorages and spectacular sunsets, a great place to lose one's self in nature. On somebody else's boat.
By Craig Ligibel