Docking, Anchoring, and Mooring a Charter Boat
Anxiety strikes some charterers when they imagine docking, anchoring, or otherwise mooring a charter vessel. It's the greatest fear for most people, and the truth is that in a new location, nobody knows for sure what's coming up, so it's good to have a few skills in each of the following areas before contemplating a charter vacation.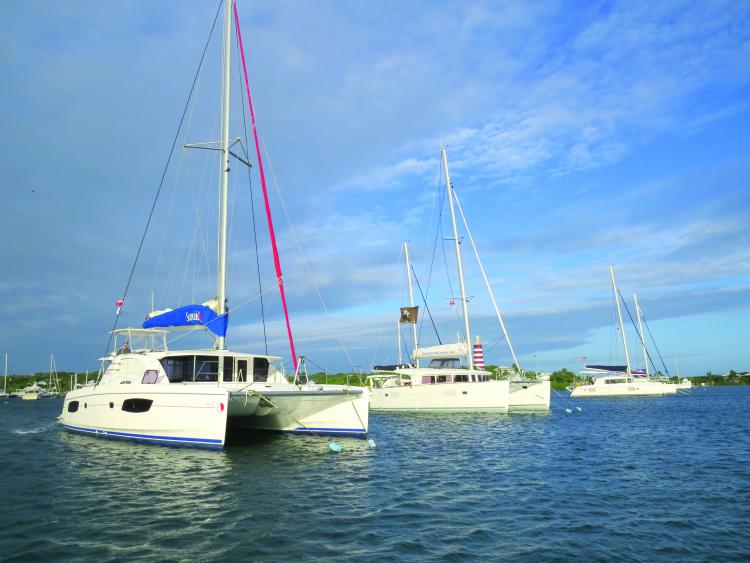 Anchoring
Anchoring depends on a variety of factors including size of anchorage, bottom condition, wind, current, depth, and the gear provided with your charter boat. Anchoring in 30 feet of water in sand on one anchor in clear water is one thing. Anchoring fore and aft in a deep anchorage with murky water full of tree trunks is another. Your pre-charter briefing will usually provide information on good anchorages and those that are to be avoided. Pay attention, ask lots of questions, and heed the base manager's advice because he/she knows best. If you're in warm, shallow water, dive on your anchor to make sure it's set.
Much of your anchoring success will depend on the boat and the gear provided. Some charter boats will have all-chain rode. A boat will swing differently on line rather than chain, so keep that in mind when anchoring near other boats. Charter rode is usually not marked which makes it difficult to determine how much you have out and if the scope is enough for the depth. Also, a rope/chain splice can get caught as it goes through an electric windlass, so raise or lower the anchor slowly.
The anchor on your charter boat may be different from the one on your boat at home and will set differently, so make sure your first attempt is in a wide open anchorage with plenty of room for mistakes to happen. Test the windlass before you leave the dock. Make sure the anchor launches freely and doesn't get stuck.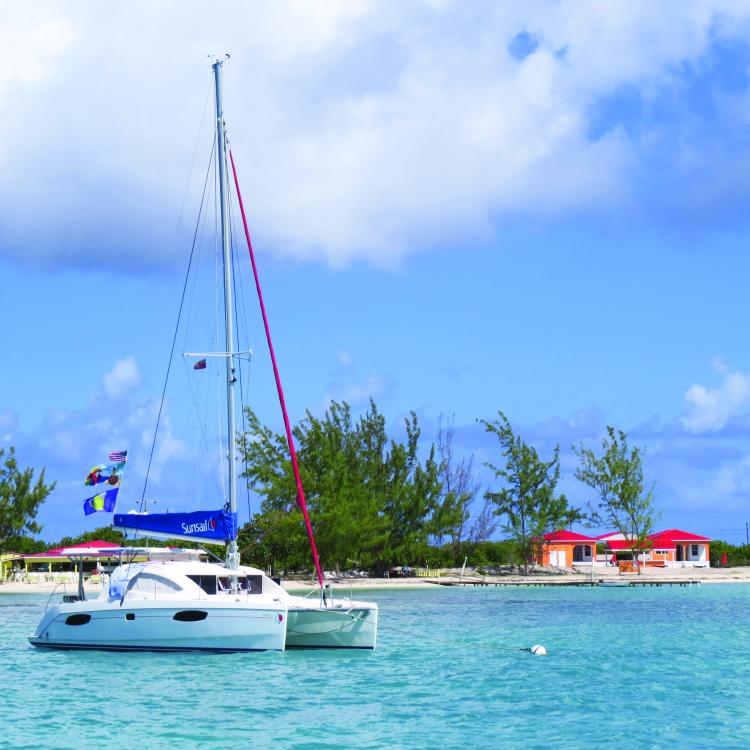 Moorings
Moorings are often placed in locations where it's difficult to anchor due to depth, bottom condition, or obstructions, or it's prohibited due to possible damage to surrounding reefs and bottom structure. Moorings usually provide a stress-free way to attach to the bottom, but they do come in many varieties and are rigged according to local custom. With some moorings you will need a boathook to pick up a float and string your line through an eye beneath.
If you lift a line and it has multiple eyes below, it's good to know which one to use so the boat remains safe even in a blow. It's always good to understand which moorings are available for public use. Some will be private and you may have to leave them, even in the middle of the night when the owner comes back.
Many areas charge fees for mooring use because it is expensive to maintain them. In some charter destinations such as the Grenadines, you may get lucky and have the assistance of "boat boys." These men and women make their living from tips by assisting boaters hooking up to a mooring. Tip well, and you won't be sorry.
Docking
The most stressful scenario is docking a boat you're not used to, especially in a small space. If you have a small monohull sailboat at home but have chartered a large catamaran, there's usually a bit of apprehension. Many charter companies will drive the boat out of the marina for you. Don't be offended. It's their boat and your credit card, so let them do what they want before/after you take or relinquish command of the vessel.
Some companies will insist you refuel the boat before returning it, making it mandatory to dock at least once on your vacation. That can be easy as in Anacortes in the Pacific Northwest with a wide-open dock and lots of assistants, or it can be a hair-raising experience as at the crazy fuel dock in the Blue Lagoon at the bottom of St. Vincent in the Caribbean. There's no way of knowing ahead; ask as much as you can, try to scope out the situation via dinghy if necessary, and then proceed with caution.
Approach any hard surface only as fast as you're willing to hit it. Put out lots of lines and fenders. Many small docks in remote areas, such as at Bloody Mary's on Bora Bora Island in Tahiti, experience a wild surge, shallow surrounding reefs, and a strong wind that will keep you pinned to the dock even as you try to leave.
One of the toughest docking maneuvers is used quite frequently in the Caribbean, South Pacific, and Europe and it's the Med-moor. That's when you anchor or catch a mooring on the bow and then back into a tight slip with the stern at the dock. Good crew coordination is necessary. Practicing this at an empty dock may ease your stress when you have to do it for real.
Side Tie
One last option that does come up whether you're anchored, moored, or docked is side-tying if you "buddy-boat" with another boat. Side tying works well; just make sure that people on both boats know how to handle the lines to join the boats, use plenty of fenders, and remember to look up to keep your spreaders offset so that they don't tangle if the boats start to roll in a wake or swell.
Uncertainty is the only thing you can be sure of when anticipating your berthing options in a new location with an unfamiliar boat. A little careful planning, some thought, taking the time to reconnoiter, maybe a bit of practice, and the willingness to ask questions make for the best preparation.
By Zuzana Prochazka