You Can Do Sailing Charters in More Places Than You Think
I don't know about you, but I'm getting itchy feet. It's been too long since I hoisted a sail, dropped anchor, dug my toes into sugary sand, or used the excuse of being on a sailing charter vacation to indulge in midday umbrella drinks. Following the holidays in 2020 into 2021, things only got tougher with international travel.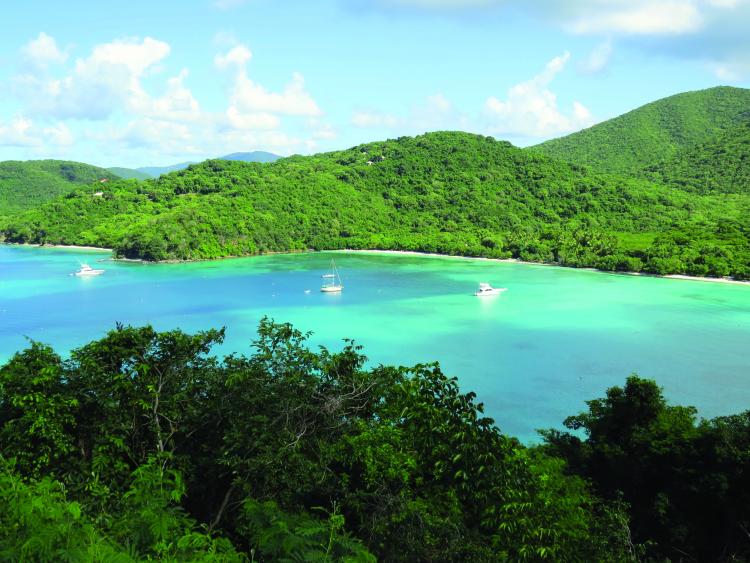 Since the pandemic began, it's been tough out there for adventurous sailors, but it's even tougher for the charter companies that are struggling to appeal to a travel-shy clientele. It's not only fear of illness or the onerous testing requirements that are keeping U.S. sailors homebound. It's also a varying but sometimes egregious set of restrictions in the islands themselves that are making a mess of the charter business model.
By far the most restrictive requirements (as of March 2021) have come out of the British Virgin Islands with four-day quarantine periods, restrictions on shoreside activities, and limited island access. Currently, you can fly to Tortola (EIS), but flights have always been sparse and expensive which is why many people fly to St. Thomas and take the 45-minute ferry to the BVI. The Tortola port was to open in December which was pushed to January, and at press time in February, the Roadtown Fast Ferry from Charlotte Amalie is still not accepting online bookings. So, what's a charter company to do?
Moorings, Sunsail, Dream Yacht Charter (DYC), and a few smaller outfits are getting creative. Some are offering "four free days" for the price of seven (or 10) so that charterers can at least feel like they're getting a deal. And let's face it: it's still better to quarantine on a boat with rum than at home with a snow shovel.
A few companies have realized that their assets are sitting idle, and that's not good for the boats or the bottom line, so a few "new bases" have popped up with impressive speed. Most organizations have relocated boats to Mexico which has been less restrictive and to the U.S. where you can technically avoid the whole international travel thing.
Moorings announced the opening of its St. Thomas base in the US Virgin Islands on January 6. The base is expected to exist "for the 2021 charter season." This arrangement offers both bareboat and crewed charter with the base located in Yacht Haven Grande Marina in Charlotte Amalie. Multiple major airlines offer direct flights from various locations in the U.S., and you don't even need a passport to go. Your cruising grounds will be St. Thomas, St. Croix, and St. John. Don't even think about "sneaking" over to Tortola or to Jost Van Dyke for a piña colada on the beach at Foxy's. However, although you may not be able to visit The Baths on Virgin Gorda, BVI, St. John is a stunning island and just next door to St. Thomas, so you'll be kicking back and working on those tan lines in no time.
Meanwhile, DYC partnered with Navtours to open their base at Stock Island Yacht Club & Marina in Key West, FL. Some distance sailing can be had from here to the Dry Tortugas National Park and the uninhabited Marquesas coral reefs. DYC also has a base in Miami for more "urban cruising" where you can find lots of options for dining and bar hopping since most things are open (at least for outdoor seating) in Florida.
DYC got even craftier with its boats and opened a small base on the Maya Riviera in Cancun, Mexico. Travel between the US and Mexico is open for flight traffic. Although you still have to get the PCR test, it's pretty straight forward. The base is actually north of Cancun, and the cruising grounds are around Isla Mujeres near the Mesoamerican Reef. While there, you can also visit the archaeological jewel of Chichen Itza, an ancient Mayan city. Ardent divers should take a trip south along the coast to Playa del Carmen and then take the ferry to Cozumel for some of the world's best underwater adventures.
DYC now has boats in St. Thomas, and for anyone stuck in Europe, they also opened a base in La Spezia in northern Italy, so northern Europeans don't have to drive far south to get on a boat. The company is also relaunching its Bahamas base in Marsh Harbour, Abacos, at Conch Inn Yacht Club & Marina.
Finally, Navigare Yachting has also focused on the US Virgin Islands, so you can explore delightful places such as Honeymoon Beach, Caneel Bay, Maho Beach in Francis Bay, Salt Pond, and Watermelon Cay for snorkeling. If all this sounds like too far to go, consider a summer charter at Navigare's Newport, RI, base. Narragansett Bay has more than 30 islands, protected coves, fabulous seafood, and a real sailor's vibe.
You may not be able to book a charter anywhere you want quite yet, but that doesn't mean you don't have choices—and some pretty cool ones at that. Charter companies have pivoted and figured out how to offer sailing out of nearly instant pop-up bases so that their assets can keep earning money for both the companies as well as the yacht owners. Whether you want margaritas in Mexico, rum punch in the Caribbean, or a lobster roll in Newport, you can get all those and enjoy them on the deck of a boat to boot.
By Zuzana Prochazka