Discovering the Hidden Gems of Croatia by Sailboat
Scrumptious food, excellent wine, and eating figs right off trees are only a few reasons the Breen-Franklin family rated their bareboat charter to Croatia in August as "incredible." Among family members onboard the Bali CatSpace 40 Osibova for the week were Annapolis sailors Nic and Stella Breen-Franklin, Kate Southall, Isaac Breen-Franklin, Faith Breen-Franklin, and Travis Grothaus.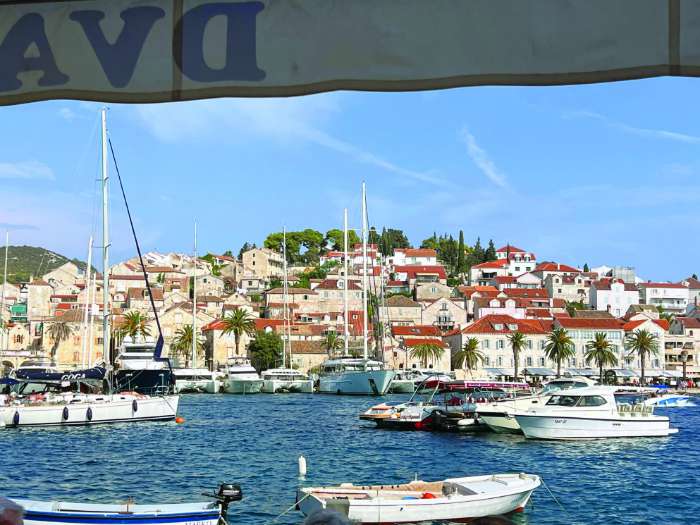 The family chartered through BavAdria Yachting out of Split. "We highly recommend it," says Kate. "They made the process easy and enjoyable—and even hand delivered bottles of wine to our boat before we took off."
Other than their 2022 boat already showing signs of wear and tear, the group took advantage of and appreciated the open spaces onboard the catamaran, their first as a charter boat. Here are some of the family's trip highlights in Kate's words:
What route did you travel?
Split—Maslinicia (Island of Šolta)—Komiža (Island of Vis)—Vis (Island of Vis)—Hvar (Island of Hvar)—Stari Grad (Island of Hvar)—Split.
Would you like to describe a few highlights and memorable days?
On our last full day in Croatia we visited the beautiful town of Stari Grad, which is on the northern side of the island of Hvar. Stari Grad literally translates to "Old Town," and as such had a charming rustic flair and lacked the busy streets and crowded restaurants we had just experienced in Hvar Town the day before.
We rented bikes and cycled 10 miles on both paved and unpaved road. We ate fresh figs straight from the trees and took in the stunning sights of sprawling planes and miles of vineyards and preserved stone walls. We enjoyed a wine tasting and delicious lunch at the beautiful Hora restaurant; the highlights included three types of olive oil, more potatoes than we could ever eat, and of course an enormous seabass.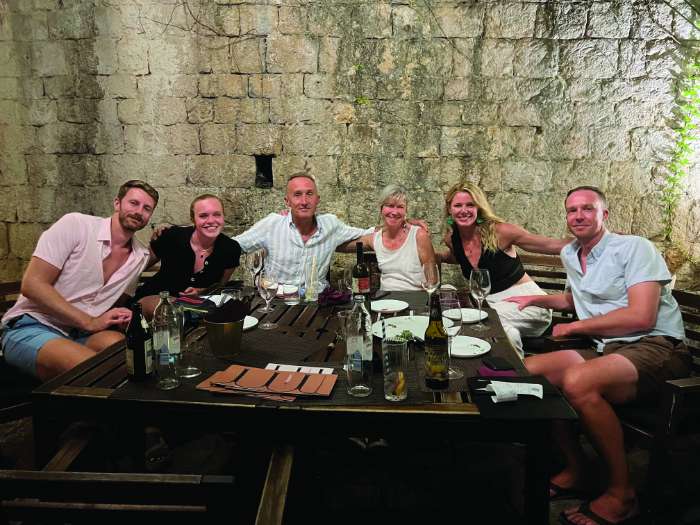 Afterwards we explored the farm where we met a few local donkeys and reveled at the gardens that grew the meal we had just savored—it was a culinary and visual heaven! The sun set on the town as we cycled—happy, sleepy, full, and a bit drunk—back to Osibova.
The food throughout all of Croatia was incredible, always fresh with colorful Mediterranean flavors. Seafood was the centerpiece of our dinners: the fish, shrimp, mussels, squid, and octopus were all melt-in-your-mouth delicious. We jumped at the chance to eat good, fresh anchovies, and the octopus salad made up of tomatoes, capers, and spices was also a standout. The wine was excellent (we always chose red), and a shot of the local grappa was a fun way to end some of our fancier meals.
Each of the towns we visited was uniquely magical. We loved taking in the scenic views, fascinating history, and art, food, and culture of the locals.
The greatest highlights, however, were our moments together on the boat. Each morning with our coffee, pastries, fruit, and of course, champagne, we set off on a new day grateful for the adventure ahead and the chance to do it all together. Our three- to four-hour-long sails from town to town were smooth and picturesque. We seamlessly transitioned from swapping stories and laughs on the top deck to nap rotations on the bow. After mooring we enjoyed swims in the clear cerulean water, so salty you could almost float above it! The sublime, unspoiled sea was paradise in itself, and the experiences ashore were just icing on top of the cake.
Did you experience any challenges, such as rough weather?
Overall, the weather was beautiful, although it was seemingly hotter than usual and there were a few nights that (made it) hard to sleep on the boat. Our final day docking in the marina was the only one that stood out as stressful. It was quite windy. The docks were busy with the other yachts that had just completed their own week-long adventures in Croatia. Luckily the Osibova crew had six days of successful parking under our belts, and Captain Isaac led us safely and smoothly to our final destination.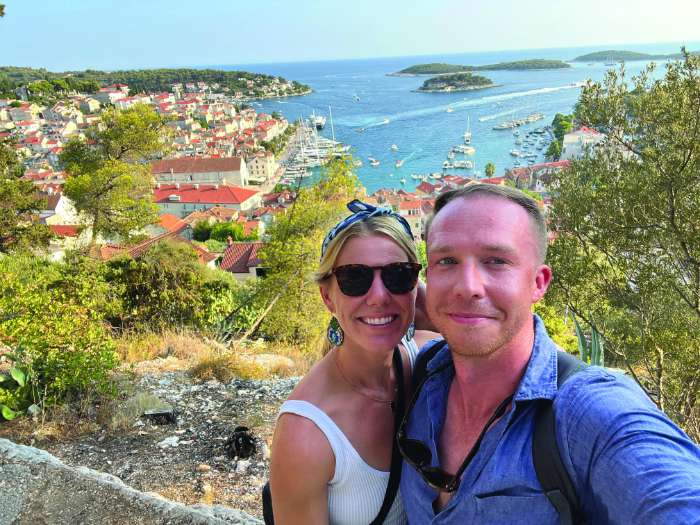 What's the best part about chartering in Croatia?
Croatia is incredible sailing country; most of the islands are within sight of each other and the waters are very, very deep, so no need to worry about groundings. Each day we got to pick our adventure: you can swim, sunbathe, and generally enjoy the easy boat life, or you can adventure ashore and explore ancient towns built by the Greeks and Romans. Unlike the food in the British Virgin Islands, the food is fresh and incredible, and so are the wines.
Any recommendations for anyone curious about chartering there?
Do your research and have a light itinerary for each of the islands you visit. There are hidden gems everywhere, and some of our best days were just spent exploring with no particular destination or goals. Rick Steves's "Croatia and Slovenia" book is a great place to start.
Have a plan (and a few back up plans) for mooring each day. We were lucky to snag a quayside spot at Vis Town (which does require mastering the tricky Med moor), but we moored or anchored for all other towns and traveled to shore on our dinghy.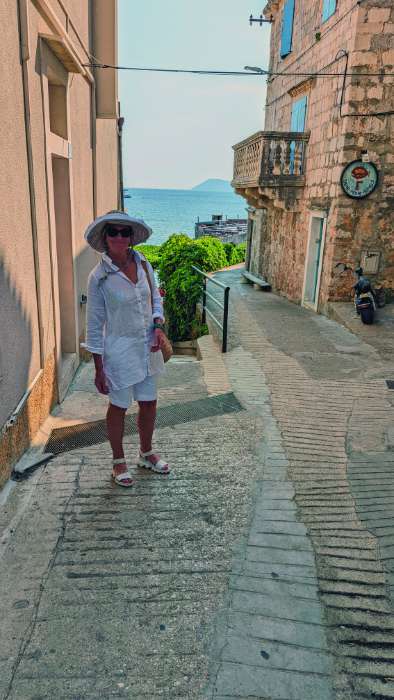 Next time we'll make some advance reservations so that we have a firmer understanding of where we'll tie up each night. We had two sailing novices on the boat who earned their stripes by the end of the trip; having a clear game plan and roles for each sailor was helpful each time we had to tie up at a new destination. Some harborside restaurants offer mooring, but fees vary, and they often will require a reservation at their restaurant.
Cash is frequently preferred in smaller towns on the islands. The local currency is the kuna, but they will transition to euros in 2023.
Watch "Mamma Mia II" before you go. You'll thank us later.
Learn more at bavadria.com.
Find more sailing charter stories here.