A good dinghy can make the difference between a fun sailing charter and a week of misery. For a safe and fun vacation don't overlook the little boat when checking out the big one.
Test It (All)
Just because the dinghy is visible, doesn't mean it's usable. Verify that it's in good repair and discuss damage (top and bottom) before you ever leave the base. Lay eyes on (and test) the dinghy pump. Start and run the outboard. Just a few pulls are all it should take. Leave the base with a full tank of gas, properly mixed if it's a two-stroke engine.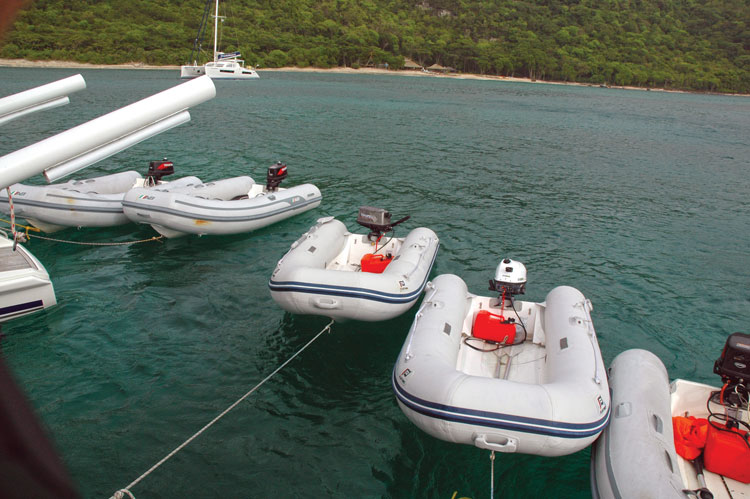 If the dink is on davits, raise and lower it to make sure the mechanism works and that the attach points are strong and in good shape. If the boat is tied stern-to in the marina, raise and lower the dink when you get just a little ways from the dock. The first stop, 20 miles away, is a bad place to realize that your outboard won't run and the drain plug is missing.
Designate a Driver, but Be Sure to Share
Figure out who is your best dinghy driver. This will be your go-to person in rough conditions or if the outboard gets flooded or needs to be raised in shallow water. That said, everyone aboard should be comfortable with dinghy operations and have a chance to use it. Sharing is key. People stuck on the big boat when someone else is using the dinghy may have to swim ashore if they want to leave. That won't work for non-swimmers or for those dressed to go out to a nice dinner.
Agree on how to drive at night or you'll have five helpful individuals all pointing flashlights in different directions, including our eyes. Keep lights (except running lights) off until you get near your destination. That way, you preserve your night vision and only get light assistance when it comes time to tie up and get out.
Learn To Tow
Check the length and strength of the dinghy painter and determine if you'll need extra towing line and a bridle. Keep the tow long when in open water to reduce stress on the dinghy but shorten it when you come into an anchorage or harbor. Always tie the dinghy close or on the hip before backing to keep the line out of the prop of the big boat.
Don't keep oars, pumps, snorkel gear, or even a gas tank in the dinghy when towing because they will bounce overboard when you're not looking. For boats with davits, especially catamarans, it's easy to hoist the dinghy rather than towing. Be sure to secure the lifting lines securely and tie the tubes with extra line to minimize movement and chafe, especially in rough seas.
Keep it Safe
Don't assume everyone knows how to get in and out of a dinghy. Stress the importance of stepping well into the dink when boarding rather than onto the tubes. Keep everyone seated when under way—no Captain Morgan poses please. Sometimes, it's easier to get in backwards or get out onto a dock on your knees. There's really little room for modesty or ego.
It's best to have the engine started before loading the dinghy with people. First, it will avoid someone getting an elbow in the head from the driver pulling the start cord, and second, it will ensure someone is still ashore or aboard holding the dinghy painter in case the outboard gets finicky. Keep PFDs and oars aboard so if the engine quits, you won't just drift away.
If beach landings are necessary, explain to everyone beforehand what will (or should) happen including when to jump out and start pulling the dink ashore. This can be stressful even on a calm shoreline. If there's surf running, you may want to re-think this maneuver.
The charter company or other cruisers will give you an idea about safe practices in your cruising area. For security, keep a lock and cable/chain aboard the dink when going ashore. Also, raising the dinghy at night is easy and absolutely worth it on a boat with davits. Without davits, you can lift the dink a few feet out of the water with the halyard and tie it on the hip at the lifelines. It will mean 15 minutes of extra work at night, but it will guarantee the dink will be there in the morning.
Your tender is your lifeline to shoreside dinners, snorkeling hotspots, and sundowners on other boats. You'll be well served to take a few moments and give it dedicated attention just like the big boat.
Story and photo by Zuzana Prochazka