Amenities: Taking the "Bare" out of Bareboat Chartering
Amenities on bareboat charters vary with the company, the charter location, and the age of the fleet, but today, you can find well-equipped boats just about anywhere. Usually larger or newer boats will have more amenities; although that's not a rule. Here are tips on what to look for, expect, and consider when finding and paying for a boat loaded with features.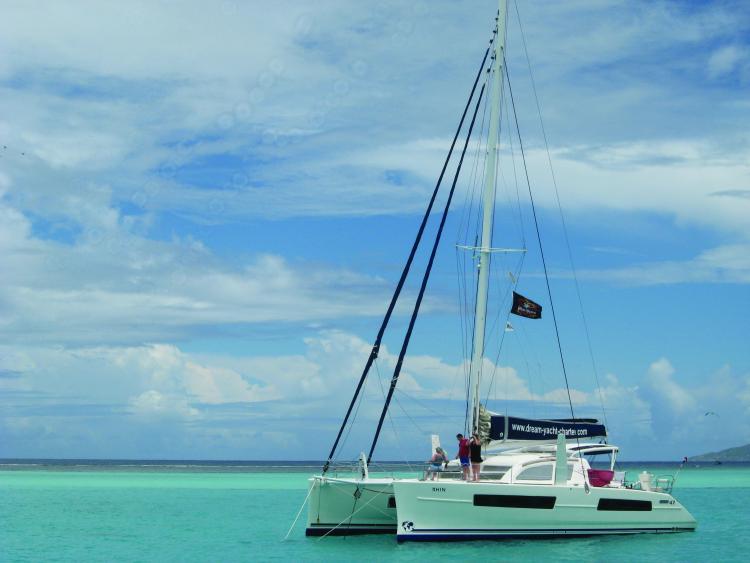 Electronics and safety equipment
Electronics are almost a given today. Most boats have a color chartplotter (although perhaps not at the helm where it would be the most useful), and every boat has a VHF radio. Most charter boats will not have radar; that's because they aren't allowed to be under way at night. However, in areas such as the Pacific Northwest where there is a lot of fog, radar can and should be part of your electronics suite. More boats now have autopilots which are a mixed blessing. They can be useful for long distance cruising but also can be a dangerous distraction in areas with tricky buoy-to-buoy navigation that requires constant vigilance.
Safety equipment aboard should include flares, fire extinguishers, first aid kits, and flashlights. Some boats will have harnesses, jack lines, and even a liferaft. Most larger charter outfits include a dinghy and outboard and good ground tackle on an electric windlass.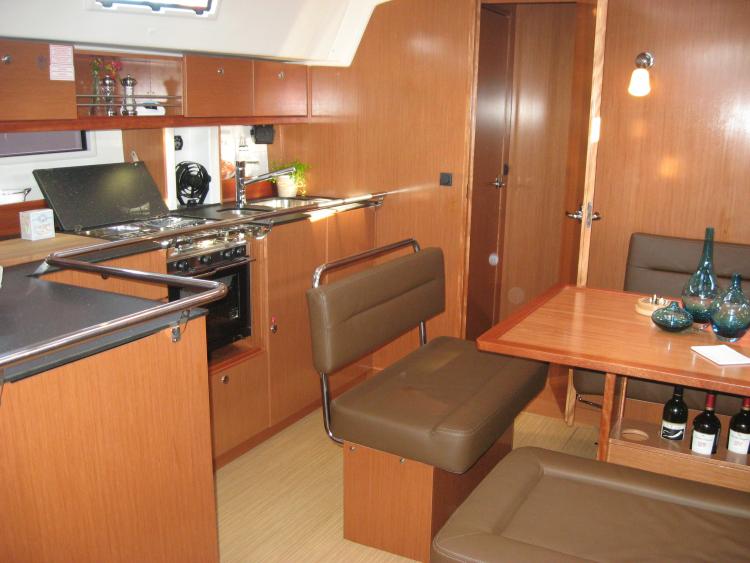 Propulsion and sails
Although technically not considered an amenity, perhaps the best safety equipment will be a reliable engine for not only propulsion, but also as the main charging mechanism aboard when a genset isn't available. A complete tool kit and some spares, including impellers and belts, should be available.
Sail configurations will vary but generally include the main and headsails. Spinnakers are rarely an option, and most charter boats are underpowered from a sail-area standpoint by design to keep things safe. Roller furling for headsails is a must.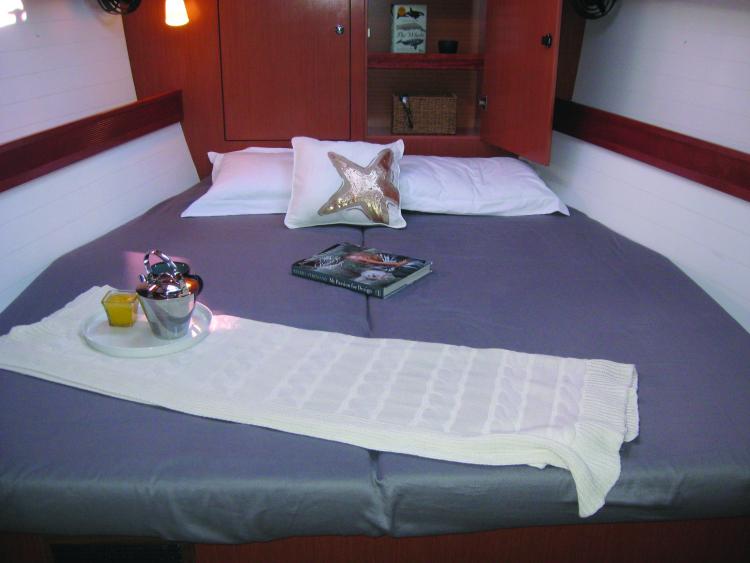 Comfort basics
A well-fed and watered crew will be a happy crew, and charter boats today usually include galley basics such as a stove-oven combo, refrigeration, and maybe even a microwave. Look for an inverter if you'll want to charge cameras, laptops, and phones. Most inverters will not be large enough to handle hairdryers.
In hot climates a transom shower to rinse off when coming out of salt water is great, but it means you had better monitor your water consumption daily. For some people, a manually pumped toilet is off-putting, and electric heads make a difference; although beware of one breaking.
Nice-to-haves
Many boats today have upgraded stereos with MP3 capability, flatscreen TVs, and onboard networking, all of which can be nice. A more practical amenity is having davits, which are often found on catamarans but rarely on monohulls. Davits let you bring up the dinghy quickly and easily, so you don't need to tow it under way and can keep it out of the water and safe at night.
Electric winches can be useful, especially to assist with raising a large and heavy mainsail. Make sure to educate those unfamiliar with the power of electric winches because they can become a hazard with careless use.
Look for a charter company that provides toys such as masks and fins for snorkeling, kayaks (and/or paddleboards) for exploring, and inflatable floats for fun in the water. Some will even provide a lobster trap, crab pot, or rods and permits for fishing. If possible, get a cooler and find a place for it on deck, which is easier on a catamaran than a monohull. That way, you can store drinks on ice, eliminating constantly opening the refrigerator. Solar panels help immensely with power management aboard, and boats with solar installations are becoming more widely available.
Tradeoffs
More stuff isn't necessarily better. There's a comfort that comes from simplicity. The more equipment you have, the more prone it is to failing and breaking a promise to the charterer.
Additionally, a complex boat means more to learn at the start. Be prepared to spend several hours in the check-out process if the boat is loaded with sophisticated equipment such as a genset, watermaker, air conditioning, or daggerboards. An advanced charter boat is demanding, and your experience with both sailing and maintenance may be more challenged than you want on a week-long vacation.
Some people say that charter boats are dumbed-down to keep them safe, simple, and able to handle a variety of experience levels. That's not entirely true, and not entirely bad when it is true. You'll have to fix or live with the equipment on the boat for the duration of your vacation. Also, amenities don't come cheaply—they are a part of how the charter boat's overall price is determined, so consider what you really want to pay for.
~By Zuzana Prochazka