Do You Need To Be Sailing Certified and Why
Taking the helm of our 44-foot cruising catamaran, my then eight-year old son asked me, "Wait mama! Don't I need a driver's license or something to drive the boat?"
"No, you can drive it. It's okay. Anyone can drive a boat."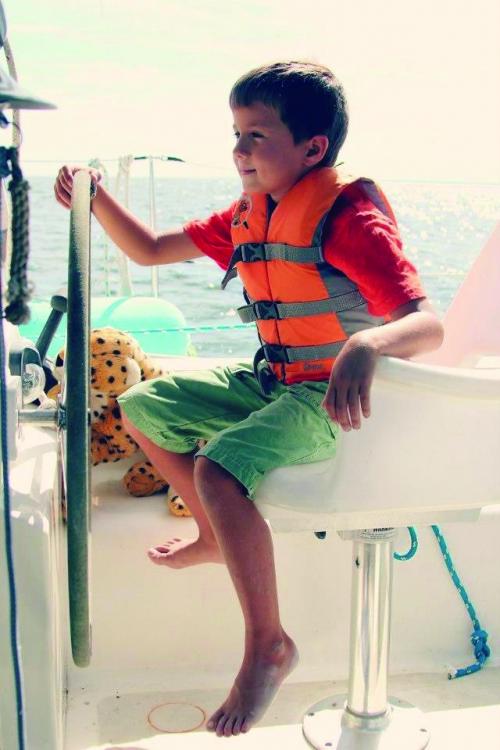 While that's technically true, there are many fine organizations that will certify you for all kinds of boating skills. However, the advantages, laws, and requirements vary wildly.
Can an eight-year-old helm a sailboat legally? Yes, as long as someone born before July 1, 1972 or someone over the age of 18 who has a valid boating safety certificate is there with him/her supervising. In Maryland you need to take a boating safety course if you were born after 1972. You can find these courses free online or through your local Coast Guard Auxiliary. My son did it online when he was 14 so he could safely and legally take the dinghy out and about without worry and without us. He's been using the dinghy with ease since about age eight, but this made him street legal, and he also loved getting the official card.
Something about official certificates make people feel good. There are folks who have been sailing for decades and around the world who have never done a sailing certification course, and there are those who have never left the Chesapeake Bay but make a point to do as many certifications as possible. There's no right or wrong way, but it's good to know your options.
In the United States there are two major certification tracks, American Sailing Association (ASA), and US Sailing.
"US Sailing is for racing, and ASA is for cruising," says Captain Angie Wilson, an ASA certified instructor. While that is generally the stereotype, let's break it down and see what each one offers.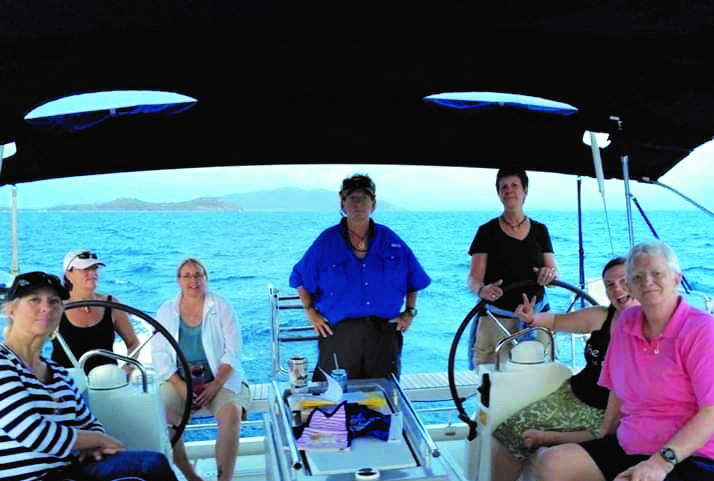 ASA
ASA has been around since 1983, and they have a set curriculum and standards that carry a good reputation. The ASA is made up of sailing schools, charter companies, and professional sailing instructors. There are more than 300 ASA-affiliated sailing schools located throughout the U.S., and even in other parts of the world. The association claims to have certified nearly half a million sailors so far.
The ASA system has eight primary levels of student certification from Basic Keelboat all the way to Offshore Passagemaking and loads of specialty classes in between.
"ASA sets you on your way for the cruising life. If you take 101, 103, and 104 you can get around pretty well, if you add on-the-water experience. The 104 class sets you up for bareboat chartering," says Captain Wilson from her teaching base in Oriental, NC.
While it's true that these classes help you learn solid skills needed for bareboat chartering, it's important to note that they are not required for bareboat charter. Not only that, the bareboat charter certifications alone will not qualify you to bareboat charter. Instead, most charter companies will ask for your "sailing resume" when you contact them for bareboating. Asking if you have taken these classes is part of the resume, but it does not replace on-the-water experience.
Bareboat charter certifications are just one small piece of what ASA offers. They have many levels of sailing and cruising classes, celestial navigation, cruising catamaran certifications, weather, radar, and docking. It all builds up to a solid foundation to get on the water safely and have fun.
US Sailing
US Sailing is thought of as "the racing one" because they started back in 1897 as a yacht racing organization, and they continue to be the national governing body for the sport of sailing today, more than 100 years later.
At the same time, their certifications mirror much of what ASA offers with basic keelboat, bareboat cruising, cruising catamaran, and celestial navigation courses. But they also offer a performance sailing certification if you have racing in mind.
But Wait, There's More...
There's also International Yacht Training (IYT) and Royal Yachting Association (RYA).
IYT is newer than the US-based organizations, but it has a global reach with more than 200 sailing schools across 54 countries. Aside from the same basics covered by ASA and US Sailing, they also have classes for those looking to get into commercial boating and it's good choice for those wanting to work professionally on yachts.
Founded in 1875, the RYA has an excellent reputation and a wide reach with more than 2400 training centers worldwide. They start their certifications with "Competent Crew" and lead to "Yachtmaster Ocean."
Even with all of these global sail training paths, many international chartering bases require what's called an International Proficiency Certificate (IPC). Thankfully these are fairly simple to get, and all of the organizations mentioned above have links of their websites explaining how to go about getting one via their certification path.
Are You Confused Yet?
The good news? There are many options to fit every desire, budget, location, and experience level. The bad news? That's a lot to think about.
Here's what it boils down to:
Are you required to have any certifications to charter a boat? No.
Will having these certifications help you in getting a bareboat charter? Yes.
Will having these certifications guarantee you a bareboat charter? No.
Will having these certifications give you a solid foundation on every aspect of sailing and seamanship? Yes.
Will certifications lower your insurance? Probably not, and if it does, only a small amount.
Is it useful to take any of these certification classes if you're an old salt who's been sailing at all levels for years? Yes.
~By Cindy Wallach
Find more informatoin on learning to sail or improving your skills here.