Bob Grieser's Final Chesapeake Bay Voyage: last weekend, dozens of sailors, writers, photographers, and friends gathered on the waterfront in St. Michaels to celebrate the life of a memorable photographer friend. ~By Dave Gendell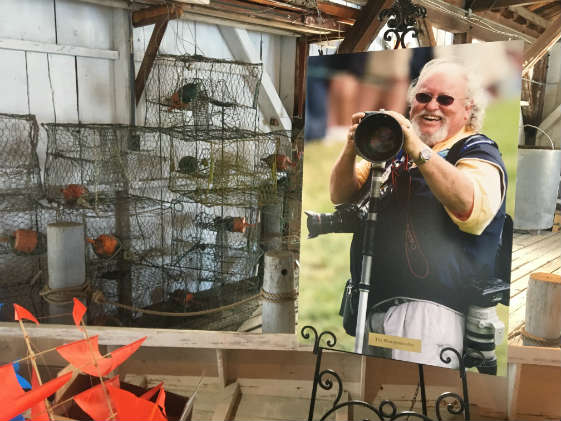 It can be difficult to explain the way a warm and windy weekend afternoon in October can stir the soul and move the feet of a Chesapeake Bay sailor. All around us remain tangible signs of the season just passed: the shallow Bay holds its warmth, the leaves on the shoreline remain mostly green, and sailboats still tug at their lines. But, at the same time, a feeling of transition is in the air...something is ending and we all know it.
On the late-season days when a solid southwesterly blows up the Bay, sailors quickly forget football, yardwork, and just about everything else. We move to the waterfront and step aboard with an extra sense of urgency. While we might not count the actual calendar days, deep inside of us there is a recognition that we are closer to Christmas than we are to July. It is almost over. A warm and windy weekend afternoon in October is a rare treasure grabbed by a sailor without hesitation and held in a tight fist, close to the heart.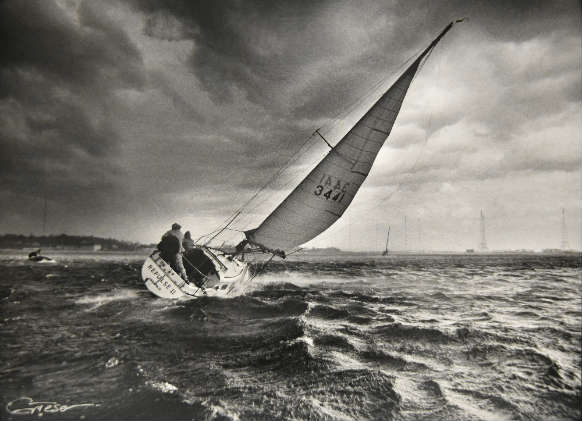 It was fitting that after 72 cloudy, uncertain hours, one of these classic Indian Summer days opened up over Chesapeake Country just as dozens of sailors, writers, photographers, and friends gathered on the waterfront in St. Michaels to celebrate the life of Bob Grieser. Grieser passed away in San Diego on January 31, 2017 from pneumonia and kidney failure. The "Squareman," as he was widely known, in honor of his unique body type, threw out a big tent and the large, diverse crowd reflected a lifetime of smiles, generosity, and openness.
A warm and solid breeze flowed under a big, blue sky and it all seemed so fitting. Bob was the man who, after all, produced a three-pound book of iconic photographs titled, simply, Chesapeake Bay, including a forward by none other than James Michener. Grieser's Chesapeake Bay photographs are accessible and relatable but they sometimes came with a twist: the parallel Bay Bridges with ice skaters in the foreground... the family cruiser rocked sideways on the leading edge of a thunderstorm... the log canoe boardman tumbling off the windward side... Michener wrote that Bob's photographs "remind me of what the bay can be." On this October Sunday, it was glorious.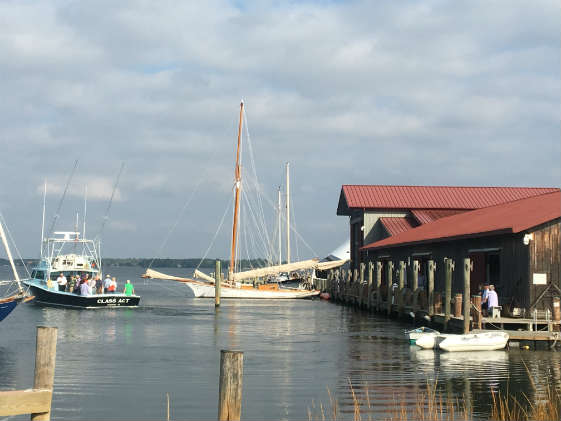 In a 50-year career behind the lens, Grieser travelled the globe and photographed presidents, rock stars, and sailors but a few spots on the map held a special place in his large heart: San Diego, Auckland, St. Maarten, and the Eastern Shore of Maryland. On the Shore, Grieser enjoyed a longstanding relationship with the Chesapeake Bay Maritime Museum. Displays across the museum's content-rich campus are packed with dozens of Grieser's images. Museum Chief Curator Peter Lesher, a man not prone to hyperbole, calls the Museum's collection of Grieser's photographs "simply stunning."
Since his death, celebrations of Grieser's life have been held in several locations and this Chesapeake Bay gathering took place on October 15, 2017 in the Museum's Small Boat Shed, a simple but meaningful structure in which historic small craft lay open and accessible to visitors.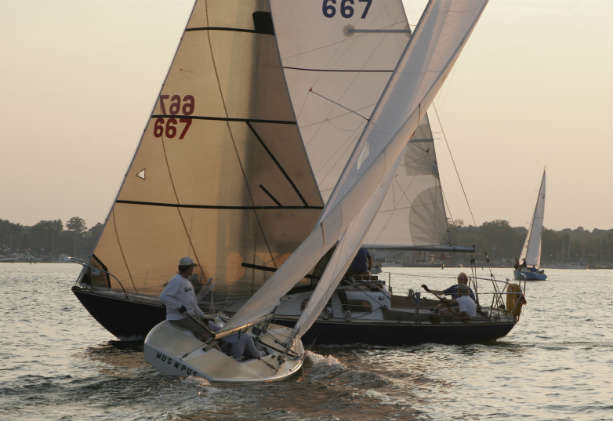 The festivities got underway when longtime Grieser pal David Dunigan screened a 20-minute slideshow and video tribute he laboriously and carefully pulled together for the guest of honor. Following the well-received video presentation, all guests were welcomed to address the gathering and, almost immediately, an all-star lineup of friends stepped forward to share their own memories, all standing in the natural light of the shed and speaking with no microphone. Speakers included gifted writers such as Herb McCormick, Duncan Spencer, Peter Baker and Scott Sherwood, who read a section of a story his late father, Jack, wrote about his former colleague and long-time friend.
After the tributes closed, Chesapeake Bay waterman Captain Bobby Marshall, another Grieser buddy, invited Bob's wife, Georgia, and a dozen friends aboard Class Act, his Tilghman-based charter fishing boat, which was docked alongside the shed. Along for the ride was a container with some of Bobby's ashes. In the months since his passing, other portions of Bobby's earthly remains made similar voyages off San Diego, in New Zealand, in the Hawaiian Islands; at his family's ancestral tobacco farm in Aquasco, MD, in Newport, in the mountains of West Virginia, in St. Maarten, and off other Caribbean islands.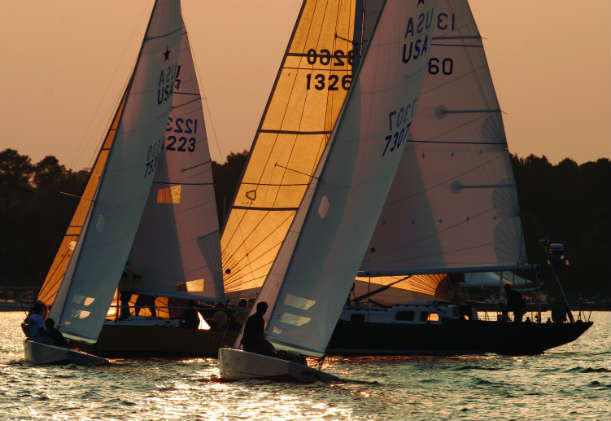 As the docklines were dropped and Marshall turned the bow toward open water, photographer Billy Black, himself an icon and a waterfront treasure, stood silently on a nearby pier head, photographing the departure scene. The Reverend Bobby G... the Squareman... Robert Henry Grieser, Jr. was off on his final Chesapeake Bay voyage.
As summers depart and our sailing friends move on from this plane, we are left behind with the thin warmth of memories and stories and, then, these too unceremoniously flicker and fade out. But alongside these ephemeral words, Bob Grieser's photographs--old-timey, black and white frames of Chesapeake Bay, vivid color shots of America's Cup action, and everything in between--will survive and persist.
With his camera, his talent, and a knack for being in the right place to get the shot, Bob made the transient indelible. He stopped the moment and made a record. And he had a heck of a lot of fun along the way.
Inevitably, in some gauzy future, our children's children will pause to drink in the sheer serendipity of Bob Grieser's photographs and they, too, will come to realize that the images he captured are nothing less than the permanent markers of a specific time in a special place. These markers represent the most valuable kind of treasures, the ones that stir us to action... the ones we must grab with a fist and hold close to our hearts.
~by Dave Gendell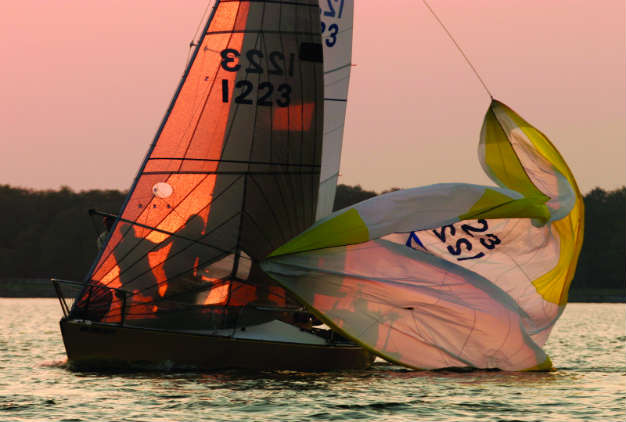 "Bob Grieser's Lens on the Chesapeake," an exhibition at the Chesapeake Bay Maritime Museum in St. Michaels, runs through June 3, 2018.