Your 2019 Schedule of Lighted Boat Parades on the Chesapeake
It's that time of year again! Lights parade enthusiasts around the Bay are planning their displays and scoping out the parade routes. Here's a round-up of many of the options. Which one will you go to see?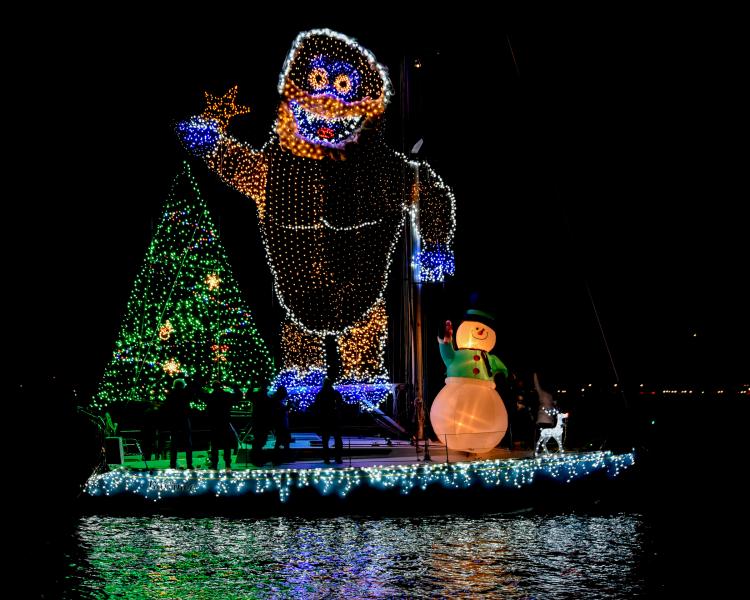 November 30
Pasadena Lighted Boat Parade - Launch party starts at the Broken Oar in Glen Burnie, MD, at 3 p.m. The parade is scheduled to begin at 5 p.m. and will head down Stoney Creek, over to Rock Creek, and ends at PYY Marine.
Middle River Lighted Boat Parade - Close to 100 boats participating this year! Boats will parade along Wilson Point waterfront restaurants in Middle River, MD, beginning at 5:45 p.m. View from one of the participating waterfront restaurants including Carson's Creekside, The Crazy Tuna, Riverwatch, or Sunset Cove.
December 5
Deale Parade of Lights - Parade will start at 6:30 p.m. on Rockhold Creek in Deale, MD. There will be two staging areas: Hidden Harbour Marina and Happy Harbor Restaurant. Commercial and recreational boats of all sizes are welcome.
December 7
The District's Holiday Boat Parade - Located at the Wharf in Washington, DC. Festivities start at 6 p.m. and boat parade begins at 7 p.m. Decorate ornaments, make s'mores at the cozy fire pit, go ice skating, enjoy festive drinks, and much more. Fireworks and live music begins at 8 p.m. Fun for the whole family.
Baltimore Parade of Lighted Boats - Starting at 6 p.m. decorated boats will parade through the Inner Harbor, Fells Point and Canton.
Solomons Lighted Boat Parade - Kicking off 6:15 p.m. from Solomons Yachting Center and heading up Back Creek during the 35th annual Solomons Christmas Walk. Live holiday music by the Patuxent High School Band. Prizes are awarded for Best Original Theme, Best Sailboat, Best Powerboat, and Best of Show.
Alexandria Holiday Boat Parade of Lights - Starting at 5:30 p.m. along the Potomac River shoreline. Dockside festivities from 2-8 p.m. at the Old Town Alexandria Waterfront. Enjoy food, drinks, holiday music, giveaways, and holiday craft activities for the family as part of the 20th anniversary celebration.
Colonial Beach Holiday Lighted Boat Parade - Starting at 5 p.m. view the parade of lights from Town Pier in Colonial Beach, VA. Come early and join Santa's Wonderland and Winter Festival starting at noon.
Yorktown Lighted Boat Parade - Watch along the York River waterfront in Yorktown, VA. starting at 6 p.m. Get in the holiday spirit with hot apple cider and caroling around the beach bonfire while awaiting arrival of festively decorated boats.
December 13
Downtown Hampton Lighted Boat Parade - Join the holiday fun along the Hampton Downtown Waterfront. Enjoy music by Hard Times & The Colonial Singers of Williamsburg, bring your wish list to Santa, and watch the boats set sail at 7 p.m.
December 14
Eastport Yacht Club Lights Parade - in Annapolis, MD from 6 - 8 p.m. Kick off the holiday season with the EYC Lights Parade along Annapolis Spa Creek. Sponsored by the Eastport Branch of Long and Foster Real Estate. See parade map provided by eastportyc.org below.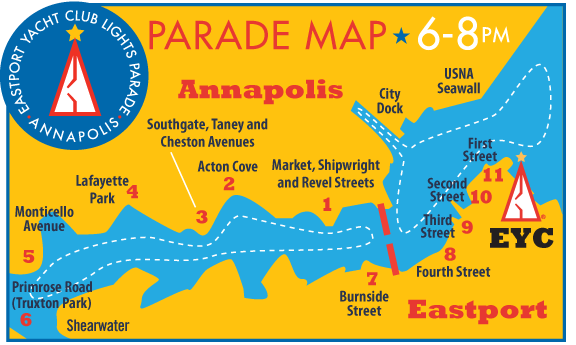 Don't see your lighted boat parade on this schedule? Email [email protected].
View the Spectators Guide to Lighted Boat Parades - find out what to wear, what to bring, and what to expect.