Eight Dockside Restaurants on the Chesapeake Bay by Boat
The Chesapeake Bay is known for its many sizable ports offering a wide variety of water-accessible dining options, but the Bay's shores and rivers are also peppered with a bevy of great dockside restaurants and bars that lie off the beaten path, some even classified as "standalone" in their juxtaposition to the Bay's bustling ports of call. While by no means intended to be an exhaustive directory listing, I'd like to share several of my personal favorite eateries to tie up for lunch or dinner on a day sail.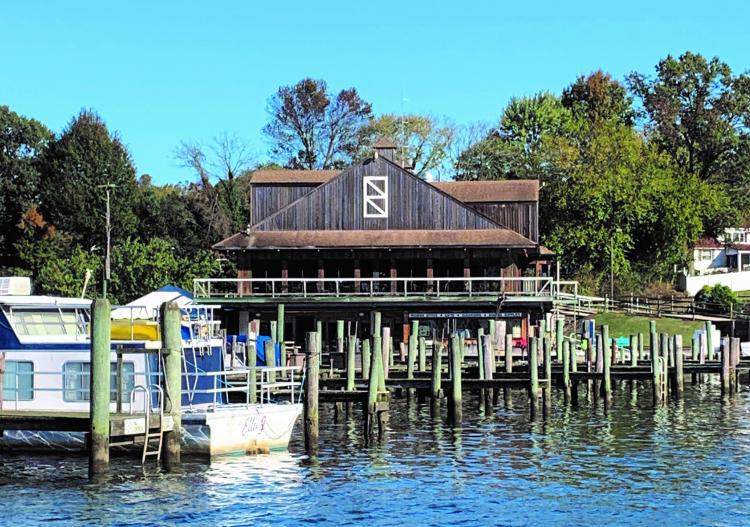 1. The Granary/Fish Whistle on the Sassafras River in Georgetown, MD. The picturesque journey up the river is well rewarded with this great dining spot, featuring two restaurants in the same building.
2. Harbor Shack in Rock Hall Harbor. Although there's no deep water dockage at the restaurant, nearby marinas have ample availability and amenities, so it's worth looking into. North Point Marina is my personal favorite, right next door. Harbor Shack features a regular schedule of live music on weekends and a great view of Rock Hall Harbor from the outdoor seating area.
3. Cantler's Riverside Inn on Mill Creek in Annapolis. A 10-minute motor through Whitehall Bay, just behind the three USNA radio towers up Mill Creek. Watch your depth and stay close to the day markers while entering the creek. Great place to pick crabs inside or on the terrace. Family-owned since opening in 1974. Dockhands are available to assist, and there's also a gasoline pump for refueling (no diesel). Expect a 45-plus minute wait for a table on weekends during the summer, but carryout to eat on your boat is always an option.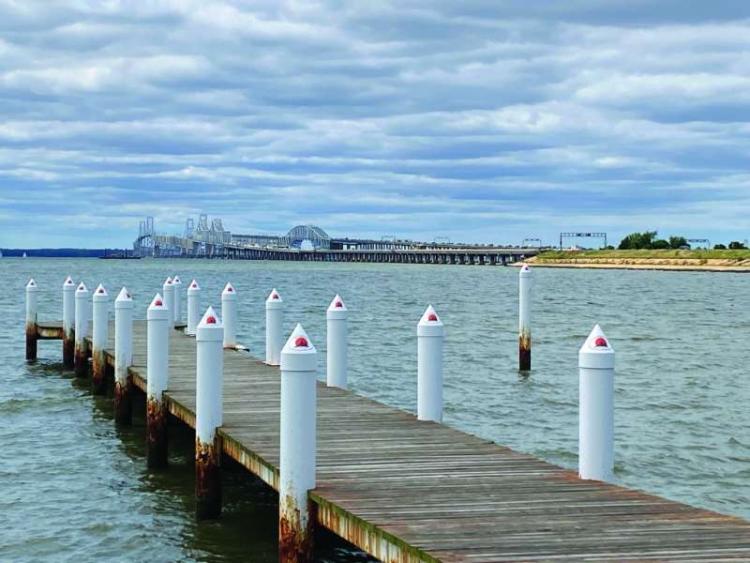 4. Libbey's Coastal Kitchen and Cocktails on Kent Island. There simply is no better place to sip an Orange Crush while taking in the splendor of the Bay Bridge and huge ships underway. An indoor dining room, outdoor bar, and Adirondack chairs on the lawn make Libbey's a favorite. Watch your depth in the shallow channel getting in to Bay Bridge Marina, and mind the crosswind while docking. Dockhands are also available to assist.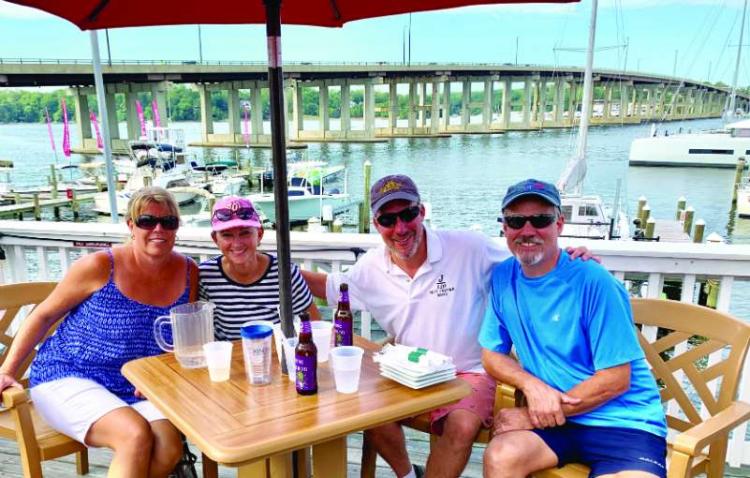 5. The Pier Waterfront Bar & Grill on the South River in Edgewater, MD. Just 45 minutes up the South River from Thomas Point Shoal Lighthouse, the Pier has plenty of dockage for patrons and features multiple indoor and dog-friendly outdoor seating areas overlooking the South River down below. Live music often plays on weekend evenings during the summer, and a pirate-themed play area helps keep young sailors occupied. The menu is fairly limited, with burgers, salads, tacos, and a handful of entrees. Gas and diesel are available opposite the restaurant at Liberty Marina. Farther up the South River are Mike's Crabhouse and Yellowfin, but they're inaccessible to larger sailboats due to the 53-foot overhead height limit of the South River Bridge.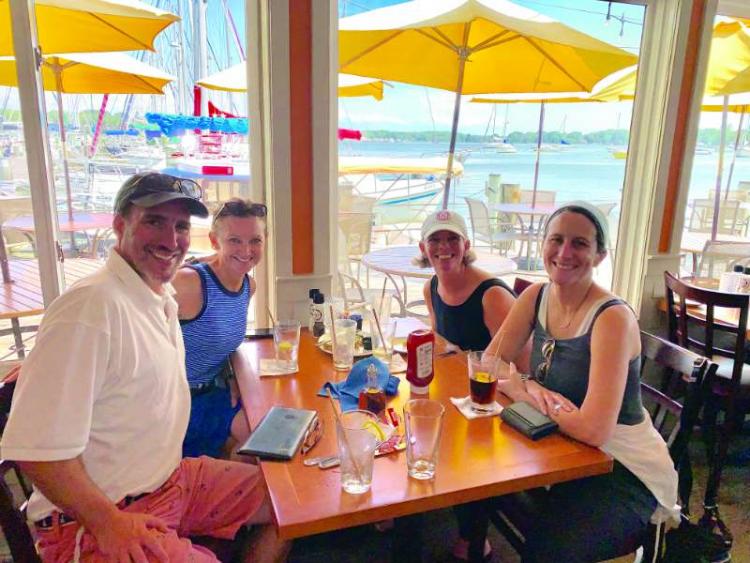 6. Pirate's Cove Restaurant & Dock Bar on the West River in Galesville MD. Sailing up the West River is also a treat, and you might even find yourself in the middle of a West River Sailing Club regatta! Pirate's Cove offers a slightly more upscale indoor dining area and an outdoor dockside bar. You'll likely dock at the end of a long pier if you come for lunch or dinner, but hail them on VHF 16 and they'll give you a slip assignment. Diesel and gas refueling is available right next door.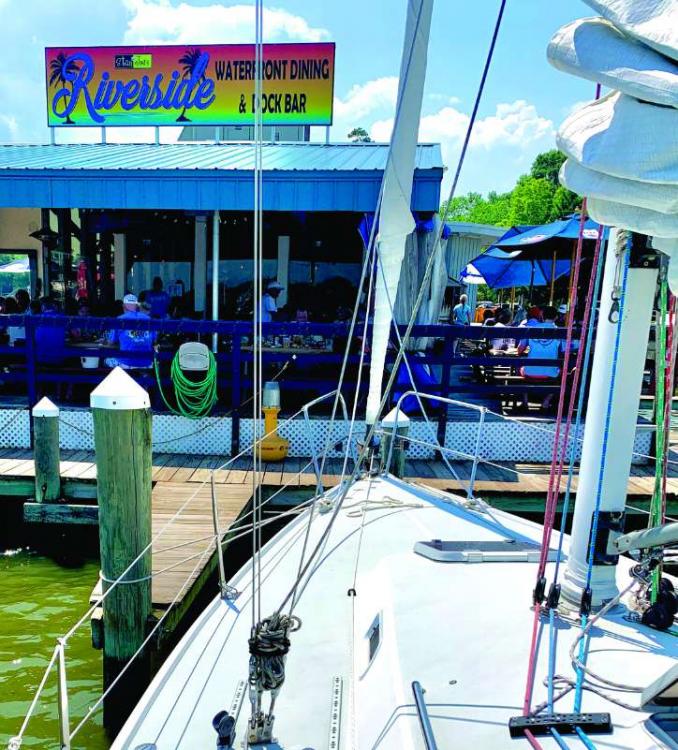 7. Stan & Joe's Riverside on the West River in Galesville MD. Just past Pirate's Cove is the colorful canopy of Stan & Joe's, a great spot to pick crabs indoors or outside, while enjoying solo or duo live music. A few deep-water slips are available on the dock facing the river, but the upstream dock only has one deep water slip. Dockhands are usually available to assist on weekends during the season. If you want to keep an eye on your boat, this is the place to do it, as you can dock just a few feet from your table. Get there early if you want crabs, as they do run out.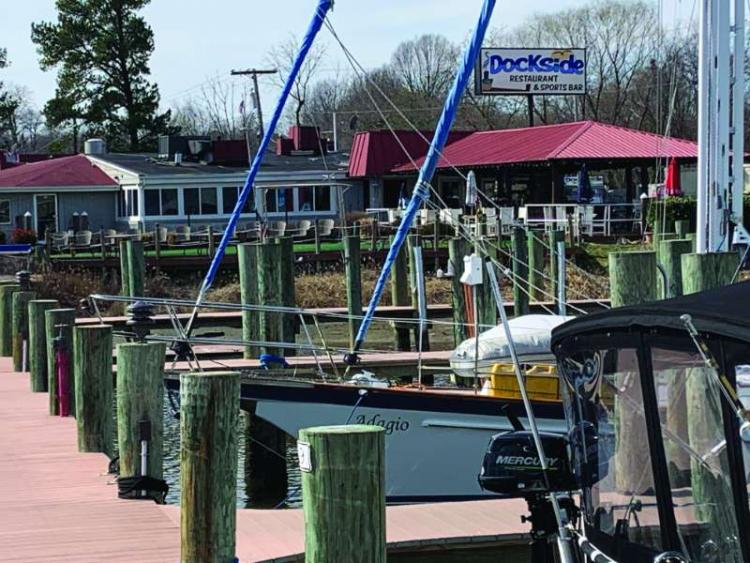 8. Dockside Restaurant & Sports Bar at Herrington Harbour North Marina, Tracys Landing, MD. There are several indoor dining areas as well as an outdoor bar and seating area. The service is always friendly, and the menu offers typical dockside restaurant items such as burgers, wraps, and crabcakes. Note that Skipper's Pier Restaurant & Dockside Bar is just across the river but does not have deep water dockage.
These gems provide a great destination for a day sail with family and friends and break up the day on the water. While the larger ports certainly offer an extensive variety of restaurants from which to choose, there's beauty in the simplicity of sailing right up to the spot where you'll enjoy a decent meal, boat drinks, possibly live music, and great views away from the crowds of the larger port towns.
~By Steven Toole
Fore many more options, visit PropTalk's Dock Bar Guide.