Why stop paddling and racing just because the traditional summer season has ended? The Capital SUP Race Series was created to keep the Maryland and Washington, DC, paddling communities engaged through the fall and winter months by creating a fun, social, and competitive atmosphere of paddle racing. Open to all levels of paddlers. Open to stand up paddleboards (SUPs), surf skis, outrigger canoes, and kayaks.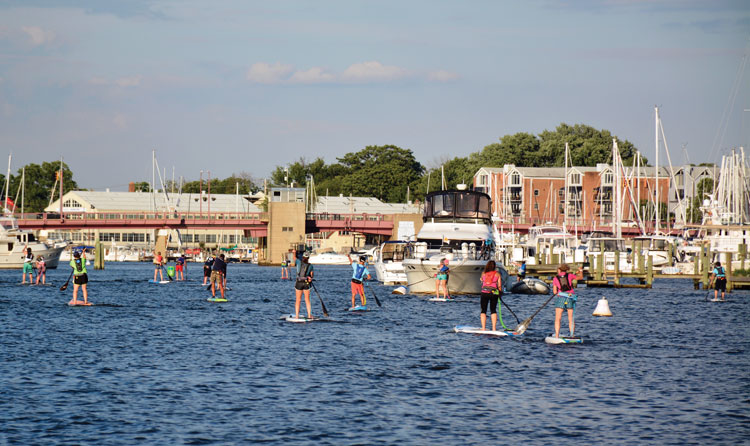 Capital SUP will host one race per month from October to March. Every race will start at Capital SUP on Spa Creek, but each one will have a different course and explore different waterways around Annapolis.
The first event exploring Spa and Back Creeks was held October 20 and featured a recreational 2.5-mile course and six-mile course (both cost $20 to participate). The November course will take paddlers on the Severn River Sunday, November 12.
For this race series, Capital SUP rents equipment: paddleboards include lifejacket, leash, and paddle; kayaks include paddle and lifejacket.
"Part of the reason we're doing a winter series is to make sure that people dress properly for the season," says Brian Meyer, CEO of Capital SUP. All racers are required to wear lifejackets (and leashes on SUPs). As the water cools, participants will be encouraged to wear wetsuits and dry suits as appropriate.
Learn more about Capital SUP here, or visit their Facebook page for updates. Email Brian at Capital SUP to inquire about renting equipment.