Great Chesapeake Bay Schooner Race 2017 Begins Festivities: If you are lucky enough to live somewhere where a few dozen schooners convene every year, under sail, in your home waters, you know what a heart-stopper such a gorgeous sight can be. That's how we feel along the Chesapeake in October, just after the U.S. Sailboat Show, when the weeklong festival known as the Great Chesapeake Bay Schooner Race (GCBSR) unfolds.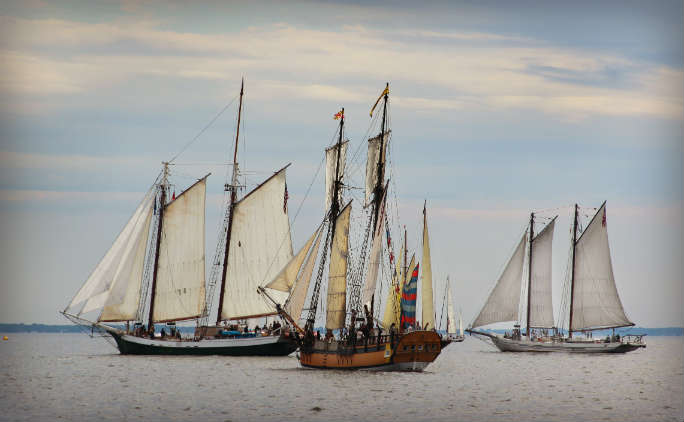 Baltimore is an ideal starting point, geographically and historically, for the 30 schooners entered in the 2017 event. Yesterday, the festival kicked off with a Salute to Schooners at 10 a.m. and a full day of open docks at the Baltimore Marine Center in Canton. Today, all schooners were to have been docked by noon.
Spectators love the 5 p.m. Parade of Sail, which may be viewed from Canton, Fells Point, and Harbor East and Inner Harbor shorelines. (Spectator vessels should allow ample room for the vessels to maneuver safely.) An All Hands Party in Fells Point takes place at 7 p.m.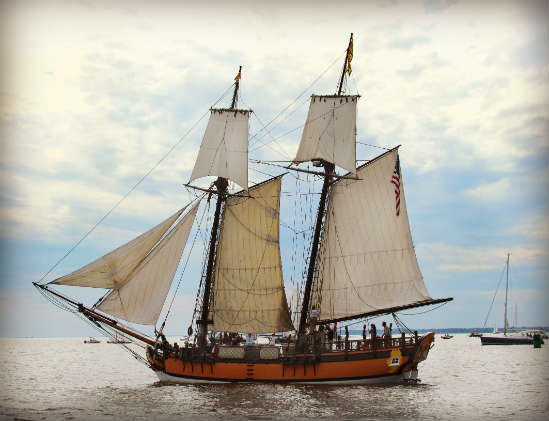 On the big day of the race, Thursday, after a captains meeting at 7:30 a.m., vessels begin the 21-nautical-mile voyage to Annapolis—again a spectator opportunity. The GCBSR start is at 1:30 p.m. just south of the Chesapeake Bay Bridge. Annapolitans are never quite sure whether they'll be packing their sun hats or foulies for this exciting moment, but since the race is on the early side this year, we're thinking sun hats!
The 130-mile race down the Bay to Portsmouth, VA, provides crews with a variety of sailing conditions and challenges (ships, fish traps), sometimes starry skies, and always memorable times with shipmates who become lifelong friends. Schooner sailors are a tight-knit bunch, and according to all who attend the post-race awards, pig roasts, and chantey sing-a-longs in Portsmouth, these sailors know how to party.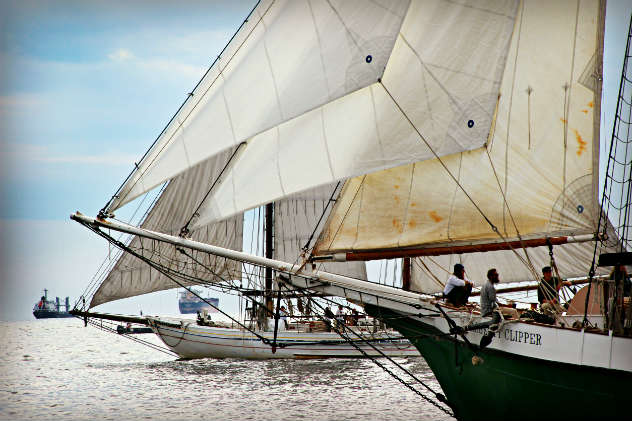 It's not just about fast sailing or grog swilling for GCBSR racers, though—they've raised thousands of dollars over the years for education programs at the Chesapeake Bay Foundation. This explains the tagline: "Racing to Save the Bay."
Some competing schooners, such as the Woodwind and the Pride of Baltimore II, offer crew opportunities for a fee. Woodwind Captain Jennifer Kaye, who will compete in the GCBSR for her 25th time in 2017, told us that these crew positions are so popular that you need to sign up as soon as the crew positions open up in January. At print time, Pride still had crew positions available for $1000 each (pride2.org).
Find GCBSR event details here. .... Starting Thursday afternoon, VIEW THE RACE TRACKER HERE!