Model yachts: mastering the craft
As a fifth-generation waterman, Cambridge native Scott Todd not only works the water crabbing and oystering for a living but also has mastered the craft of building and racing model yachts that rivals his working days on the water.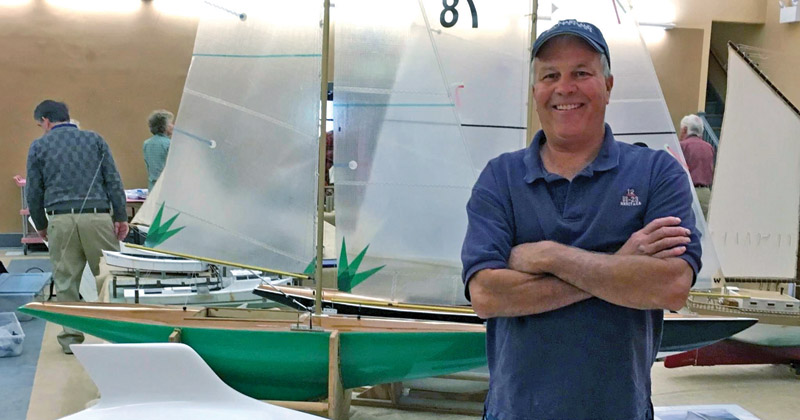 When did you first get interested in building model yachts?
One Christmas when I was about 10 years old, my parents gave me a plastic Revell model boat. My father and I built it that winter. In the spring after a thunderstorm that filled a ditch in the front of our house, I put it in the water and raced up and down the yard with it. By the end of the day, I was a champion America's Cup skipper.
How did building model yachts become a passion?
Growing up, the only boats I knew about were used for harvesting oysters or crabbing. For most of my life, even now, being out on the water meant going to work. And it's hard, grueling work for long hours. Both of my parents' families were giants in the seafood industry and well-known boat builders with the biggest skipjacks on the Bay. My mom's dad, Milford Elliot, built 44 deadrise boats and worked the water until he passed 20 years ago. As a kid, I'd never known anyone who simply went from point A to point B on a boat to enjoy the ride or even seen a buoy without a crab pot attached to it. Building models has given me another way to appreciate boating that I didn't experience early in life.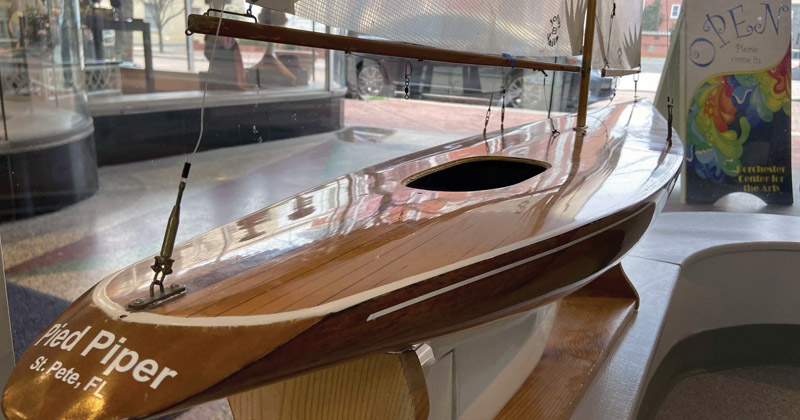 How did working the water shape your life?
It was instilled in me from an early age. I guess you'd say it was in my genes. My father and both of my grandfathers were watermen who taught me from an early age how to make a living from crabbing and oystering. They were my heroes. I still think about them every day and what they taught me. I cannot think of a more honorable profession.

What is the largest model yacht you've built?
Over the years I have built around 70 model boats from scratch of every size and configuration. The largest is about eight feet long and weighs 75 pounds. It takes a lot of planning to get each boat exactly the way I want it. I have hundreds of drawings, books, and boat plans I study to finalize a design.
Do you have a favorite model?
It is probably a white EC-12M #78 boat I built 20 years ago. I've raced it all over the country including Marblehead, the Boston Yacht Club, and just about any place east of the Mississippi River. Model boat races are just like regular boat races with committee boats, markers, and rules to adhere to. The only difference is that you are standing on land controlling the boat with remote controls. It looks very much like a mini-NASCAR race going around buoys, tacking, and edging the other guy out.
What are you working on now?
Right now, I am working on a 39-inch boat designed in 1927 called an "R" boat considered a free sailing boat. That means it is a boat without controls that was placed in the water and chased around by someone in a skiff.
Is it fair to say your models mirror real life?
You could say that. Being a waterman all my life, I make a living on the water like generations before me, but with the models, I can enjoy a hobby that keeps me entertained and traveling to different places. Doing both lets me master just about anything that gets on the water. I also own the skipjack Lady Katie built by Bronza Parks in 1955 that I restored in 2003 to race and sail.
What do people say about you behind your back?
I'm a grown man playing with toy boats. Nothing makes me happier than going down to my boat early in the morning and having a good day out on the water, a job I've had and loved all my life.
by Gwen Mayes
To reach Todd and learn more about or purchase one of his models, go to Facebook page Blue Crab Model Yachts, or email him.
About the author: Gwen Mayes is a writer, life coach, workshop host, and a docent for the Annapolis Maritime Museum and Park. Find more about her work at anchortoself.com.