Here's your racing roundup for the weekend of May 13-14, photos and results from a messy weekend on the Chesapeake.
The Elf Classic Race from Annapolis to St. Michaels unfolded on Saturday, May 13, in not-ideal conditions.
A report from Emilie Knud-Hansen at the Chesapeake Bay Maritime Museum:
"It was cold, wet and windy, but Elf got up to 9.6 knots, and Peter Kellogg on Silent Maid was really happy with a 3:12 race time! Of the 23 registered boats, eight raced and loved it."
Here are some photos from Craig Ligibel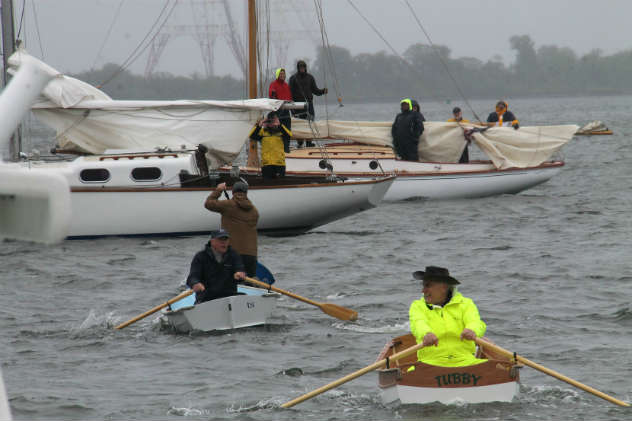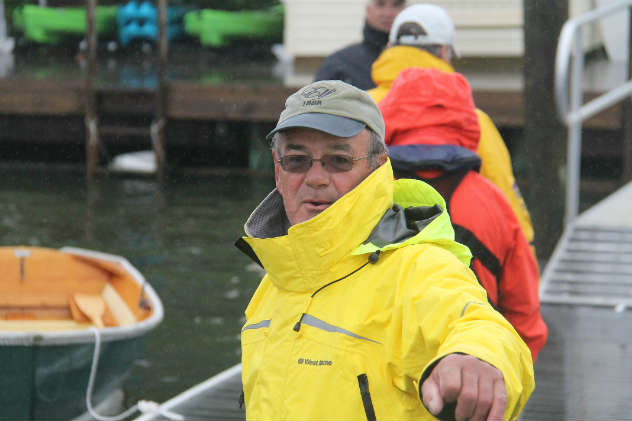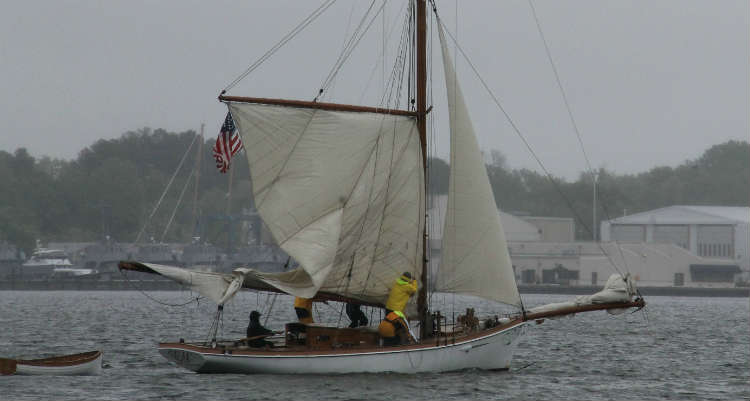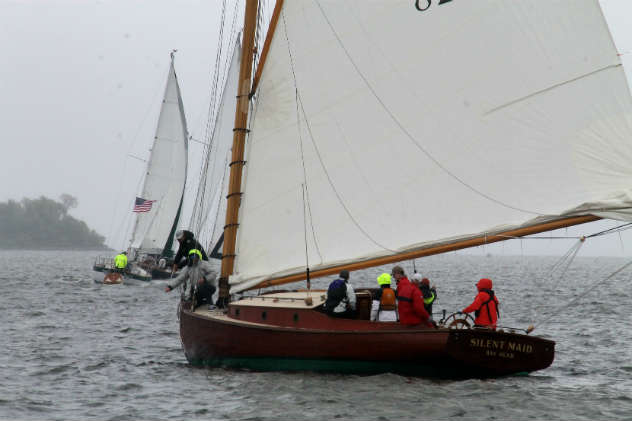 a couple more from Ben Cushwa at Nautography.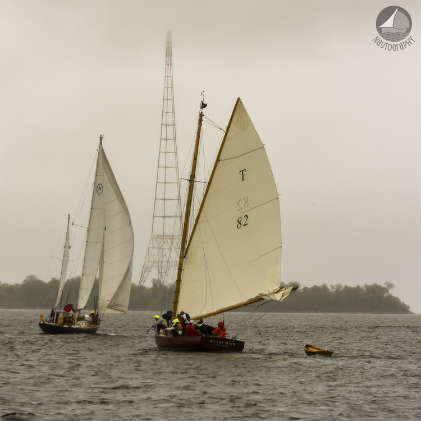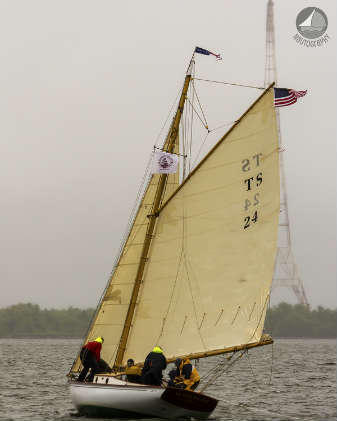 Also in Annapolis this past weekend, the first Phoebe Corckran King Memorial Regatta took place out of Severn Sailing Association and Annapolis Yacht Club. Find the story about this regatta in the July issue of SpinSheet. Here's a photo below from Jill Bennett, followed by the top ten scores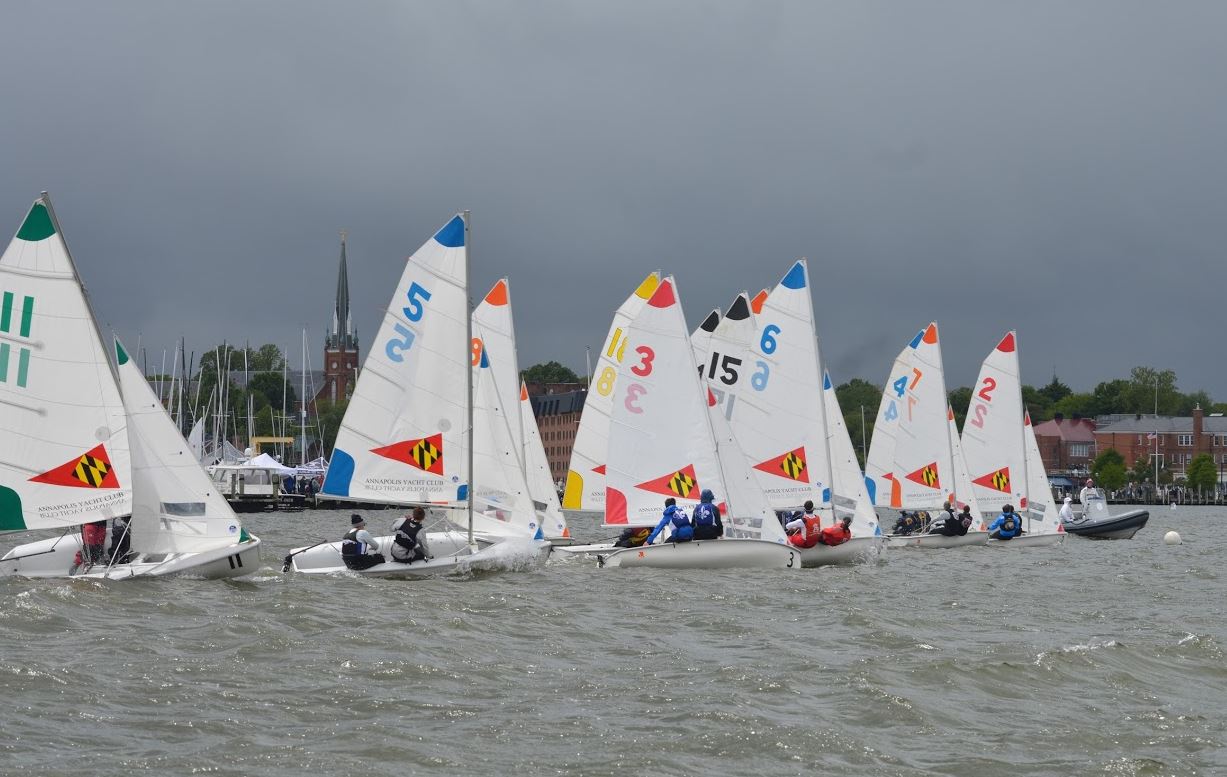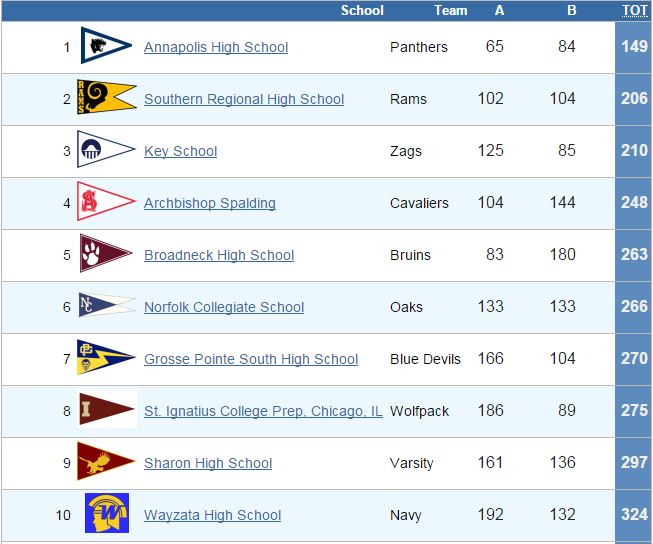 _____
And from Southern Bay Racing News You Can Use:
On Saturday, 10, some would say hearty, others would say in need of professional evaluation, racers got in three races in messy conditions. The occasion was Fishing Bay Yacht Club Spring Series #3. The fleets were small, but each was represented.
J70 (2 boats): 1.Matt Braun, E.L.E.; 2.Steve Quiriconi, Hotty Toddy!
PHRF A (3 boats): 1.Glenn Doncaster, Nanuq; 2.Craig Wright, Afterthought; 3.Alex Alvis, Chilcoot.
PHRF B (1 boat): 1.Jim Raper and Matson Roberts, Rhapsody.
PHRF C (3 boats): 1.Paul Wash, Cheeky Monkey; 2.Brad Miller, Schiehallion; 3.John Kalinowski, Sleigh Ride.
PHRF Non-Spin (1 boat): 1.James L Sturdy, Wendas. Principal Race Officer – Mike Toms. A tip of the hat to those who persevered!
The Series continues on next Saturday, May 20th.
HYC Spring One-Design Regatta.
Five Vipers raced on Saturday in stiff breezes in Hampton Roads harbor. Mark Wheeler won the 3-race event. A team of Christopher Newport University racers (Virmenon, Reilly, Hudson, and Hursa) finished 2nd, and Justin Morris, 3rd. Greg Schuster and Steve Taylor completed the group. Bob Thomas was Race Officer, Dave McConaughy signal boat, and Malcolm Brady mark boat.
COMING UP THIS WEEK:
May 19 Fri final day for 10% off Coral Reef Sailing SBRW gear. Click on www.coralreefsailing.com  and use code sbrw17 at checkout.
May 20 Sat CAPE HENRY CUP
May 20 Sat FBYC Spring Series
May 20 Sat SBRW deadline for One Design Classes to "make" (5 boats entered and paid)
May 26 Fri Start of 68th DOWN THE BAY RACE (Annapolis to Hampton, non-stop)
May 29 Mon MEMORIAL DAY holiday
Jun 1 Thu SBRW Opening/Welcome Party, Check-in, and Skippers Meeting