From SeaTow: This Fourth of July, boaters will fill waterways to get a "front row seat" to the American tradition of watching grand illuminations light up the sky. Here are some safety tips.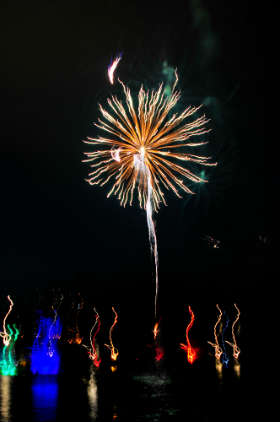 While the show promises to be beautiful, boating at night and in smoke caused by fireworks can prove to be challenging. However, the Sea Tow Foundation an international nonprofit focusing on boating safety and education, offers the following safety tips for boaters watching a Fourth of July firework display from the water:
Wear your life jacket! Make sure everyone onboard the boat is wearing either a traditional life jacket that fits properly, or an inflatable personal flotation device (PFD).
Designate a Sober Skipper to stay at the helm all evening and be responsible for returning the boat and its passengers safely to shore after the fireworks display is over.
Watch the weight. Don't overload the boat with passengers. The number of seats available on board is not always the best indicator of capacity. Look for the boat's capacity plate on the transom or by the helm, or look up the passenger capacity in the boat's manual.
Things look different at night. Remember that in the dark, visual navigation markers you rely on during the day may be invisible. Additionally, navigating at night in smoky conditions can be just as dangerous as boating in stormy weather or in fog. Chart your route to your fireworks-viewing spot in advance, and use GPS-enabled electronics to help you find it, if necessary.
Listen Up! Follow the directions issued to boaters by U.S. Coast Guard and Coast Guard Auxiliary as to where you may safely anchor to view the fireworks away from sparks and ash.
Light the way! Verify that your running and anchor lights are working properly before you get out on the water. This will help you find your way around in the smoky haze and give other boaters an indication of where you are so they don't run into you.
Report illegal fireworks. Private firework displays are illegal and dangerous. They can be extremely harmful to both themselves and other boaters.
Relax and enjoy the show. Don't be in a rush to get home; let some of the boat traffic clear out before you raise anchor after the fireworks display is over.
"For some, watching fireworks from a boat is a family tradition and one that is an amazing experience," said Sea Tow Foundation Executive Director Michael Wesolowski. "These types are simple and easy to remember. If not practiced, they could make the difference in your Fourth of July ending with a literal bang."