Congratulations to Steve Maddox, who was recently awarded the Timothea Larr Trophy by U.S. Sailing.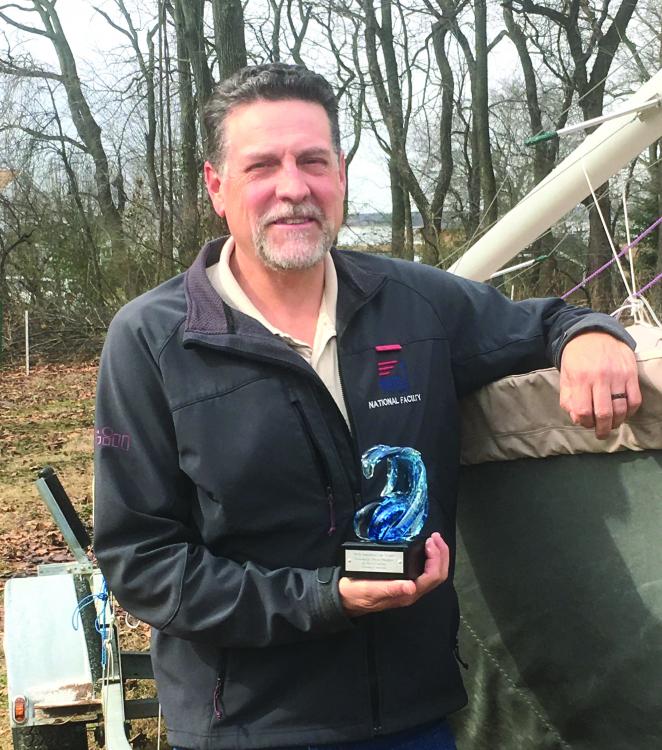 Maddox is well-known and respected around the Chesapeake as the force behind SeaAffinity, a Baltimore-based, non-profit sailing organization that seeks to challenge youth and adults, including those impacted by disabilities, to develop life skills and realize their full potential through water-related experiences.
However, some Chesapeake sailors may not be aware that Maddox is also a member of U.S. Sailing's training committee, where he oversees U.S. Sailing's regional training coordinators. In addition to his work at the national level, Maddox runs multiple courses around the U.S., providing instructor training to hundreds of sailors and annually.
Maddox says, "It was Mike Mueller that first opened the door to U.S. Sailing for me. At his encouragement, I pursued more training and involvement across U.S. Sailing venues. I became a keelboat instructor, a smallboat instructor trainer, a coach trainer, and a powerboat instructor trainer. I was recruited to National Faculty, the group of volunteers that develop and write the training materials. In addition, I serve as a powerboat master instructor trainer and on U.S. Sailing's training committee. While I am honored to receive this award, it is really the great staff and volunteers that keep me serving."
In making the award, U.S. Sailing recognized Maddox as "a valuable member of the training committee, whose calm demeanor, attention to detail, and keen understanding of students' needs have earned him respect among his peers."
The Timothea Larr Trophy is awarded to a person whose vision and guidance have made an outstanding contribution to the advancement of sailor education in the United States. The award may be made to any individual who, in the opinion of the U.S. Sailing training committee selection team, fully meets this criterion. The trophy is the training committee's highest honor, and is awarded annually at the national conference. Nominees must be members of U.S. Sailing and embody the highest principles of honor, integrity, and selfless dedication to the sport.
Learn more about Sea Affinity, its hands-on programming, and practical approach to learning at seaaffinity.org.