Posted September 18, 2019
The Couple Behind S&J Yachts
This month's column just may give credence to the theory that for a happy and successful life, you must follow your dreams and do what you love. Enter the Malatichs. After decades working in various professions and living in various and at times far-flung locations, both Sharon and Jack Malatich decided to do just that, and it paid off. Sixteen years later, they have created a thriving yacht sales business on the Chesapeake Bay and a harmonious partnership and marriage. The road here was circuitous, but it provided the building blocks for their future.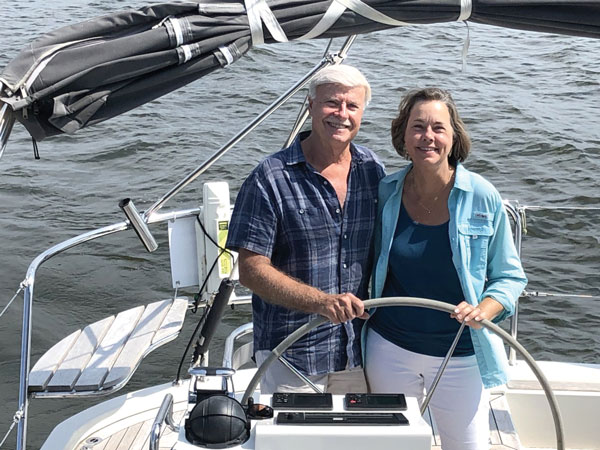 As a teenager, Jack worked in the family marine construction and diving business based out of New Jersey as a deep sea diver. He dove off ice caps in Greenland, he recalls with a sense of adventure still in his voice. If you go into the Annapolis S&J Yachts office, you'll find the helmet he and his father both wore when diving.
He owned several sailboats in his 20s, the largest of which was a 62-foot topsail schooner named Welcome. She underwent a major refit under Jack's watch, and he sailed her for five years.
In his 20s, he transitioned to the fashion industry and worked as a senior executive. "It was not an easy decision to leave the profession." Jack said. "I got to travel through Europe, the Orient, all over the country."
But in 1996 his love of the water lured him away from fashion and back to his roots on the water. He moved to what he knew to be the boating capital of the world, Annapolis, and got a job at a yacht brokerage. His first sale was an $18,000 Cape Dory. The buyer was a young school teacher who wanted to live aboard. When he stood with the happy new owner at the end of the day alongside his new boat, Jack knew he made the right career choice.
Concurrently, Sharon was growing up on Lake Ontario and started sailing at nine years old. She cruised with her family through the Great Lakes and the Thousand Islands and taught sailing. Sharon purchased her first boat in her early 20s, an Abbott 22 that she sailed on Georgian Bay and from Newport to Cape Cod. She decided to get a bigger boat and expanded her cruising grounds up and down the East Coast, to the Bahamas, and the Great Loop. She and her then-husband cruised for four years. It was then that she fell in love with Annapolis.
She began working for a yacht brokerage during the Annapolis Boat Show, and that eventually turned into a full time job as office manager. Sharon and Jack met at work and quickly found that selling boats together was ideal.
"It was no longer the man buying the boat, but more often a couple. Jack and I could offer both perspectives, and it worked out very well for our clients," she said.
Jack added that they complement each other. "I'll have an idea, and she knows just how to make it happen. Our strengths are in different areas making it easier to cover a wide range of decisions."
They decided they wanted to start their own business. In 2004, they opened S&J Yachts. In the last six years, they've expanded to five offices including Annapolis, Rock Hall, Deltaville, Charleston, and Palmetto, FL. They now have 17 brokers and plan to expand with the help of Jack's son, Matt, who has joined the family business. Their company is the largest Island Packet dealer in the world and also represents the Discovery Yacht Group, Southerly, and Bluewater Catamarans.
"The secret to our success is to work really hard at it. We really want to help our clients keep in mind that the right boat is the one that fits their needs—it is an affair of both the heart and the head," said Sharon. "We often say that as you walk away from looking at a boat, if it doesn't turn your head, then it is not the right boat. We need to keep looking."
Jack said it's important to meet the customer "eyeball to eyeball" and ask what they plan to do with the boat and where they plan on doing it. "We take their criteria and look for a boat as if we are buying it ourselves."
These partners in business and life are together seven days a week. "We work long hours and travel a lot, so it's a real plus that we are able to work and have that time together," said Sharon. Both agreed it is important to compartmentalize work from their personal life, and they have to work hard to keep them separate.
"We try to leave it at the office," said Sharon. "But with a constantly growing business and constant stream of ideas to improve upon it, it is difficult to do so. However, it works for us, and we would not change a thing."
Article by Carrie Gentile