A special boat requires the right yard
In the heat of the Chesapeake summer the loose stones of the boat yard radiated, crackling and spitting dust into the air as work vehicles weaved between lanes of lifted boats and neat boatels. A family of bright-blue Travelifts effortlessly danced around each other, as indistinguishable men moved about under their matching straw hats.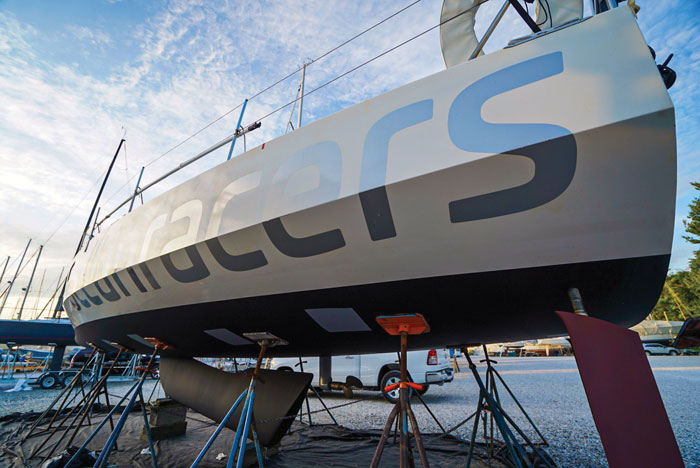 The sun, thick air, and a long list of "to-dos" had us all operating with slow, purposeful movements as if we were walking on the moon. But this was mission control: Bert Jabin Yacht Yard.
Our choice was often questioned: "You know you chose to do yard work in Annapolis during the hottest time of the year?"
Yes, we knew. We specifically made the same choice last year, and we would do it again.
Let me be clear: the timing is not exactly our choice. Our team, Ocean Racers, runs an intensive racing and training schedule in the Caribbean November through May, so the summer is actually "off season" for us. Well, sometimes.
Last year we only had a few short weeks to prepare our Pogo 12.50 Hermes for the AAR Transatlantic Race in July. As we have done every Memorial Day weekend for the past three years, we finished our season in New York City after our annual Bermuda to New York offshore training passage. While we all wish NYC was a yacht haven, it is not. The choice was either a couple of hundred miles east to Newport or south to Annapolis. We went south.
Sure we have been told there are plenty of unassuming spots along the Long Island Sound, but our boat is far from unassuming. Our Pogo 12.50 comes from a racing pedigree, so she expects (and requires) only the best. When it comes to racing pedigree, you would think of Newport; but we found Annapolis to have equal prestige—without the same high price tag.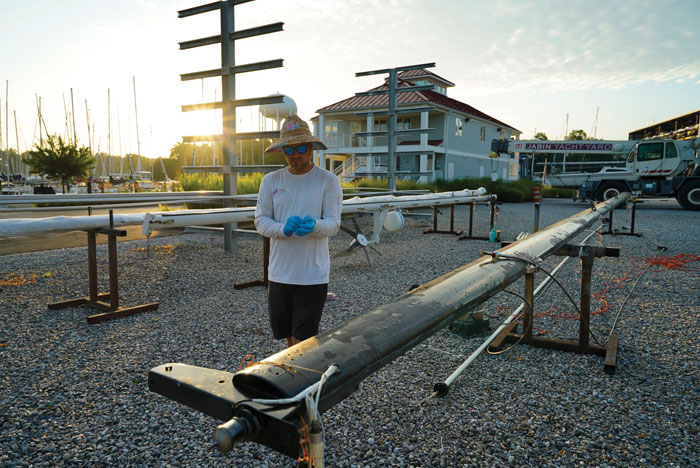 The word on the street? "Go to Jabin's"
We are reminded how special our boat is when we start listing off her specs to boat yards and are soon thereafter told: "We don't do that." Our 15-foot beam requires use of a 40T Travelift. Our carbon-fiber mast requires expert skill. Our race bottom requires a slick, professional application. And our hydraulic swing keel requires knowledge of what that even is.
We knew from the days with our Open 60 O Canada that the Newport boatyards could handle the work, as long as you had a similar budget to Rambler 88 and Wizard. We needed an everyman's (and woman's) boatyard. The word on the street? "Go to Jabin's."
An issue with our hydraulic keel? Go to Jabin's. DIY boat yard? Go to Jabin's. Specialized carbon-fiber work? Go to Jabin's. Race bottom finish? Check out Jabin's…
So, we did. We run an owner-operated race program, and we try to do as much work as possible on our own, but will defer to the professionals when appropriate. Some yards will not let you work on certain boat projects yourself, but Bert Jabin's allows us to do it all ourselves, plus has an impressive pool of services to tap if needed.
Our two big projects
This year, our two big projects have been our carbon fiber mast and boom and our bottom. We did all of the sanding and prep work ourselves and got two of the best in the business to complete these jobs: Mike Beasley of Beasley Marine and Greg Clarence of Annapolis Boat Service.
First, Beasley is the only one around that will even touch carbon fiber, and it makes sense. It is a high-tech material that is found on custom race boats; it is also a relatively new material, which is now just beginning to show signs of aging within the market.
That is what was happening with the clear coat on our carbon fiber mast, and an incorrect re-application of the clear coat epoxy can lead to yellowing and/or bubbling of this otherwise sleek, black, woven material. Beasley has the experience, so needless to say, he was the man for the job.
Clarence has been perfecting his bottom paint work for decades and specifically chooses to use Pettit Trinidad paint. We know from experience that a bad bottom paint and/or application job can ruin the anti-fouling on the hull. This somehow became an annual job for us, and we were looking for someone who could deliver and stand by their work. Clarence was definitely the guy.
While we originally wanted to choose our own paint, Clarence explained his process and how he has perfected it with his paint, since other paints have different chemical makeups and will not behave the same. After seeing his completed work of a slick, race-bottom finish, it is clear he knows what he is talking about. Now Hermes is looking mint and ready for her next big racing season.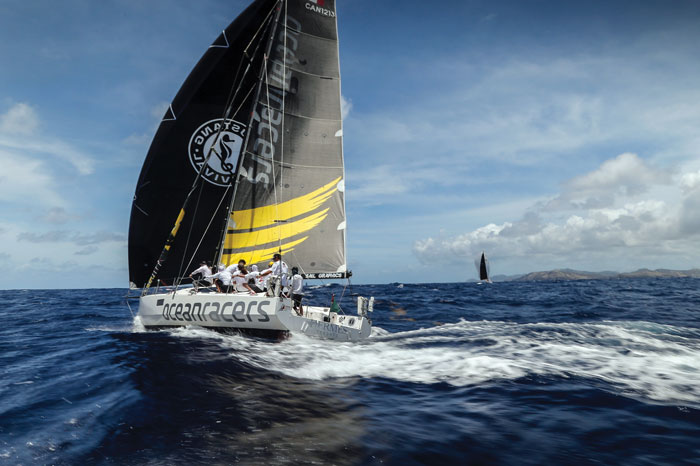 Time to show off the new sleek look
Our plan is to stick around Annapolis for the U.S. Sailboat Show, where we will offer tours of our Pogo 12.50, so we can show off Hermes's sleek new race look. Then, we will sail back to the Caribbean for the winter race season. Unless you join us down south, we'll see you next summer!
~By Meg Reilly of Ocean Racers
Follow Meg and her team's adventures
@oceanracers on Facebook and Instagram.