Calling All Students: Learn About Careers in the Marine Trades: Water, water everywhere and many cool jobs to be discovered! That's what students find at the Marine and Maritime Career Expo to be held Saturday, February 24 from noon to 3 p.m. at Annapolis High School. For the eighth year in a row, more than 50 exhibitors will gather to share their expertise, vision, and rewards of a career on or related to the water with students. All students are invited to attend for free. Parents and siblings are welcome.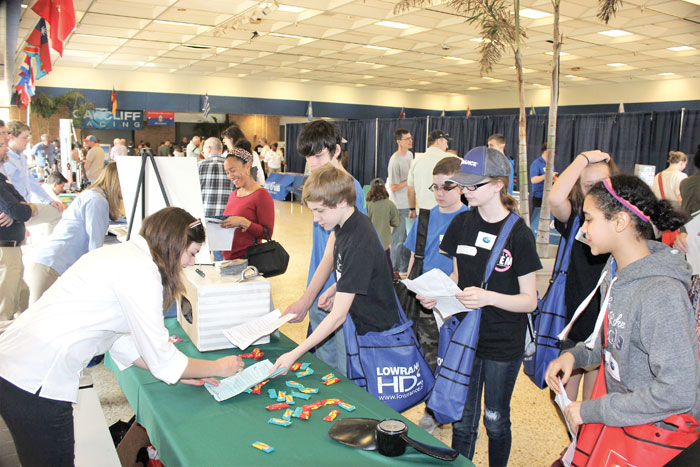 Marine careers from marine biology to ocean engineering and maritime careers from boat maintenance to shipping will be showcased. Exhibitors in the past have included boat builders, maritime colleges, the U.S. Coast Guard Auxiliary, ocean expeditions and research, riverkeepers, tour boat operators, boat sales professionals, boating magazines, full service boatyards, and community boating programs. It doesn't matter if your teenager doesn't know what he or she wants to do for a living—learning about the wide and interesting options is the goal.
Attendees may enter into a raffle for fun door prizes (in the past students have won paddleboards!), and many exhibitors have hands-on exhibits to explain their fields. At 12:30 p.m. in the auditorium, SpinSheet's Molly Winans will moderate a discussion about how marine and maritime professionals got started in their fields. Special guest Jim Toomey, the artist and creator of the syndicated cartoon Sherman's Lagoon, will be there, as well as young professionals from the marine trades and sciences. All students may attend and ask questions.
Event chair Tim Wilbricht says, "We expect our largest turnout ever with over 50 exhibitors and 600 attendees, so come on out and learn more about careers in one of the largest industries in our area."
The Marine and Maritime Career Expo is a partnership between the Eastport Yacht Club Foundation and Anne Arundel County Schools. Team SpinSheet will be there. To learn more, click to the Eastport Yacht Club Foundation.