The Chesapeake Bay Maritime Museum (CBMM) has been selected to build a new Maryland Dove, a representation of the late 17th-century trading ship that accompanied the first European settlers to what is now Maryland. Maryland Dove is owned by the state of Maryland and operated and maintained by the Historic St. Mary's City (HSMC) Commission.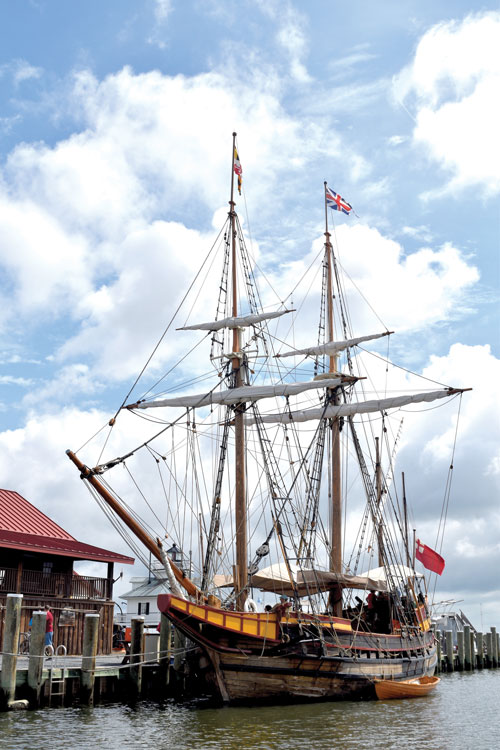 "HSMC and CBMM are natural partners in this project," said Regina Faden, executive director at Historic St. Mary's City. "It fulfills both our missions and delivers a new Dove to tell the story of (early) Maryland."
Maryland Dove is Historic St. Mary's City's floating ambassador and one of its most popular exhibits. The goal of the new ship design is to be as close to the 1634 original as possible, including features that were not known when Maryland Dove was built in 1978.
Bethany Ziegler at CBMM tell us: "Building the new ship will also include a ground-up review of the current design. A great deal of historical and archaeological research has been accomplished since the 1978 Dove design, with CBMM working jointly with Historic St. Mary's City to ensure research is incorporated in the new Dove."
She adds: "The overall size of the vessel will remain similar to the current Dove; however, many of these details will change. Once the final design is complete, an explanation of the key differences will be provided to the public."
Ivar C. Franzen Maritime, LLC of Annapolis, a firm specializing in historic vessel naval architecture services, has been chosen to do the design work.
One of the most notable differences in the new Dove will be her rigging. "New research will be incorporated and bring the new Dove reproduction closer to how we believe the Dove of 1634 was likely rigged with fore and aft sails rather than square sails, and two masts, rather than three," says Ziegler.
Construction is anticipated to begin at CBMM by mid-year, with the launch of the new Maryland Dove targeted for 2021. All work will be done in full public view, allowing the public to experience every stage of the project.
"We are thrilled and honored to have been selected to build a new Maryland Dove," said CBMM president Kristen Greenaway. "Over the course of the next few years, our shipwrights and apprentices will build a historically accurate replacement to the existing ship, and we welcome guests to be a part of the construction and education experience."
As for the existing Maryland Dove, Historic St. Mary's City is currently exploring all of its options and will announce a plan once a decision has been made. Learn more at cbmm.org and hsmcdigshistory.org.