Sea Bags, designers and manufacturers of handmade items from recycled sails, opened its first store in Maryland in early December. The store will carry all of Sea Bags' designs and seasonal collections, including totes and home accessories as well as regionally specific products that Maryland customers will enjoy.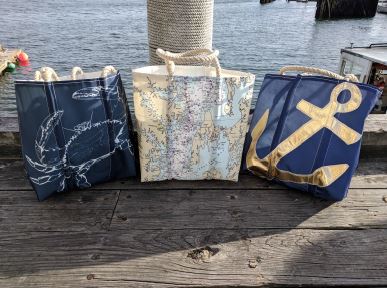 Sea Bags in Annapolis is located at 168 Main Street and will be open year round.
Don Oakes, CEO of Sea Bags, says: "We're very excited to open our first store in Maryland. We currently have many customers from Maryland who order online and some have even visited us here in our Portland and Freeport stores. It just makes sense to bring our products closer to them in Annapolis with its beautiful nautical setting, presence of the Naval Academy, and long history as the sailing capital of the U.S. It feels like a natural place for our products."
Sea Bags is also introducing regionally pertinent designs that will be featured at the Annapolis store. The White-on-Navy Crab Tote, Bucket Bag, and Beverage Bucket bring out the love of Maryland's well-known specialty. The Gold-on-Navy Anchor products will be a favorite of Naval Academy students, parents, and alumni. Lastly, Sea Bags understands that Marylanders are passionate about their coastline, so they decided to introduce the Annapolis Chart Tote, Wristlet, Handbag, Wine Bag, Bucket Bag, and Placemats.
"We want to introduce our current products to Annapolis consumers but we also wanted to include products that have a unique Maryland flair. We are excited about these products and we will continue to expand on products that will appeal to this audience," said Tara Knupp, Product Line Manager.
Sea Bags products are also available online and at their 12 other retail stores located throughout the East Coast. For more information, click to seabags.com.