Remembering Our Friend Fred
Fred Hecklinger, longtime fixture along the waterfront in Annapolis and beyond, passed away peacefully on September 25. Hecklinger spent a lifetime around boats and on the water and his passing was deeply felt by his many friends and shipmates. Hecklinger was an occasional contributor to SpinSheet magazine.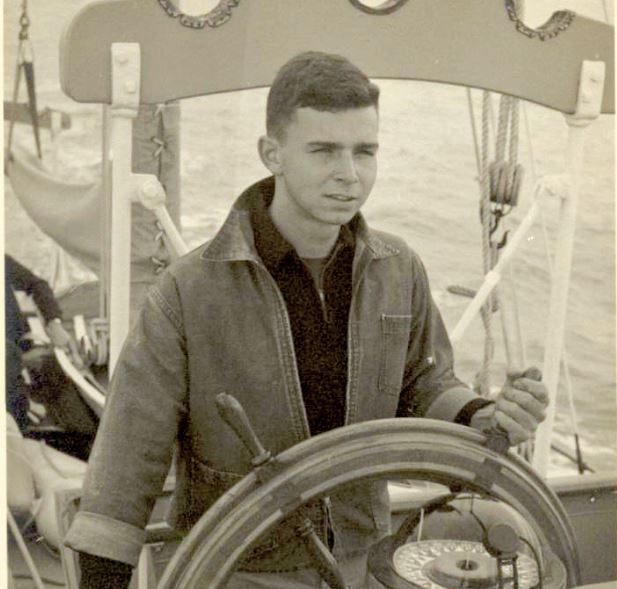 SpinSheet's co-founder Dave Gendell had a close friendship with Hecklinger for many years, rooted in a love of boats, history, and the schooner AMERICA. In 2014, Dave visited Fred at his basement workshop, captured this photo, and wrote this piece. It first ran in the November 2014 issue of SpinSheet Magazine. Look for a full tribute to Fred in our November issue.
Fred's Shop
Fred and Bobbie Hecklinger's home sits along a leafy and quiet Annapolis neighborhood street. The home is well situated, about halfway between the dark Big Woods of Bay Ridge and a southern-facing beach along the Chesapeake. It's a short walk from both.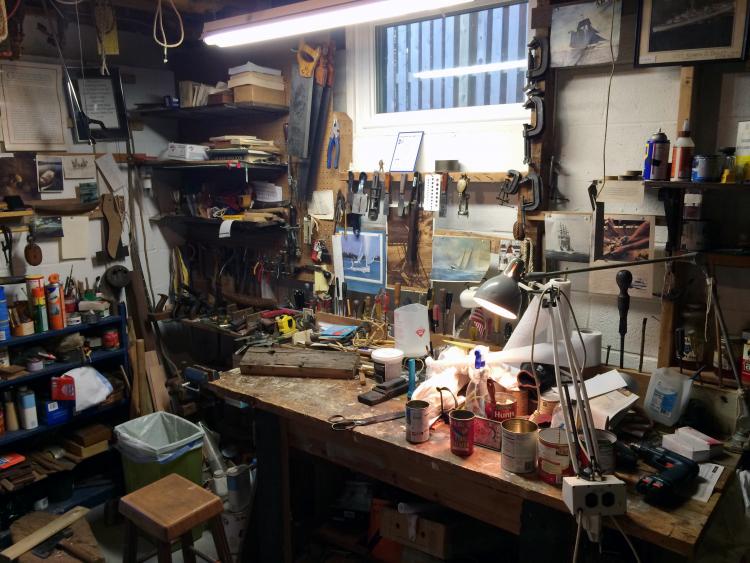 A visitor to the Hecklinger home is welcomed into a warm and attractive scene, cultivated over decades by a successful real estate agent and artist and curated by her husband, a marine surveyor, historian, and waterfront bon vivant. Every sightline includes flowers, art, books, and half-hulls. It is clear to the visitor that thoughtful, well-traveled, interesting people live here.
But I have not been called to the Hecklinger home late this past summer for a tour or an architectural review. After a pleasant chat in the living room, Fred and I move on to the business of the morning. We make our way to the below-ground level, where Fred keeps his shop.
Once in the shop, the sight of half-hulls in-progress immediately strikes me. A well-turned-out half hull model of an attractive sailboat is an evocative combination of art, instrument, and joy. Until this moment, I have never seen one under construction, other than in photos, and, suddenly, there they are: several unfinished half-hulls, some lying amongst templates and sandpaper, some still in early phase with rough sections and crude chisel slashes. A mystery I had never considered is dissected and laid open right in front of me.
The air smells of wood and paint. A big workbench dominates the space. All around are lengths and blocks of wood. Most of the wood is practical, on the scene for a specific purpose. But other sections of wood carry special providence and even a hint of magic. Fred is in possession of a decent amount of material removed from the wrecked Schooner AMERICA in her final days on the hard in Eastport. A larger hunk of AMERICA wood is visible on the bench in the accompanying photo. There was a time, decades ago, when Fred could turn out an AMERICA half-model from authentic wood in short order. As a young man he even sold a few out of the back of his car along Eastport streets, in the shadow of where AMERICA was broken up in the wake of World War II.
Across the shop, on the bench, and hanging on the walls are bits of rigging, photos, sandpaper, and mixing jars. The photos tend to be big schooners under full sail. Decades of well-chosen tools are close at hand alongside plans, sketches, and paper templates. The tools range from a heavy hatchet to tiny instruments, fine enough to be favorites of a watchmaker.
Fred reaches behind a corner above the bench and produces a well-preserved, well-varnished wooden turning block. He built this block as a young man seeking employment along the waterfront. One afternoon, long ago at a boatyard in Oxford, he presented this wooden block in lieu of a resume. He got the job.
As we talked Fred generously filled a box with AMERICA wood. He lifted and considered each piece and either dropped it in the box or set it aside. Fred has slowed down his pace a bit, but he is still working on projects, including AMERICA half hulls. The stuff he sent me off with that morning was authentic material but not suitable for a model. A higher purpose still awaits the good wood. The light will still be on in Fred's shop. The tools will stay warm.
By Dave Gendell