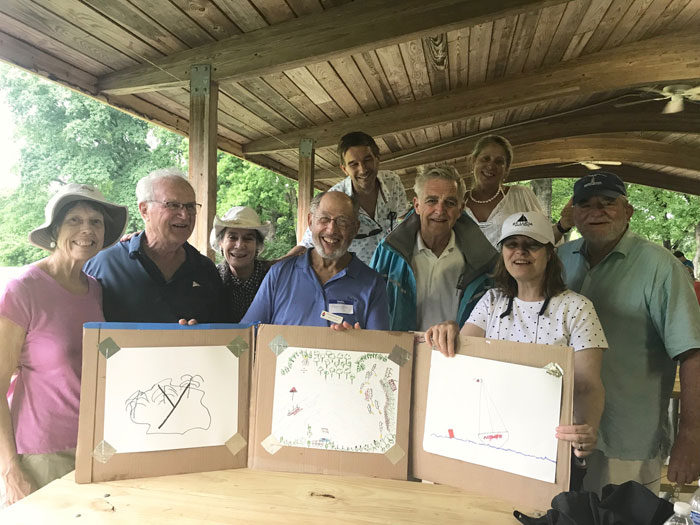 The Chesapeake Bristol Club (CBC) participated in the annual May 26-28 Wye River Rendezvous. Rain and windless seas were unable to spoil the enthusiasm of participants and planned activities, including "O-Limp-ic" games, boat dressing, art contest, and the full BBQ picnic. Prizes were awarded for best overall four-person team, silly boat inspection, art event, and nautical trivia contest. In addition to CBC, four clubs participated in the weekend: Eastport Yacht Club, Magothy River Sailing Association, Club Beneteau Chesapeake Bay, and Potapskut Sailing Association.
There was a total of 12 boats on Granary Creek Saturday night. With darkening sky and threat of storms, three boats pulled anchor early Sunday morning and headed home. By Sunday afternoon we welcomed three new vessels: a custom designed trawler belonging to a former sailing couple; a sailboat ferrying nine adults, three children, and two dinghies who were rafted together in Dividing Creek; and Vice Commodore Earl Mullins and wife Patti aboard Sanctuary.
The upcoming events for June-July 2018 are:
June 23-24: Summer Sailstice Event, Sillery Bay off the Magothy River between Dobbins and Little Islands

June 30-July 4: Fireworks Mini Cruise, Baltimore and Rock Hall

July 27-29: St. Michaels weekend viewing the Log Canoe Races
Bristol sailboats on the Chesapeake Bay are our nostalgic heritage, but membership is open to all who enjoy sailing. The club is a social and sailing club with no clubhouse, so costs of membership are low. You don't even have to own a Bristol sailboat, or any sailboat, for that matter. Visit cbclub.info for more information about our club and upcoming activities.
by Marty Suydum