10 Reasons Transient Cruising Sailors Love About Visiting Annapolis by Boat
When visitors think about Annapolis, they might think about the Maryland State House, the U.S. Naval Academy, colonial buildings, brick streets, and eating ice cream cones while looking at the pretty boats and ducks. But to cruising sailors, Annapolis is about much more than colonial architecture and ice cream. Here's what's cool about Annapolis from a cruiser's perspective:
1. The view. You don't know how beautiful Annapolis is until you've approached it from the water. Even locals find our town stunning, again and again, when we see it from the water. More than once after an Annapolis Yacht Club Wednesday Night Race, I've heard sailors say, "Can you believe we're lucky enough to live here?" I once had a South African sailor who rooted himself here tell me how he'd first arrived at night. When he woke up at anchor on his boat, looked down Back Creek, and saw 1000 sailboat masts, he knew he'd found his place. Whether you arrive from up or down the Severn River, the view is always spectacular.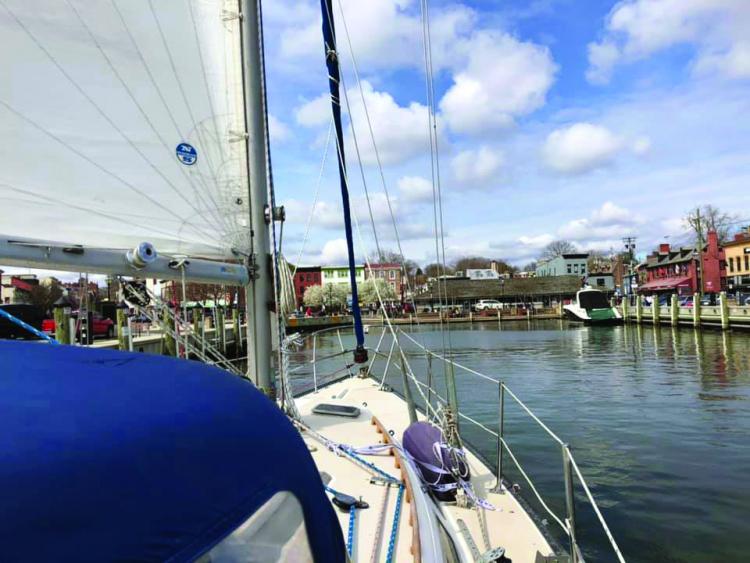 2. Docks, moorings, anchorages. When you cruise into Annapolis, you have seemingly endless options for where to "park" your boat. The city offers dockage at City Dock and moorings in Back, Spa, and Weems Creeks. Transient slips are plentiful at local marinas (see Snag-A-Slip or PortBook for options). Even when the town is bustling at Annapolis Sailboat Show time in the fall, cruising sailors have many anchorage options up the creeks.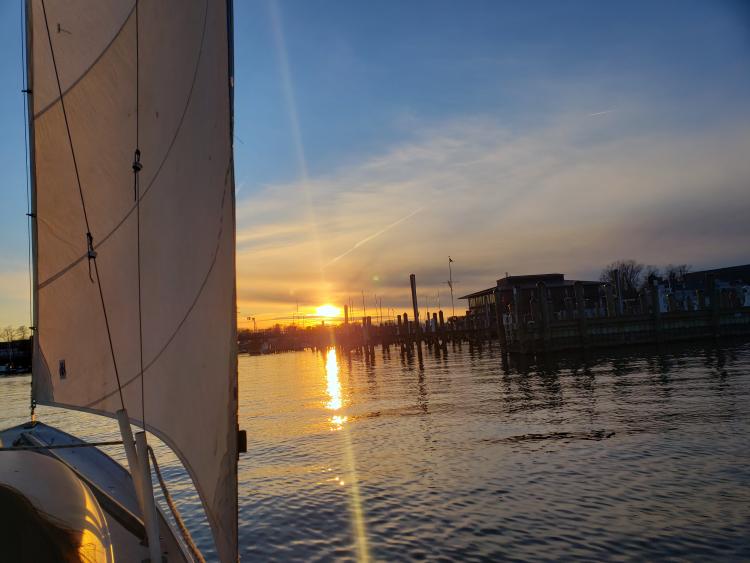 3. Marine services. As much as they appreciate good restaurants and boutiques, after long sailing journeys, cruisers need some work done on their boats and/or marine supplies. There's a reason Annapolis is a worldwide hub for sailors: If you need engine work, sail repair, electronics maintenance, rigging assistance, sailing hardware, refrigeration work, or a cracked compass fix, you can get it done in Annapolis. If you need anything for a cruising boat from fenders to new lines, cleats and blocks, hoses and attachments, batteries and connectors, you can find it at one of the chandleries in Annapolis. Fawcett Boat Supply, which was known for years among sailors for being downtown, is now a 2.5-mile Uber or bike ride from City Dock; as always, it's staffed with experienced sailors.
4. Duds and suds. When they're done finding boat supplies and a good mechanic, weary travelers appreciate a good laundromat, and Annapolis won't disappoint. (Closed in 2022!) The Maryland Avenue Laundromat was well-loved by sailors for a few good reasons: it was across the street from Galway Bay, an Irish pub with excellent food. It's also near interesting shops, such as Annabeth's (for wine, snacks, gifts), multiple antique shops, and Old Fox Books (serving coffee).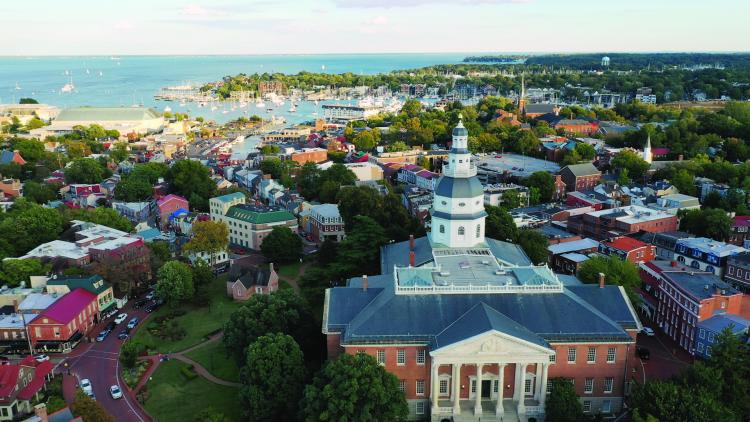 5. Fellow sailors. You cannot swing a cat-o' nine tails in Annapolis without hitting a sailor. While paddling, I've struck up conversations with transient cruisers anchored in the creeks. They often say, "I have met so many awesome sailors" or "People are so friendly here." Sailors in this town are a giving bunch. They'll give you restaurant recommendations, directions, and phone numbers of friends who can help you. They'll invite you to "docktails" and dinner and lend you their cars. To be welcome and part of the "tribe," all you need to be is a sailor with a smile.
6. Walkability. There's much to see by foot in Annapolis—the State House, the Naval Academy, historic homes and gardens—and a variety of decent restaurants within walking distance of Annapolis City Dock. Some sailors enjoy strolling up Main Street and out West Street to "uptown" Annapolis, where they'll find hip dining, craft cocktails, and a music scene.
Other sailors meander across the Eastport Bridge over Spa Creek to what locals affectionately refer to as the Maritime Republic of Eastport, aka The MRE, the section of town "annexed" from Annapolis by rebels 20 years ago to make light of an inconvenient month-long bridge closure. The charity events that grew out of that time period live on, the big one being the annual Tug of War across the creek between Annapolis and Eastport, which takes place in early November. Eastport also boasts the sailor-friendly Boatyard Bar & Grill and a few blocks away, the local hangout, Davis' Pub.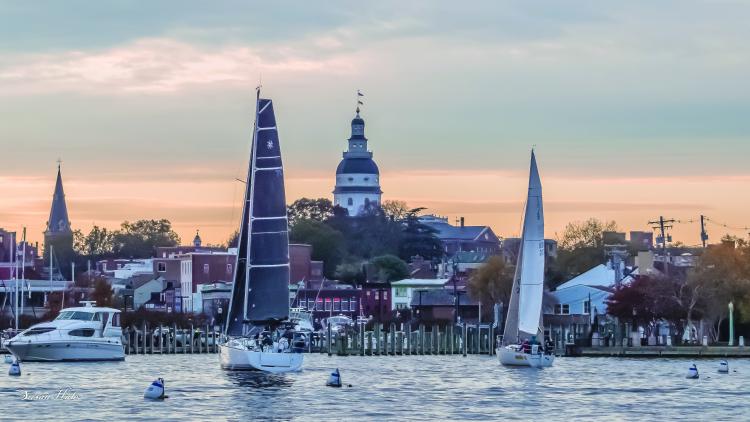 7. Bike share program and trolley. Sailors who tire of walking or want to travel farther afield may use Annapolis's two-year-old bikeshare program for $1 for 15-minute intervals or by purchasing a monthly plan for $4.99 (click to ridepace.com/annapolis to learn more). Visitors may also enjoy the free Circulator Trolley, which goes up Main Street and out West Street to Park Place and back. The Circulator operates Monday through Saturday from 7:30 a.m. to 11 p.m. and Sunday from 8 a.m. to 8 p.m. (find more at annapolisparking.com).
8. Culture. While walking around Annapolis, you will find music, art galleries and openings (don't miss the Maryland Federation of Art's Circle Gallery), neat boutiques, festivals (First Sundays on West Street are a favorite), and Annapolis Maritime Museum. There's a distinct "vibe" in Annapolis—lawmakers' rubbing elbows at the bar, Midshipmen in the cafés, hipsters making music uptown, intellectuals at St. John's College playing croquet on the lawn, and of course, sailors eager to throw off their lines in all seasons.
9. City Dock and Ego Alley. The Susan C. Campbell Park on City Dock and walkway along Ego Alley aren't just for tourists. Come to Annapolis on a summer Tuesday evening, when the Naval Academy band plays. You'll see dinghy sailors from Severn Sailing Association racing in the harbor, standup paddleboarders with East of Maui paddling by, a sailor showing off by tacking down Ego Alley, and locals sipping Painkillers at Pusser's or admiring a tall ship. In all seasons, City Dock and Ego Alley bring visitors and residents together by the water… for free.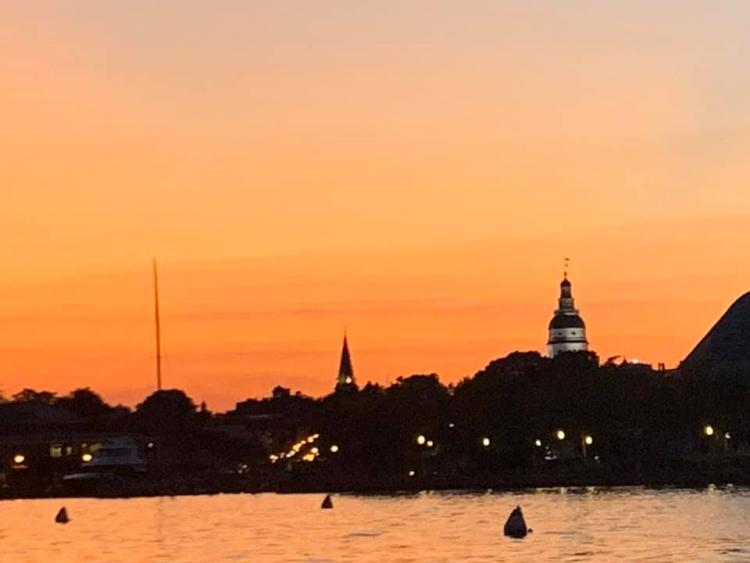 10. Sunset. If you want to know when Annapolis really shines, see our capital city from the water as the sun sets. All of us who sail and play on the water, from cruisers to racing sailors, from guests on the Woodwind Schooners to those on the Harbor Queen or water taxis, from Naval Academy Midshipmen to kayakers: we all know that to watch the sun set over the city from the harbor is spectacular, every time.
~By Molly Winans