Get Started Now on Your 2020 Cruising Plan
The best cruising seasons start with the best-laid saiing plans. While thinking ahead to the 2020 cruising season, consider these 10 ideas for scheduling an amazing season on the Chesapeake.
1. Choose your weekends.
2. Get agreement from crew or buddy boats.
3. Join the club.
4. Watch shooting stars.
5. Howl at the moon.
6. Chase Fireworks.
7. Arrrgh!
8. Find festivals, concerts, and maritime events.
9. Sail on the Solstice.
10. Unplug at anchor.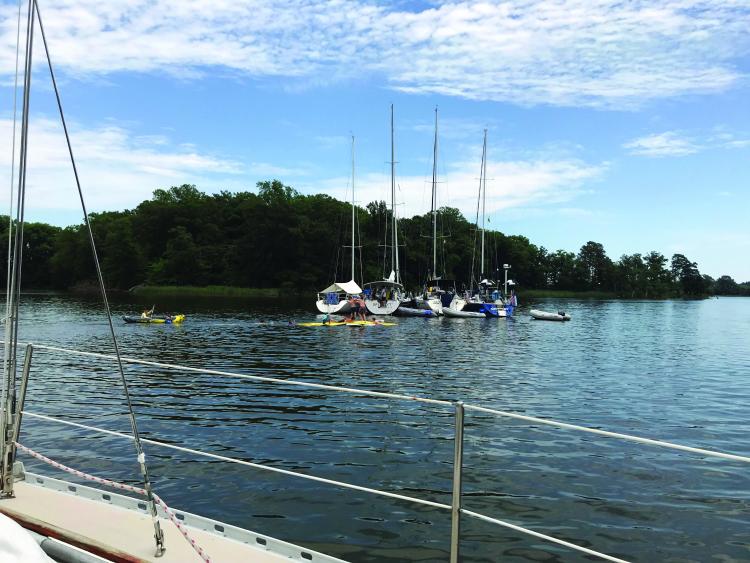 1. Choose your weekends. It's hard at Groundhog Day to think about June weekends, but that's exactly what you need to do if you want to fit cruising adventures into your schedule, especially if you're planning with busy professionals and/or parents. As you sit with your calendar and list of cruisers you'd like to travel with, ask yourself what's on the 2020 agenda. Is anyone you love getting hitched this spring? Do you have a big high school or college reunion happening, or the graduation of one of your kids or grandkids? Once you block off non-sailing weekends, you might find you have fewer cruising opportunities than you'd hoped. Make sure to line up extra weekends as a couple of them will fall through due to weather or unforeseen life events. Plan well to ensure that your schedule doesn't take on a life of its own and eat up the free weekends.
2. Get agreement from crew or buddy boats. Do you have those friends who always say, "We should go cruising together," yet they never seem to be free come summertime? Pin them down on a date now. If you are planning weekends with a few boatloads of cruisers, you might consider inviting people to your house to compare schedules. If that's not feasible, try an online service such as Doodle to find dates that work for everyone, or a majority. Doodle is free and works for picking business meeting dates, so why not for choosing cruising weekend dates? The best part about planning adventures with friends early in the year is that moving forward, you plan your life around these sacred weekends, not the other way around.
3. Join the club. Social sailors may naturally gravitate toward cruising clubs with an established schedule of cruises for the season. Find a full list of clubs here. Most clubs welcome new members, so find one that feels like a fit and attend an event.
4. Watch shooting stars. What's better than watching shooting stars from the deck of a sailboat in a quiet anchorage with your best cruising friends? Cruising during or near these meteor shower dates will maximize your opportunities:
April 21-22: Lyrids
May 4-5: Eta Aquariids
July 20-30: Alpha Capricornids
August 11-12: Perseids (good one!)
October 9-10: Southern Taurids
5. Howl at the moon. Sailing or being at anchor watching a full moon rise can be the highlight of the summer. Make it happen in 2020 by penning the following dates on your calendar: February 9, March 9, April 8, May 7, June 5, July 5, August 3, September 2, October 1, October 31, November 30, and December 30.
6. Chase Fireworks. The Fourth of July falls on a Saturday night this year, so you can make an educated guess about your favorite Chesapeake fireworks show and when it will happen. There are neighboring towns that plan their fireworks to not overlap (such as Oxford July 3 and St. Michaels July 4). Expect more exact dates in the July issue of SpinSheet and earlier (as soon as we know them) at spinsheet.com.
7. Arrrgh! Okay, pirates, we know what's probably already on your radar, but for those cruisers who want to get their pirate on but don't know how… plan on two major events in Chesapeake country: the Blackbeard Pirate Festival in Hampton, VA, May 31; and the Pirates and Wenches Fantasy Weekend in Rock Hall August 14-16. Expect costumes, pirate encampments, chantey singing, decorated dinghies, and lots of grog. Both pirate festivals are great fun to attend by boat.
8. Find festivals, concerts, and maritime events. You can find festivals and maritime events all summer long in the SpinSheet calendar, and many of them are fun to attend by boat. Maritime museums in particular host events of interest to sailors, whether traveling by cruising vessel or land yacht. A few favorite events: Chesapeake Bay Maritime Museum Antique and Classic Boat Festival on Father's Day Weekend June 19-20 and Charity Boat Auction September 5; Calvert Marine Museum's Waterside Music Series (the only date scheduled at print time was Old Dominion playing on August 21—stay tuned for more); Annapolis Maritime Museum's Tides and Tunes Thursday night concerts and Boatyard Beach Bash (September 12); and Urbanna Oyster Festival November 1-2. Keep your eyes on the SpinSheet calendar for more great events.
9. Sail on the Solstice. It's the 20th anniversary of the Summer Sailstice, so to be entered to win great prizes, sign up at summersailstice.com and go sailing on June 20, 2020.
10. Unplug at anchor. While you're choosing all of these concerts, festivals, and events to attend by boat, make sure to find a few weekends to sail into quiet anchorages and do nothing. Unplug your electronics. Relax and enjoy your boat, with or without friends. Get a good night's sleep. It may be the best plan you make all year.