Gadget Tips from Liveaboards (even if you're not one)
Ever wish you could apply the know-how and gadgets of liveaboard cruisers without actually having to live aboard? Several longtime liveaboards have shared thoughts on their favorite inexpensive additions for making life onboard more pleasant. Most cost less than $50, enabling the rest of us to enjoy our time on the water with more ease, less hassle, and plenty of change for beer.
Better Lighting, comfort, and convenience
LED lights save charging time on the batteries and offer creative lighting possibilities. Many light fixtures can be upgraded to LEDs simply by swapping out the bulbs. Even better, some LED bulbs now come in red/white or blue/white configurations. This can come in handy for lighting an area of a boat—say the nav desk or the galley—in red for night sailing. Swapping light bulbs instead of installing new fixtures can save money.
LED lights have other nifty uses. Solar charged Luci lights provide excellent cockpit lighting. Plastic LED candles give neat mood lighting, too. NaviSafe makes portable magnetic LED navigation lights for small craft such as dinghies and kayaks. Great for night sailing, LED headlamps also work well as evening cockpit lighting, reading lamps, and nightlights.
Perhaps the most entertaining application of LED lights is an underwater LED fishing light that clips onto the house battery or plugs into a 12-volt charger. Its light illuminates the fish and other creatures lurking below after dark.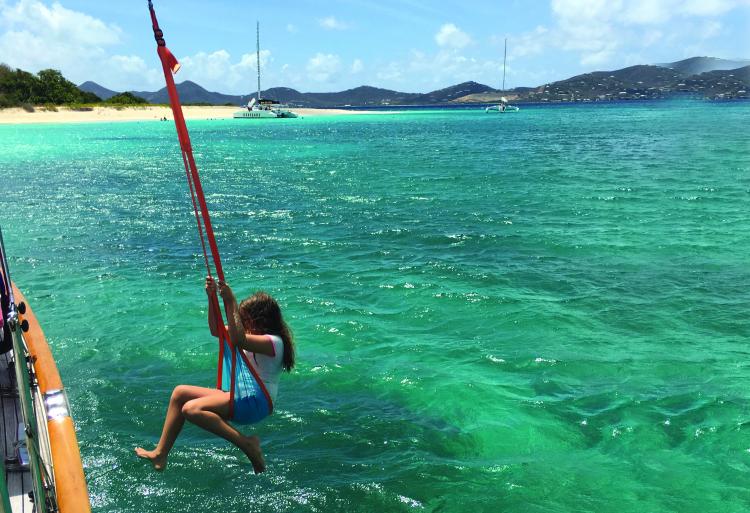 A portable 12-volt fan can help beat the sultry Chesapeake heat by circulating air wherever needed.
With 12-volt fans go 12-volt outlets, and sprinkling these in convenient places throughout the boat does more than cool the boat off. Charging outlets in the cockpit make it easy to run navigation apps on tablets for long periods of time. Outlets in staterooms or at the nav desk make for easy charging of phones, tablets, and other accessories.
Rails mounted between cabinets and bulkheads keep books and other items in place.
Cleaning and stowing tips
Lemon juice works wonders at cleaning off an ICW beard and other stubborn stains. It also acts as a non-toxic disinfectant for counters and sinks. Wet wipes clean everything: counters, floors, heads, and even people. Magic erasers can wipe away a lot of tough stains with a little elbow grease.
Every boat needs a catch-all cockpit container for storing stuff from sunscreen to empty bottles. Plastic containers that attach with suction cups, wicker baskets tied to something stationary, and mounted mesh pockets could all fill this role.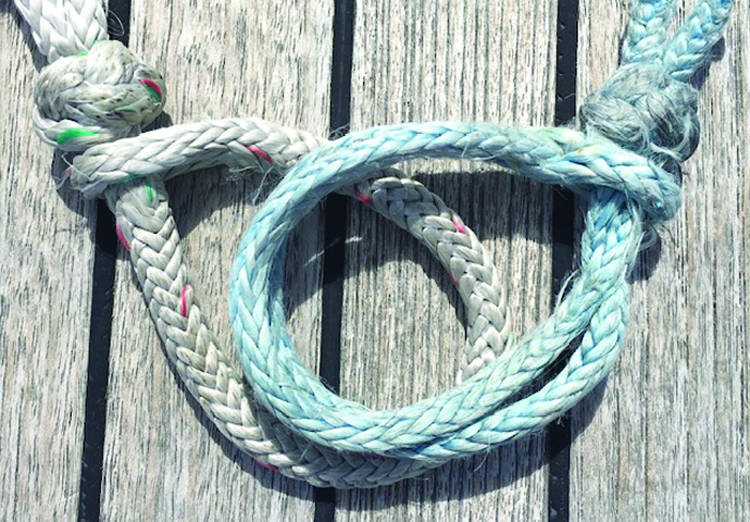 A dry bag or two can keep your stuff—laundry, groceries, the evening's chips and dip—dry and fresh. Both waterproof backpacks and duffel bags are versatile and easy to carry around.
Waterproof folders work well for organizing and transporting boat documents.
Galley gadgets
A silicone sink strainer keeps unwanted food out of drains.
Non-skid shelf liners and placemats help keep plates, glasses, and other small items from slipping around.
A stainless steel French press, a mocha pot, or an AeroPress all make delicious coffee and stow easily without breaking.
Easier maintenance
Securing shackle pins on halyards and anchors with seizing wire helps prevent unwanted losses and trips up the mast in less-than-ideal situations.
Soft shackles made of Dyneema have dozens of uses. They can substitute for or back up metal shackles in many places throughout the boat.
A compact mirror can help you to see in narrow spots such as in engine compartments or behind awkward hose connections. Take advantage of technology by using a wireless endoscope, which is a snaking camera that connects wirelessly to a tablet or smartphone. This can help trace blocks in hoses or provide views of hard to reach places.
Similarly, an extendable magnetic grabber retrieves nuts and bolts that fall into hard-to-reach places like the bilge or under the engine.
Outdoor comforts
Ratcheting seats work all over the deck. On the foredeck or on the stern, they turn into a comfortable lounge chair. In the cockpit, they can do double duty as a back rest.
A cloth hammock strung between forestay and shrouds offers a great place to relax in the breeze.
A portable cloth swing hung from a halyard can provide hours of fun. Kids like to swing on deck or run along the hull in the swing.
~By Tracy Leonard
Got tips? Share them with SpinSheet!