After almost a week of boat work, a cruising sailor rewards himself with a visit to Beaufort
One of the towns I had neven seen, despite my many cruising passages, was Beaufort, NC, a place that sits among the more popular stopping points on treks north or south along the Intracoastal Waterway (ICW). A small southern town with marinas, boardwalks, shops, and boats all nestled together, Beaufort is, at its core, a simple old fishing town.
We all find our own paths to happiness, and in my ICW days my path to happiness rarely meant going ashore in the towns where I would anchor at night. My budget was small, and my dinghy lived on the foredeck. The disruption of either of those states of balance rarely felt worth the effort. In all, I missed a lot of towns but got a lot of free sunsets.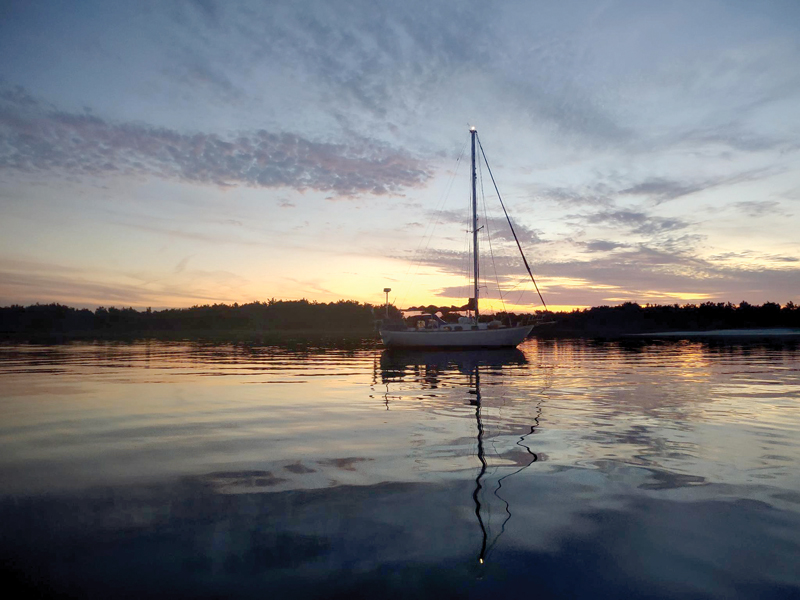 On my recent trip from Norfolk to St. Martin, I stopped in Beaufort to regroup and lick a few wounds after a rough rounding of Hatteras. My batteries had been brutalized by the Chesapeake summer heat and needed replacing: a fact that made itself clear offshore. My boat's rigging needed tuning as well, and everything belowdecks needed to be straightened out and better stowed. So, Ave del Mar and I settled into the anchorage and got to work.
I got busy on the to-do list, working on systems and using the town's free WiFi to connect and search for parts while the southern sun dried soggy gloves on the lifelines. After a week or so, the work was done, and it was time to go ashore to reward myself.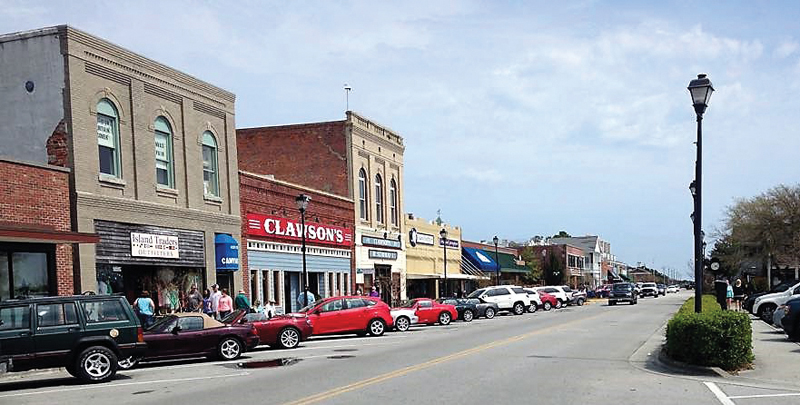 I'm told there's a bar I have to visit here...
I rowed into town and tied off Margot, my dinghy, at the town dinghy dock. A couple of young men were watching boats come and go. We chatted a while about life. It wasn't that long ago that I stood on docks and yearned for adventures at sea, and their wide-eyed curiosity touched that dreamer in me. They asked me where I was headed in town.
"A friend told me there's a bar that I have to visit if I'm here," I said.
"Backstreet!" they cried in unison. "Everyone goes to Backstreet."
A few short blocks away I came upon the bar, easily identified by the amassed locals sitting at the outdoor tables. I ducked in to order a beer, claiming a seat at the bar and listening to the conversations around me. Backstreet is everyone's pub, that bar from every town, where you know the bartender and the bartender knows you. It is comfort in bar form. When my stomach growled, it was time to move on and find food, so I asked where a poor sailor might find an affordable dinner.
"The Royal James," said my bartender. "You can't go wrong at the James."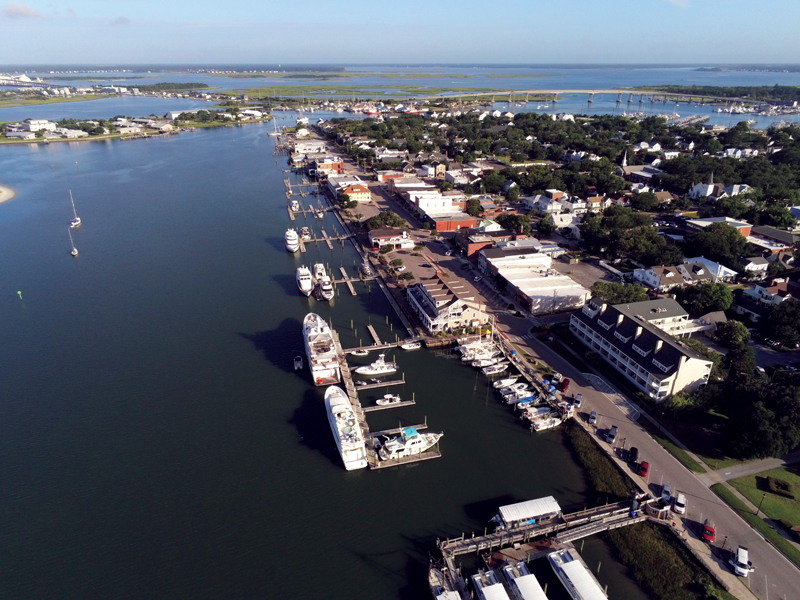 Seeking an affordable dinner
Out the door I went, and as instructed, I walked another short bit until the James was right in front of me. I ducked in the front and picked a stool at the bar. The menu was on a blackboard on the wall, and I stared at it a bit too long thinking I had gone not through the door of a dive bar but in fact through a portal to another dimension. Double cheeseburger $6. Side of fries $2. I had two of the burgers, an order of fries, and two IPAs and didn't spend $20. What year was this? A man came in the door and sat to my left, getting back to finishing a half-full PBR and telling me about his life as a liveaboard sailor. Small world.
Wandering the streets of Beaufort
A few days later a friend from the Outer Banks dropped by for a visit. We wandered the streets, catching up and telling tales, looking at the old houses and letting her dog sniff trees and make friends with passersby. When lunchtime came, we dipped into Front Street Tacos on the west end of the strip where we were served amazing, traditional tacos. I hadn't expected decent Mexican street food in Beaufort. In fact, there were a lot of hidden reasons to stop here.
When all the projects were done, it was time to prepare for departure. I took an Uber to provision at the Piggly Wiggly—can you even say that with a straight face?—with a driver who was as pleasant and chatty as a human could be. Dropping me back at the dinghy dock, she made sure I was safely on the curb with my goods and wished me fair seas on the trip to St. Martin before pulling away.
Beaufort, I offer you my apologies for all of the years I dropped the hook and ignored your charms. I know better now.
by John Herlig
About the Author: John Herlig lives aboard his Rawson cutter Ave del Mar, teaches at Cruisers University, and is the host of the podcast Remarkable Stories. Find him on Instgram at @sailingave.
Find more great cruising articles here.