Tips on Fixing Your Sailboat in Far-Flung Locales for Resourceful, Mechanically Inclined Sailors
Anyone who has spent any time bluewater cruising will agree that anything onboard can (and probably will) break without warning. Your ability to enjoy this sport we call cruising will hinge on your resourcefulness, tenacity, and preparation you've put into your vessel.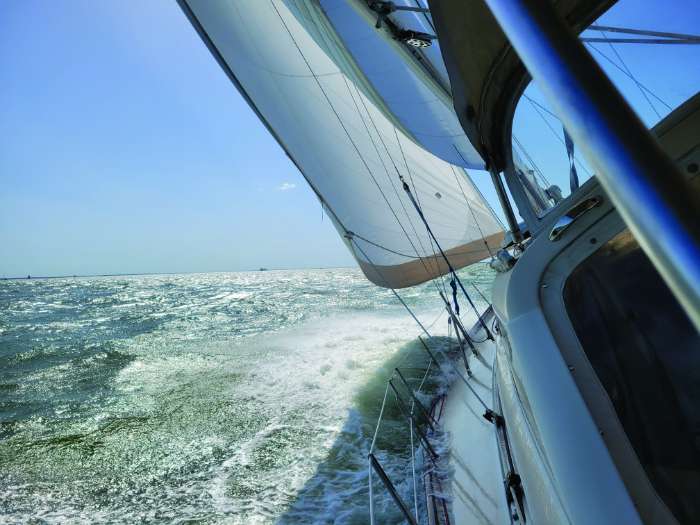 There are a couple of truisms that are universally applicable: "Nothing lasts forever" and "When something breaks, it's going to happen at the most inopportune time." Anyone who's ever owned a boat can attest to both, and every cruiser who's gone more than 50 miles from home will eventually find themselves needing repairs before continuing. When that happens, instead of enjoying rum drinks under a bimini, you'll find yourself knee deep in boat repairs. As you venture farther and farther from the metropolitan areas (where repair facilities are readily accessible), sooner or later you'll visit places where you're more likely to find chickens on the beaches than sunbathers.
It was almost by accident that I completed a circumnavigation. It hadn't been one of life's goals, but when a friend of mine did it solo, on a 29-foot sailboat, I figured my boat was a much better and safer platform, so why not? I spent an obscene amount of time (and money) on the preparations, doing all of the upgrades myself; so I was fortunate in that I knew all systems of the boat like the back of my hand. If you're thinking of cruising, my first word of advice is "know your boat." You need to have the manuals for every system onboard, and you're better off if you've personally become familiar with the location of every component. The time will serve you well if (when) you're forced to effect repairs to those components.
Duct tape, zip ties, and parts
Most sailors know the world is held together with zip ties, duct tape, J-B Weld, electrical tape, hose clamps, and the ability to tie a bowline. If you have nothing else onboard, fill a locker with those components. They'll most likely get you to a landfall, but once ashore, now what?
It's impossible to predict what system or component will need attention, and only if you're a certified hoarder will you have everything onboard to fix all problems. How about a couple of gallons of hydraulic oil for that autopilot seal that you noticed had started dripping? Or how about gasket material to replace the cover of a leaking plate on a seawater system? The list of repair parts you should have onboard is too exhaustive to list, but let your imagination run wild.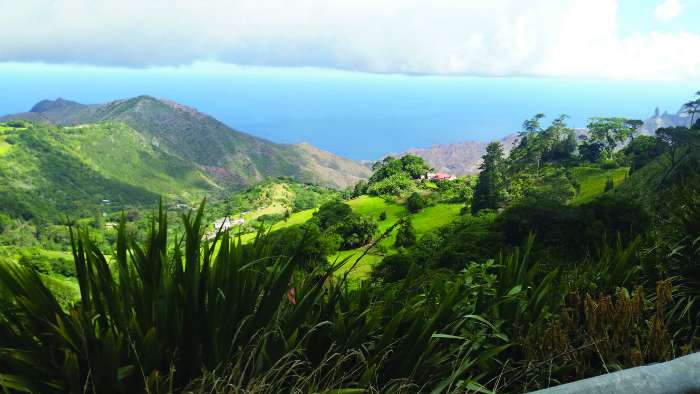 Once you're back in port, don't count on pulling in and hiring a local mechanic to set you right. Those out-of-the-way places don't understand sailboats, so you'll either need to effect repairs yourself, or spend a lot of time explaining why this broken component can't be fixed by simply bracing it with a piece of wood.
When you're in that remote location, what's the chance they have the exact bearing (or seal) for the seawater pump on your Panda generator? That's when you have to appreciate that the folks who make Panda generators probably don't manufacture the bearings; they buy them from a bearing manufacturer, and that bearing is probably used elsewhere. This means you might consider heading for an auto parts store with some dimensions. (Hint: carry a micrometer onboard). When in that out-of-the-way place, your top priority is to return systems to service, and if necessary, make more permanent repairs later. I experienced this exact issue with my Panda generator, and I was able to get a perfect replacement from a local auto parts store.
Something else worth knowing is that you're going to find you'll not always have the wonderful selection of nuts and bolts you'd find in the local hardware store. It's quite likely you'll have to settle for something other than that perfect stainless steel, panhead bolt. If you're looking for 316 stainless, forget it. You'll be lucky if you find stainless.
A closer look at seawater hoses
Depending on the age of your vessel, I'd highly recommend that you take a close look at all of the seawater hoses prior to departing. I thought all of my seawater hoses were in good shape prior to departing on my circumnavigation, so I was somewhat dismayed to discover while crossing the Indian Ocean (solo) that my bilge pump was running continually—eventually diagnosed as a seawater hose that had deteriorated so badly a section almost two feet long was essentially paper thin. Seawater was leaking through.
The temporary fix could be to shut the seacock, but it's something that can't be ignored, especially if you have to run the engine periodically to recharge the batteries. In my case, I was able to minimize the leak (duct tape to the rescue), expecting I'd be able to get a replacement hose on arrival in port. Nope, not so lucky. There wasn't even one foot of seawater hose available anywhere on the island. I was able to locate a section of 1.5-inch hydraulic hose. I could have used reinforced plastic tubing, but seawater hoses must function under a suction; so plastic hose wasn't an option. Hydraulic hose worked okay. I say okay, because if you've ever had to bend a 1.5-inch hydraulic hose around tight bends, you'll appreciate the difficulty.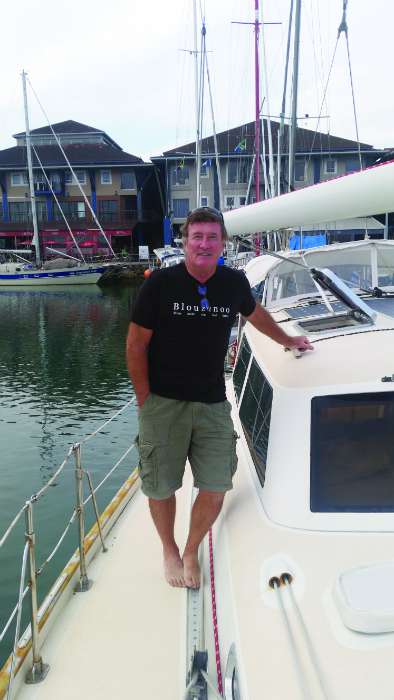 Honing your jury-rigging skills
Not everything is as simple as replacing components. Sometimes you have to "fix" the broken part. For example, the gooseneck broke as I was approaching Panama. There was zero possibility of continuing to the Pacific until the gooseneck was repaired. What was the possibility I could find a machine shop that had the slightest clue of what a gooseneck was? Zip! I finally found a shop who said they could make repairs. I watched with misgivings as chickens were pecking on the dirt floor around the welder, who created as much spatter as there was aluminum flowing into the enlarged bolt holes.
Sometimes you're lucky in those out-of-the-way places, and you can call those repairs "done and dusted." In the case of my gooseneck, about 10 days later I discovered the repairs were essentially void. I limped into Oahu with lots of line (and half hitches) on the boom, where I was able to find a "real" welder (also a sailor), whose repairs are still in place today. If you have repairs done in remote places, keep an eye on them!
Nothing is simple in those idyllic, out-of-the-way places. Boat-repair difficulties are magnified if you're a solo sailor. While transiting the Indian Ocean (solo), between the island of Reunion and South Africa, I woke one morning to find I'd broken a shroud on the rigging. Over the course of the next 18 hours, two more shrouds broke. Saying I was concerned would be an understatement, so I headed for the nearest landfall (Madagascar), keeping my fingers crossed that I'd not lose the mast before I got there.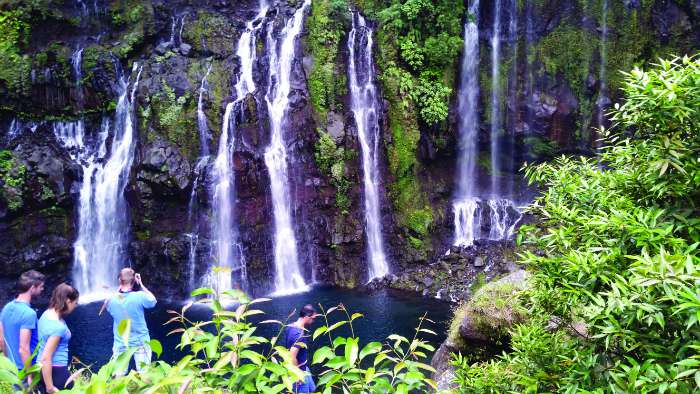 Upon my arrival in this remote bay, it was readily apparent there would be no permanent repairs. The best I could do was to jury rig the mast. New problem: how was I going to climb the mast solo? In some of these places, you'll find no resources, and the best you can do is figure out a way to jury rig the system enough that you can get to a "civilized" port.
All this isn't to deter the person contemplating the cruising life but rather to say you're much more prepared if you're smart and mechanically inclined. If that's you, you can move mountains with duct tape and zip ties. I encourage you to cast off lines and head for those places. The rewards are amazing.
About the author: Retired naval officer and submariner John Bouma has a USCG 100 Ton Master's license. He completed a circumnavigation aboard his 51-foot Little Harbor ¾ Time and wrote a book about his adventure, "Around the World in ¾ Time."
Thank you to US Spars for sponsoring this year's Offshore Sailing Series. Find another great offshore article here.