Bristol Sailstice Mini Cruise and Baltimore Fireworks
The Chesapeake Bristol Club (CBC) is off to an active season. The club's Sailstice Cruise is held annually to celebrate the summer Solstice. This year, with no sails up, Meridian, with crew of Tom Adensam, Tom Trump, and Doc Johnson powered down the Severn River from Severna Park, MD, with 25 knots on the stern. Upon entering the Bay they headed north toward the Magothy River. Since the going was wet and rough with wind on the nose, they sought shelter on Mill Creek and anchored near Cantler's, where they were met by Mickey Doran on Scudder and Dave and Rebecca Burka on Tarwathie. The next day the boats moved to Whitehall Creek to join the Shore Party.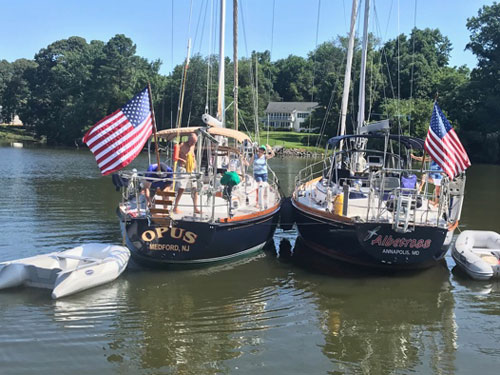 The two boats from the Sailstice cruise, Meridian and Tarwathie, joined Daphne (Ruth and Dick Boecker, Sr. and Natalie and Dick Jr.), Savior Faire (Sandra and Norm Bogarde), and Bristol 43.3 sister ships, Albatross (new members Bob and Deirdre Gray) and Opus (Lynne and Jerry Hoot). The latter two rafted around the corner in the northwest branch of Whitehall Creek.
This group was joined by approximately 20 more members and guests who arrived by land yacht for a fine party under ideal weather.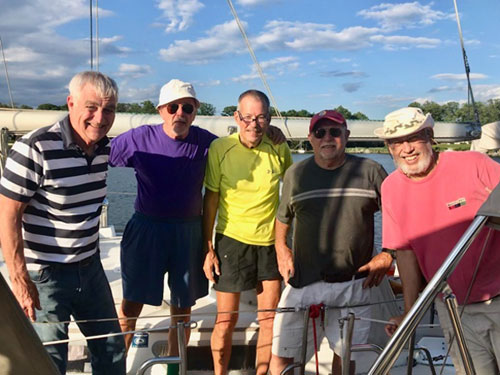 Pyrotechnics weren't the only fireworks on July 4. Mother Nature provided a late afternoon and nightly thunder-and-lightning display every night during CBC's four day cruise to Baltimore with a homeport at Baltimore Inner Harbor East Marina for member boats Our Time, Galatea, Melody, and Tarwathie. CBC members spent several days exploring the Baltimore Inner Harbor area with visits to several museums. Happy hours aboard was followed by dinners at local restaurants. All enjoyed a spectacular, dual-site fireworks display in Inner Harbor.
Learn more about our club and find information about upcoming activities at CBC.