Sail or ski? Let's check the thermometer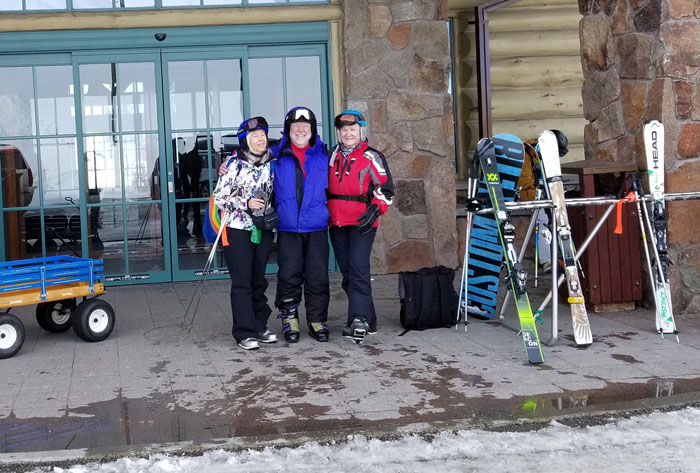 When it was too cold for them to sail on the Bay, members of Club Crabtowne hit the slopes. Recently they traveled to Idaho's Sun Valley Lodge.
Carol Moyer reports, "Our group experienced the phenomenon of very cold weather (10-20 degrees). and the dry air, and the relative shelter from the wind that enables one to ski, jump into the warm-water (100-degree) outdoor pool, and all the while enjoy the warmth of the sun. The Sun Valley Resort was founded in 1937 by Averell Harriman, head of the Union-Pacific Railroad, who attracted tourists to go to the end of the line by having a Swiss-style ski resort created right nearby in the picturesque, steep mountains. This was the first out-West ski resort in America, where skiing became popular following the Lake Placid Winter Olympics of 1932. The juxtaposition of luxury and ruggedness, along with the variety of unusual scenery, is most impressive.
"What we loved most about our trip is sharing experiences on the slopes, the delicious large meals in the restaurants by the slopes, the steamy outdoor pool surrounded by snow-blanketed trees and mountains and ice-covered umbrellas, and the inviting scene in front of the Sun Valley Lodge with its sun snow statue and its shimmering lake filled with swans and their ducklings swimming around the ice. I guess a little boat would be an especially relevant addition, but that's the only item we did not find on this trip!"
If you enjoy outdoor activities, Club Crabtowne welcomes new members. Check out Club Crabtowne.