The Arabella Mixer
Cruising around New England on the megayacht Arabella with new sailing friends...
As a woman new to sailing I often feel more like a halfhearted warrior than a princess when I'm on the water. I yearn for a dress that doesn't hike up and nails that don't chip. Despite my love of sailing, I secretly yearn for a chance to cruise in luxury and be lulled into not knowing a tender from a fender.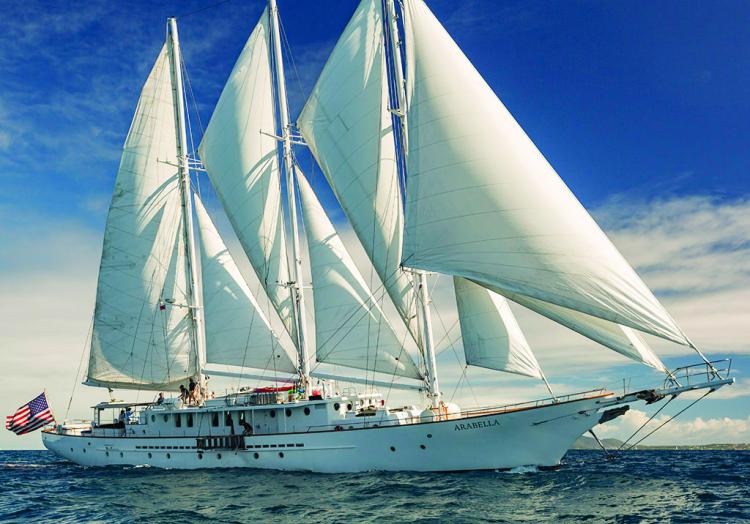 Thankfully, the Arabella Grand Tour of New England coordinated by the American Sailing Association (ASA) over Labor Day weekend delivered the goods. The six-night cruise originated and ended in Newport with day sails to Martha's Vineyard, Nantucket, and Cuttyhunk (the smallest of the Elizabeth Islands). My partner, Wayne Kendrick, and I had a marvelous trip; the perfect mix of adventure and comfort.
Arabella is a 157-foot, USCG-certified, megayacht featuring three masts with staysail schooner rigging. She has 20 staterooms, each with the modern luxuries you'd expect on a mega yacht: showers, heads, toiletries, and individual climate control. Beyond the cabins, Arabella is a grand dame, a classy combination of boutique quaintness and steady trailblazer that turns heads in every port. There's an ample galley with leather seating, teak decks, a Jacuzzi, cushioned sundeck, and covered aft veranda for those lazy mornings sipping coffee. Her main salon is spacious enough for everyone to enjoy fine dining and features a beautifully varnished mahogany bar stocked with my favorite: a cool, crisp French Sancerre.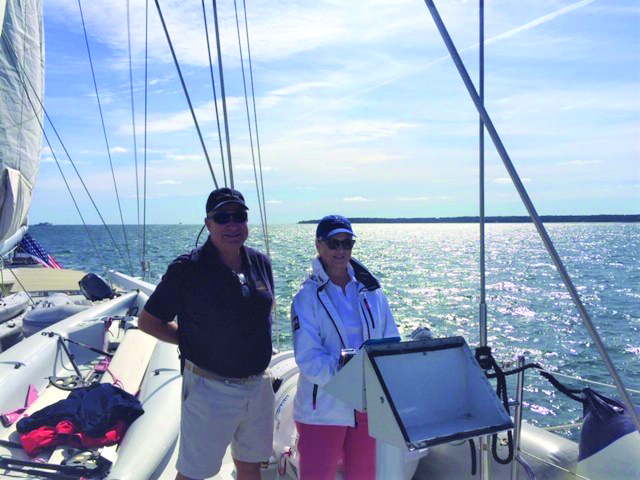 The catbird seat aboard was a lounging area on the bow where one could lean and nap on giant pillows against the forward windows. The cool mornings required blankets; the evenings were warmed by the wine. Wi-Fi was, thank goodness, iffy and easily ignored.
Arabella's crew were equally vested in their work as they were eager to make you smile. Captain Tom (seventh generation mariner) and his crew called me by name the minute I stepped on deck. Seasoned sailors, yet young and energetic, they seemed to understand early in life the value of navigating the unknown. I found them inspiring. Michael Fortenbaugh, commodore of the Manhattan Yacht Club and owner of Arabella made the trip as well. He, along with ASA, have plans for Arabella to sail in the Caribbean in the winter and possibly join the Annapolis Boat Show in 2020.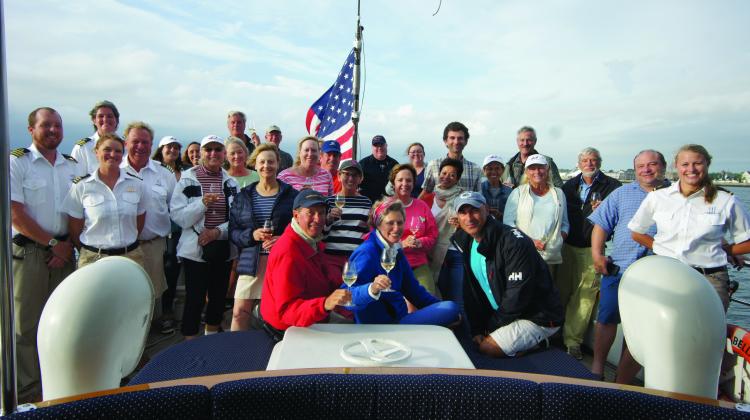 The Best of Many Worlds
I can truthfully say there was never a dull moment. The daily schedule was written on a white board the night before, propped up on the bar, and contained only three instructions: 1) departure time (8 a.m.); 2) breakfast time (7-9 a.m.); and 3) evening event. Any excursions on land or watersports were arranged independently by guests in advance or on the spot. This allowed everyone to explore the islands at their leisure.
Wayne and I found our day on Nantucket to be the most memorable. We rented a Jeep and headed to Great Point Lighthouse on the northern (and most remote) area of the island. If looking at a map, it would resemble the tip of an upside-down comma. The area was accessible only with beach access. We deflated our tires to 12 PSI to drive on the sand and bounced across seven miles of uneven dunes, blinding curves, and seagrass. The lighthouse was boarded up. We were the only ones around. The wind was so fierce that as the seagulls did, we had to hunch down to walk the shoreline. It was a vastness I will never forget.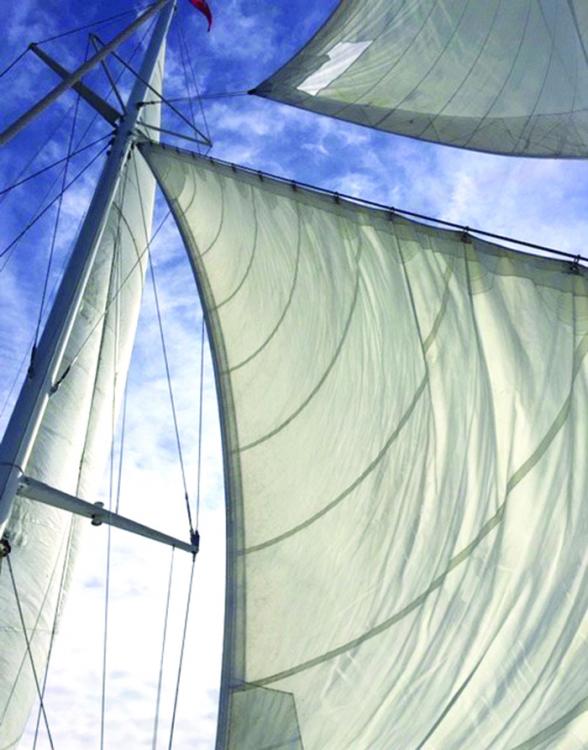 Treasures Onboard
One of the most pleasant aspects of the Arabella experience was the simplicity of the food. Breakfast, lunch, and two dinners were included and reasonably proportioned. The boat's chef, Bev (who introduced herself as "Hi, I'm Bev as in beverage") rose at 2:30 a.m. to assemble apple sausage, blueberry pancakes, oatmeal, fresh fruit, yogurt, and scrambled eggs. Lunch was quinoa salads, broiled rosemary chicken, and easy-to-build tacos with fresh salsa and guacamole: nothing fancy but always freshly made and easy on the stomach. Every dish had Bev's personal touch, as when you're a guest in someone's home. A lobster bake on Cuttyhunk came with an orange sunset, steamed clams, and the clanging of loose halyards. The bar was open 24/7, of course. Even the one we transported to land.
Simply put, the mood aboard the Arabella was reverent. Staff polished chrome and washed windows. Couples played cards or swapped stories of how they met. Late afternoons Ray Charles's "American the Beautiful" was played and the "colors" officially lowered and folded. Tendering was available upon demand until 2 a.m. Stargazing and silence were common.
One memory I'll never forget came our first day at sea. Captain Tom invited me to take the "helm" (a five-inch lever you click back and forth); the boat was surprisingly quick to respond. Swaying 10 to 20 degrees from side to side could hardly be felt. He seemed unfazed by my newness and stood by my side with his hands behind his back gently coaching me "two clicks to the right… now, one back to the left."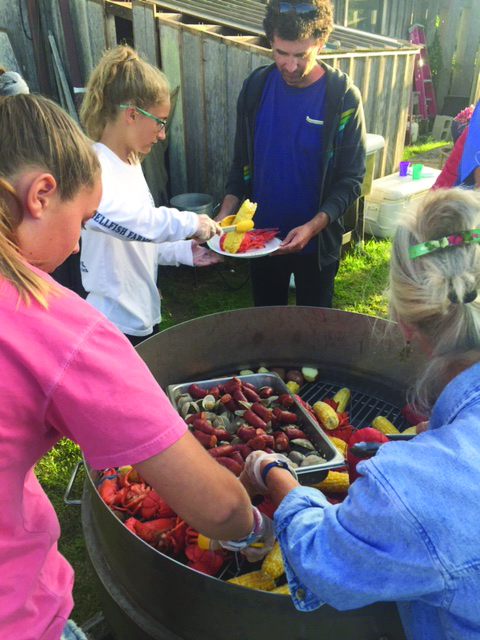 Annapolis Put Us on the Map
Naturally, people wanted to know where everyone was from. Several were from California, a few from Chicago, Texas and Atlanta; some had never sailed, and others were owners of multiple boats in international waters. Wayne and I were the only ones from Annapolis, a novelty that branded us "fortunate" by everyone we met. Stories of the boat show and the Chesapeake Bay made for endless conversations. It was a good feeling to represent a town that so many instantly connect to and clearly adore.
On our last day we arrived in Newport late afternoon. The commodore took Arabella on a spin around the harbor and then to Castle Hill to fire a canon. To celebrate our trip, Wayne and I danced on the upper deck feeling rested and ready for the post-Labor Day rush. No doubt, we will join Arabella for a future ASA cruise. ~by Gwen Mayes
To be added to ASA's roster of upcoming Arabella sails click here
FIND MORE CRUISING ARTICLES HERE.
.