Before Starlink... cruisers used this cumbersome method to send emails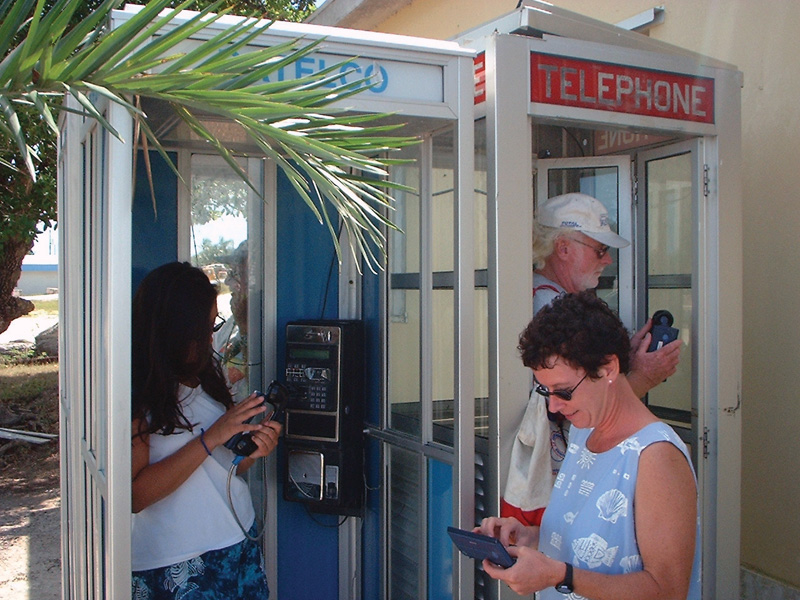 Once upon a time, before Starlink... While cruising, I walked inside a weather-worn phone booth under a palm tree on a sandy road, with a fist full of foreign coins in my sweaty hand. In my other hand I fumbled with a modem device called Pocketmail. I dialed a number and plinked my coins into the rusty slot, one after another. Holding the device to the handset, I could hear the technological symphony of beeps and buzzes that was magically turning into a six-sentence email to my parents. That was 2001.
Twenty years later in the Bahamas, we hadn't come much farther. In early 2022 we spent some hard-earned dollars buying the right SIM cards, WiFi boosters, and cell antenna extenders. We picked our anchorages based on reviews that included how the signal was in that spot. Yes, we had WiFi, but it was a slow drip on the IV of critical connectivity. Often, we were limited to those text only communications we were so excited about 20 years ago.
Then, I flew back to Annapolis in the summer of 2022 and picked up a little box that changed everything. Cue the spotlight and the choir music.
**Starlink**
A true gamechanger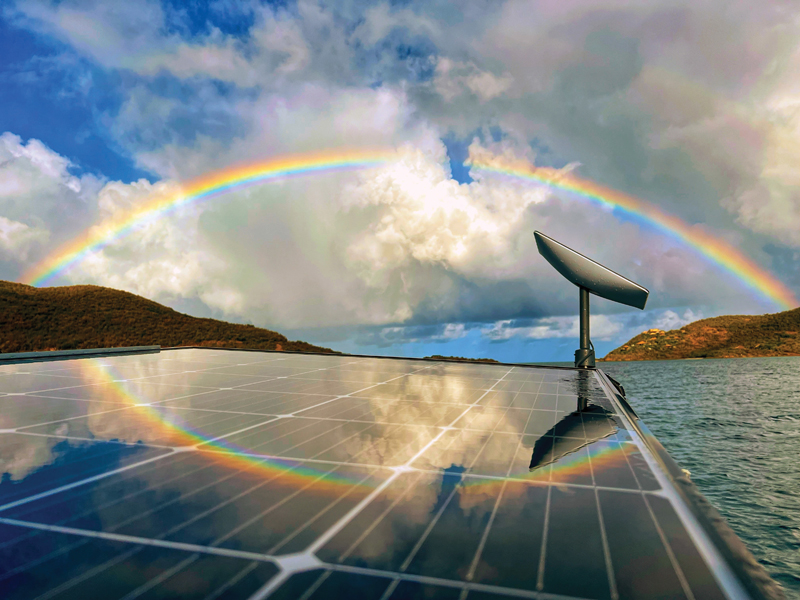 It's not just a new way to communicate at sea; it's truly a game changer in so many ways. Starlink is the world's first and largest cluster of satellites using low earth orbit to deliver broadband internet, and it's fast. You can video call, stream movies, play games, and download or upload large files. It works in the most remote corners of the planet and at sea.
The "wow" factor comes from the latency. This is the round-trip time it takes for a signal to get from you to the satellite and back again. Usually, you have just a single satellite sending a signal, and it's from a greater distance away from Earth. Buffering. Buffering. Signal Lost.
Starlink uses thousands of satellites orbiting close to earth, so that signal round trip is shorter, faster, and uninterrupted. So, now you can watch Ted Lasso at sea. Um, I mean, now you can get life-saving weather information at sea.
When you buy the dish, you have several plans to choose from. The "Maritime" plan is not for your average cruising sailor. The hardware and monthly costs are in the thousands. It's meant for commercial vessels, megayachts, and cruise ships. Sailors tend to use the "Roam" plan, which is more affordable.
There are dozens of interesting examples of creative installations on the Starlink on Boats group on Facebook. We found it's best to mount high for an unobstructed view of the sky. We keep ours on top of our aft arch where we hoist our dinghy. It's self-orienting and can survive all kinds of weather and high winds. Set it and forget it. The Starlink does not work natively off of a 12-volt system. We use a dedicated sine wave inverter hooked up to the breaker panel. A breaker switch triggers that inverter so that the Starlink device can be turned on and off.
Is Starlink worth it?
Well, you don't have to schlep in the tropical sun each time you arrive in a new port, seeking out the local cell carrier to buy a SIM card. Oh, wait, they're not open today because it's St. Potato Day? Oh well. I signed a contract in a different language that I now can't cancel without taking a bus to the capital city? Oh well. I got the SIM card and put it in my phone and it doesn't actually work unless I'm standing on the corner of Rue Pomme de Terre and Calle Suerte. Yeah, Starlink is worth it.
What's that sound?
Is it the soft, disgruntled mutterings from deep within a teak laden salon of a 34-foot monohull lit by a bronze oil lamp? I hear you brother; let's talk. I know there is a certain magic lost. It's night, and you're at anchor with nothing but the stars and the bioluminescence, and instead of using your time to wax poetic to Orion or read Horatio Hornblower, your face is aglow with a huge smile while Ted Lasso delivers another folksy, feel-good one liner. You can do that from land. Where's the romance? I often find myself swinging on the pendulum of utter joy and salty self-reproach when I'm at sea downloading a fresh podcast in real time.
Keeping sailors safe
The flip side of this is the real-world usefulness of reliable communication that's already saved lives at sea. There have been a number of rescues coordinated by Starlink users mid-ocean, most notably when a family lost their boat a mere 15 minutes after a whale collision, thousands of miles from anywhere on a Pacific crossing. Instant medical consultations, weather routing, and other critical information sharing are available because of Starlink is keeping sailors safer at sea, allowing them to sail another day.
For us, it means remote work, which means keeping the cruising kitty topped off, which means we have the privilege to keep chasing that horizon. Just like the horseless buggy, you can grumble all day, but it's here. It's changing the impossible to the possible. As Ted Lasso would say, "Smells like potential."
by Cindy Wallach
About the Author: Chesapeake sailor and longtime SpinSheet columnist Cindy Wallach is on an extended family cruise with her husband, two children, and two dogs aboard their St. Francis 44 catamaran Majestic.