Casting Off Your Lines for Cruising Adventures
There's a famous quote, "The hardest part of any journey is the first step." In the cruising world it's modified to, "Casting off the dock lines is the hardest part." Both iterations are true. In the spring of 2021, after years of planning, we sold our house and minivan. My spouse quit his job. We moved onto our 1972 Bowman 46, Mug Up, with our three children.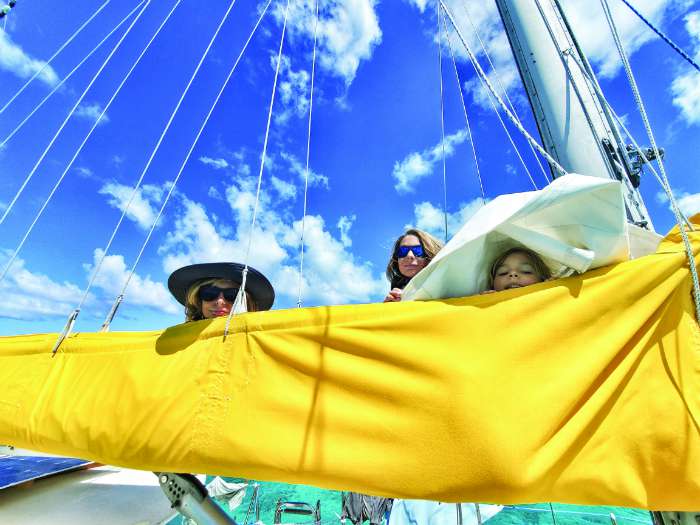 For three weeks, the boat sat at the dock in Lake Ontario as we finished projects and frantically got rid of the Dutch oven, power tools, and toys that we couldn't get to fit on the boat. At night, we would collapse into bed and whisper, "Are we ready? What will it take to be ready?" The answer was always, "We'll never be ready, we just have to go."
With our final shove-off date approaching, we said our good-byes to our friends and town of eight years, took down our rigging, and entered Lock 8 of the Oswego Canal on June 24, 2021. We did not feel ready. The boat didn't feel like home, despite having spent the last two summers on her. I had butterflies in my stomach for days. Were we really doing this?
Through seven locks of the Oswego Canal and 25 of the Erie Canal, Mug Up made it into the tidal estuary of the Hudson River. The kids swam off the boat in Kingston and got their first experience with current (they all made it back safely). Again, farther south at Hudson Highlands, they tasted saltwater for the first time in years. The changes in the water were exciting, but we still felt we were in semi-familiar territory. We were still in New York with familiar landscapes and comforts, still having hometown friends visit us with relative ease.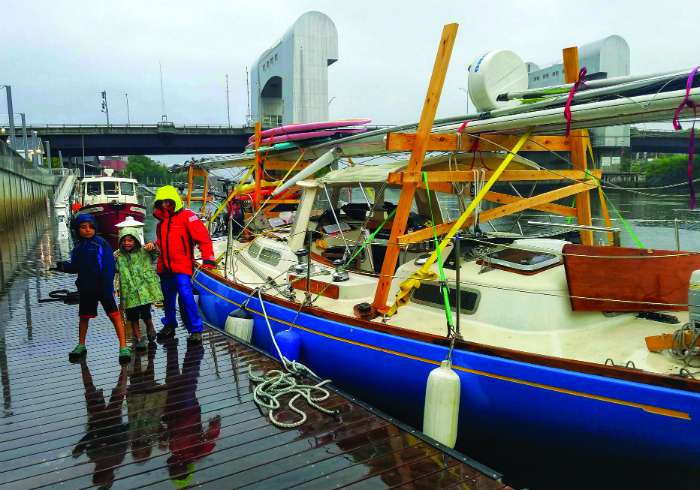 We hopped through Long Island Sound on the north side. After two weeks, we left Rhode Island for Buzzards Bay, MA. And as we passed Fishers Island and Watch Hill, RI, I felt more butterflies as we entered even larger waters—the actual Atlantic Ocean. The seemingly baby steps to get to the Atlantic were helpful, but I still felt the racing in my mind, wondering if we were ready as the seemingly protected waters fell away from us.
As summer transitioned to fall, we made our way south and into the Chesapeake Bay. Though I'd only sailed in these waters a couple of times, my husband spent four years in college sailing the Chesapeake. He took a deep breath and said he felt like he was home. We spent six weeks in the Bay, mostly in Annapolis, but also exploring the Sassafras River, Solomons Island, and Yorktown. The Chesapeake landscapes were familiar, the waters were protected. September and October were a really easy six weeks. It was hard to pull up anchor and keep heading south, but our goals and the cold pushed us. It was butterflies all over again as we approached Norfolk to leave the Chesapeake.
In early December we made it to Florida to make our final preparations in order to cross to the Bahamas. Days after Christmas, our weather window arrived, and in the moments in between running around purchasing and stowing more provisions, getting Covid tests, and filling propane tanks, I felt the familiar butterflies. Were we really doing this? Was the boat really ready? Did we have enough spare parts? Did we check every system thoroughly enough? Did I have enough swim gear for all five of us? Did I really provision enough crackers, peanut butter, and chocolate?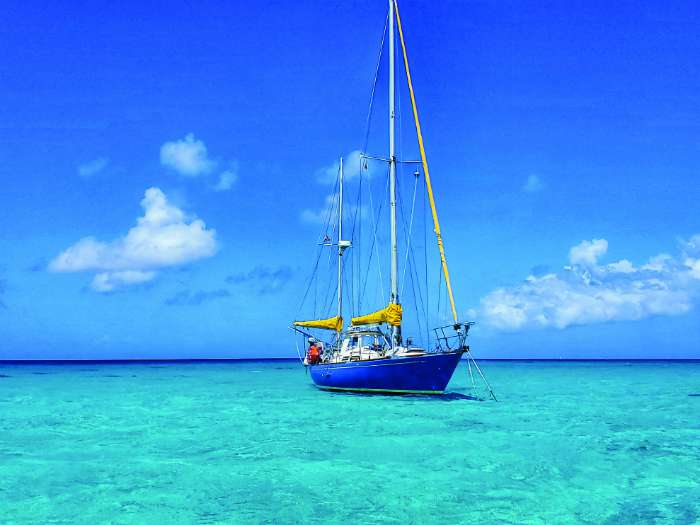 I was up late the night before our pre-dawn departure, scrutinizing the weather again, running over checklists again. And our conversation rolled around to the feeling of starting over again. We were leaving the safety and familiarity of not our hometown, but our home country. And though the Bahamas are not that far away, it felt like leaving for a whole new world. It would have been easy to stay put, but that was never the plan. After six months of cruising the East Coast on our boat, the freshness and newness of the next step was like casting the dock lines off again.
After almost three months in the Bahamas, we did the process all over again of prepping for a passage to a new country. This time, two nights on the open ocean to make our way to the Dominican Republic. Though the Bahamas was not our home, it became our home for 84 days. Departing the familiarity of the limestone cays and scrubby brush and white sand beaches for something new and unknown fostered the return of my butterflies.
With the right weather window, we had an excellent passage. Now, we're spending hurricane season here in Luperon, Dominican Republic. As each month ticks past, I'm planning for fall when we'll leave our new home here for more adventures. Will we finish our project list before we leave? Probably not. Will we be ready for the next first step? Probably not. Will we go anyway? Yes, with good weather and excited hearts.
~By Jillian Greenawalt
Find more stories about cruising sailors here.