Egg-celent Fun For Sailors!
Thanks to all the sailors (about 35 of us) who gathered for the Northern Star Hunters Sailing Association's July 6 Breaking Bad Social Gathering. We had a lot of fun.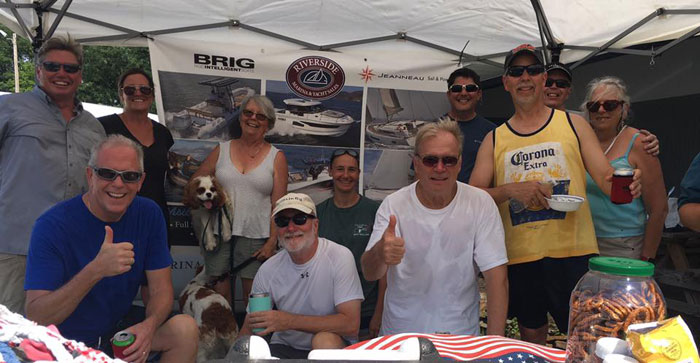 Now we know that egg contests are great entertainment, even in typical hot and humid July weather. Don Quinn walked away with first prize in the egg cracking contest with his perfect egg crack juggling act, and a close second place was captured by Jason Knauer with his two handed-two egg cracking skills. And no one is going to forget Steve McDonough's one handed egg 'crushing it to bits' routine...still not sure how that was supposed to work. Egg cracking judging was easily accomplished by the honorable Mary Lee 'Tough as Nails' Sullivan.
Marie Frankel took first prize in the egg dish contest with her seductive bacon laced egg dish. Apparently, the judges (Tony Tumas and Mike Gilmore) are suckers for bacon. Deciding on the winning dish had to be difficult for Tony and Mike...they needed to eat everything.
Special recognition needs to go to: Tony and Beth Tumas of Riverside who did a tremendous job of providing and barbequing burgers and hotdogs; Steve McDonough who helped with the setup of everything that needed setting up; Cutter Marina staff, who took good care of us and shared their facilities; the NSHSA officer group (Elsie Grady and Marie Knauer) for event coordination and procuring the gifts and eggs; everyone who participated in the egg cracking and egg dish contests; everyone who made a side dish and/or a dessert; and Mother Nature, who topped it all off by adding her flair to the fireworks celebration. It was a good day!
By Tom Schmidt