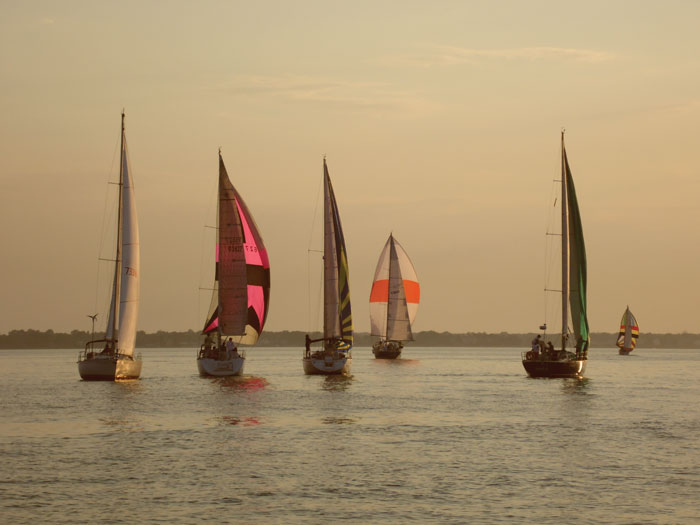 Imagine sailing year-round in Hawaii: deep blue waters, consistent trade winds, and Diamond Head rising behind your Friday night races; growing up at Waikiki Yacht Club, taking Saturday junior sailing classes, and racing keelboats on the weekends offshore and inter-island.
Now imagine moving 5000 miles away, knowing no one and nothing about sailing on the legendary Chesapeake Bay. How do you find a group to join? One convenient to where you live, and willing to take a stranger as crew? SpinSheet is a great resource. I attended a crew party and received invitations, but the boats were too far for me to reach on a weeknight.
A simple Google search suggested the Rock Creek Racing Association (RCRA). The RCRA sails out of Rock Creek, off the Patapsco River and minutes from the Bay. Their website included information on members and boats, the four series of races they host on Wednesday nights, along with other races they sponsor including the Star-Spangled Classic and the Francis Scott Key Classic. RCRA also hosts races with the Maryland Yacht Club.
After contacting the group, I received a couple of offers to race. RCRA members were more than welcoming. It turns out many racing boats are in need of experienced crewmembers, or those who wish to learn, and can show up for a weeknight race. I've been fortunate to race on several.
The boats sail from many marinas on Rock Creek including Oak Harbor (which hosts the RCRA), Fairview Marina, White Rocks Marina, and Maryland Yacht Club. A few are docked at their owners' homes. Each boat hosts a post-race dinner on the deck at Oak Harbor once during the season, and boats are also scheduled to perform race committee duties.
I've enjoyed meeting and racing with many skilled sailors. Last year I finally got to race my own boat, Kaimana (Beneteau First 38), with RCRA and in turn invited new crew members to race with us. New member boats (in spinnaker or non-spinnaker divisions) and crew are always welcome. I'm enjoying my new adventures and new sailing family on the Chesapeake. Join us!
By Lee Budar-Danoff