A sailboat purchased at the height of the pandemic
We bought this Sabre 34 sailboat at the height of the pandemic.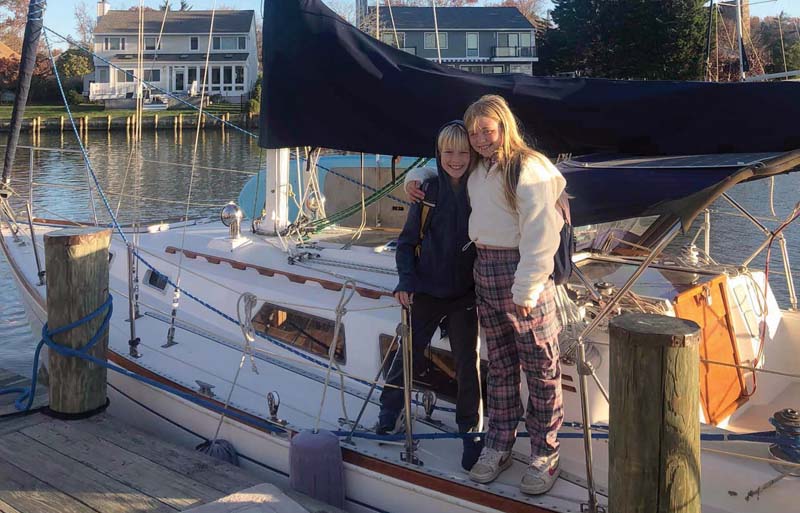 We took possession of her at a yard in Connecticut and spent the summer cruising her in New England, skirting outbreaks up and down the coastline: Cuttyhunk, Mystic, Block Island, Martha's Vineyard. Freckles appeared on noses. The kids learned to swim and explore, how to set up charcuterie boards and tell which way the wind is blowing by looking at the contours of a wave. We hung masks and bathing suits together on the lifelines to dry. The kids developed healthy appetites for corned beef hash and clam chowder, and we had animated readings of Roald Dahl classics every evening.
On a mooring in our creek
Back home, Trevor dropped a mooring in our creek so she'd be close by. He spent the following winter refinishing her brightwork and making her interiors glow. We bought sails from a sailmaker I used to babysit when I was a kid (and he gave Trevor an appreciation for the perfection of geometry).
There were countless overnights in quiet rivers, quick sunset cruises with takeout, and foredeck dance parties. Sunrises and thunderstorms. St. Michaels, Rock Hall, Smith, the Rhode. The cat came aboard; we learned the names of constellations; we used the term "boat nap" as both a noun and a verb.
Now, it's time to move on.
Now, it's time to move on. Arms and legs are longer. The kids argue over who sleeps where, and we mutter about being cramped when we take friends out. Trevor found a bigger boat that he can fix up and we can love just as much as we've loved this one, and there's a couple on the Eastern Shore who understand the love and care this boat deserves.
It's still hard to let her go. She was a safe haven during such an intense storm. Thank you, Trevor Perkins, for finding her and giving us these memories that will last our lifetimes.
by Duffy Perkins
Annapolis
About the Author: Longtime SpinSheet readers may remember Duffy Perkins, who was our senior editor for several years. We spied this lovely post on her Facebook page and asked if we could share it.