From sailing the Chesapeake to sailing the BVI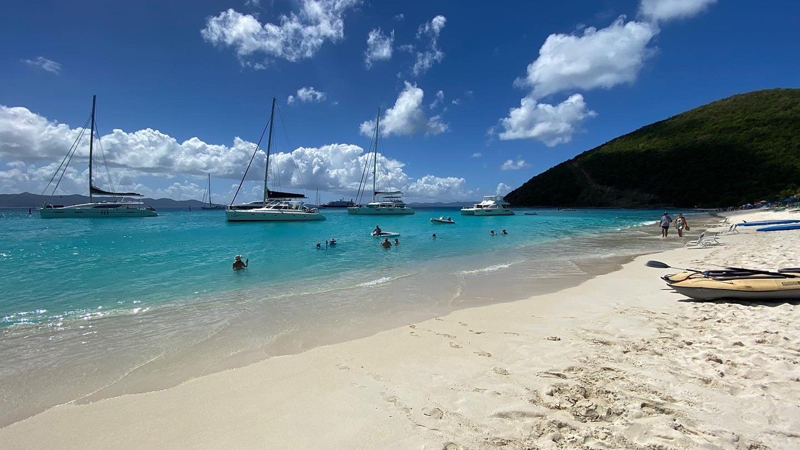 In 2019, the Hunter Sailing Assocation-1 planned for a 2020 charter trip in Mallorca, Spain, which is true jewel of the Mediterranean. This would give us one more pin in our Med map after having sailed in Greece and Croatia. However, a not-so-funny thing happened on the way to our charter, with an entire planet coming to a close in 2020 and most of 2021. The Sunsail-Moorings base in Mallorca did not survive at all and as of this writing is still closed. Fortunately, there is nothing more scrappy than a sailor, and we regrouped and decided on a repeat trip (our third time actually) to the BVI, with dates to tie in with the birthday of our commodore! We know this was a good choice since 50 people signed up to charter eight boats for eight-plus days!
The BVI had a disaster in 2017, in the form of Hurricane Irma, before the pandemic disaster in 2020, which put the country's tourism industry out of commission just when it was getting back on its feet. This season gave birth to a reboot that seemed to have the whole population involved. With some strict Covid entrance rules and a heavy vaccination plan, the country is not taking any chances, and it is paying off.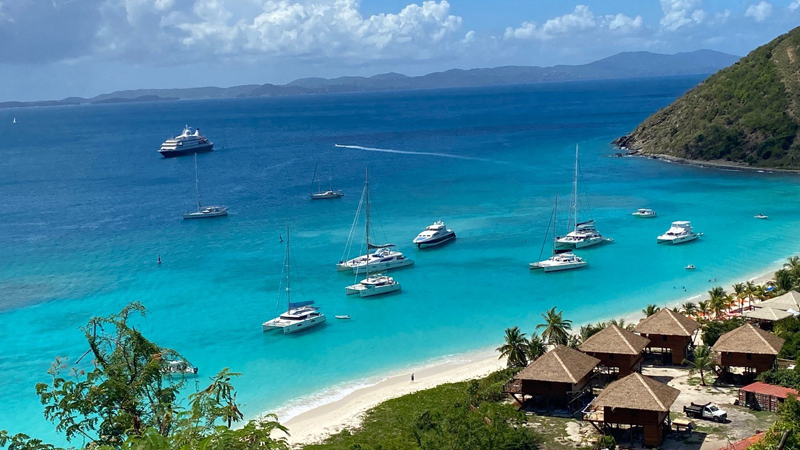 A place best visited by boat
The time we spent there was a joy to those who remembered all the old spots, many of which have been rebuilt, including the replacement of the Willie-T ship; the original was nearly destroyed and is now a diving reef placed outside the Norman Island Harbor. Of course, it was joyous for those who had never enjoyed the sand-strewn places, the people, the predictable winds, and the warmth. The BVI has had to make some accommodations to revive its economy such as now having a dock for a cruise ship which tends to make for more folks on the beaches of Tortola as the tour busses roll in and out. However, this is still a place best visited by boat and is a catamaran paradise. While the scars of Irma still exist, such as the Bitter End Yacht Club just being partially open and the lovely hillsides being a tortured mess, it is the people of the BVI that make it still a charter destination to not be missed.
Our sailing association will start planning for a large Hunter rendezvous in 2023 on the Bay and then in 2024 we will be at it again chartering in some destination that will let those who join put an entry or two in their log books that they would not have otherwise. If you have a Hunter on the Bay, consider joining our group.
by Greg Guthman